New Designs for School
2 Pillars of Next Generation Schools: Communities of Learning Committed to Broader Outcomes for All
September 22, 2017
Topics
Student Success
Design Thinking
Change Management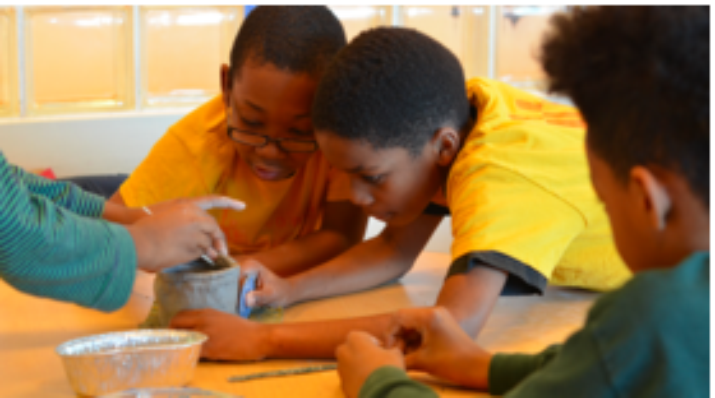 New Designs for School
New Designs for School
We've all had the experience of truly purposeful, authentic learning and know how valuable it is. Educators are taking the best of what we know about learning, student support, effective instruction, and interpersonal skill-building to completely reimagine schools so that students experience that kind of purposeful learning all day, every day.
Learn More
Two Rivers envisions school as a learning community where every participant—students, teachers, parents, school leaders—are learners with a common goal.
The only constant in the world today is change. Schools need to change with it. Many other writers have made the argument more eloquently than I, but the ways that the world has changed demand that we rethink the ways that we design schools. There have been several innovative models highlighted in this blog over the last several weeks that point the direction of what school can and should be.
Two core elements link these Next Generation Learning models and form the foundations of how we at Two Rivers Public Charter School in Washington, DC are redefining school and learning. First, schools need to redefine the outcomes that we are teaching toward. Second, we have to re-envision schools as learning communities where every participant in the schooling process—from students to teachers and from parents to school leaders—are learners in partnership to realize those outcomes for all students. These two pillars, broader outcomes for all students and communities of learning, form a bedrock foundation around which we can build the types of schools that we want for all of our children.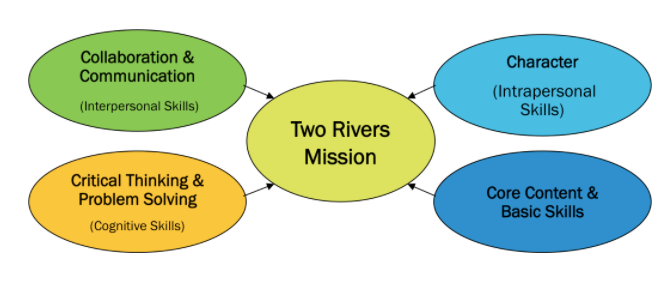 Broader Outcomes for All Students
The traditional curriculum and pathways are not enough to serve the needs of our students today. Schools need to embrace a broader definition of student success. A definition that encompasses not only core content and basic skills that schools have traditionally taught but also critical thinking and problem solving skills, collaboration and communication skills, and character. We know people will need all of these skills to navigate the shifting economy and our increasingly complex and interconnected world.
These ideas are easy to articulate, and if you are reading this blog, they are probably familiar to you. However, to truly pay more than lip service to the change from a focus on literacy and math proficiency to a focus on deeper learning in addition to these traditional subjects, schools need to invest time and energy in engaging the whole community in defining what we want our schools to look like for kids. All kids. This means taking a hard look at our practices that alienate some students and leave them disempowered and disengaged. We have to work together to bring everyone with a stake in the game to define these outcomes and work collaboratively to figure out how we are going to get there.
This looks like parent coffees where we talk frankly about the changing world of work and life while also acknowledging the world that our students and families inhabit today. This looks like conferencing with students about their growth in character as well as their growth in math. This looks like changing the way that we report progress to talk about cognitive, interpersonal, and intrapersonal skills in addition to the core content and basic skills. At Two Rivers this includes embracing standards-based grading and student-led conferences where students take agency in their growth across all of the dimensions named above. This looks like professional development for teachers where we name explicitly these expanded outcomes and we learn together how to design strategies for teaching toward them.
Communities of Learning
Which brings us to the second pillar. Next Generation Schools have to be true learning communities. Because the world of work, school, and life is changing, every person that engages with a school has to be viewed as a learner involved in figuring out how best to provide all students with opportunities to realize the broader outcomes I just named.
While we start with the students as the core agents of our learning model, we recognize that in Next Generation Schools we can't ignore the learning of the adults as well. We have identified core elements that define all meaningful learning experiences at Two Rivers. Thus adult learning like student learning is active, collaborative, and self-directed. Core to realizing this vision for communities of learning is helping everyone in the community understand that they are not only responsible for their own learning, but also the learning of other members of the community and the community itself.
Core to realizing this vision for communities of learning is helping everyone in the community understand that they are not only responsible for their own learning, but also the learning of other members of the community and the community itself.
If we truly hope to create lasting change in the lives of students, then schools need to embrace a model of change that gains clarity for all involved around the broader outcomes for school and builds robust adaptable learning communities where every learner has the opportunity to reach their potential. With this in mind, we can begin to build Next Generation Schools that meet all students' needs.