Building Community
How does next generation learning grow?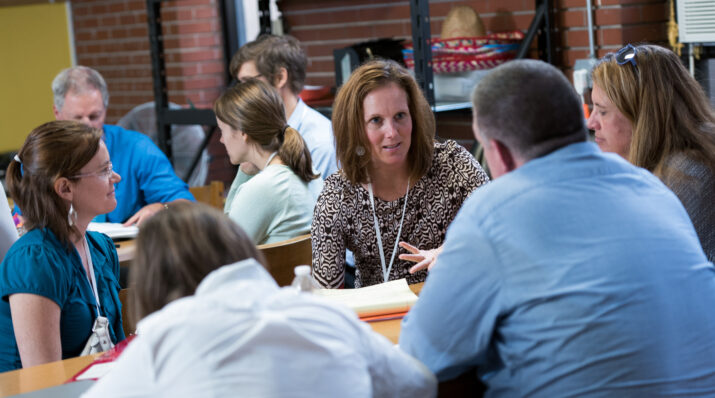 When educators design and create new schools, and live next gen learning themselves, they take the lead in growing next gen learning across the nation. Other educators don't simply follow and adopt; next gen learning depends on personal and community agency—the will to own the change, fueled by the desire to learn from and with others. Networks and policy play important roles in enabling grassroots approaches to change.
How might next generation learning become THE kind of learning that all students experience in school? This is a daunting challenge, no doubt. Because one of NGLC's guiding principles is that educators should lead the transformation, engaging their local community in the process, we know this challenge won't be solved through top-down mandates. It must emerge from the local story, drawing on the expertise of the people in each school and the community assets surrounding them.
The challenge of Building Community for next generation learning hints at its own solution: educators connecting with other educators, creating local momentum that spreads quickly and widely through networks.
Since our founding, members of the NGLC community have told us that the greatest benefit of NGLC is each other. They find inspirational mentors, creative problem-solvers, passionate learners, and supportive colleagues who make it possible for them to continue the hard work of creating and recreating a next generation learning experience for their students.
Next gen educators are Building Community by opening their schools to visitors. They share their curriculum and tools as open resources. They create tech platforms to support their learning model and invite other schools to use the platform too. They actively contribute to multiple networks, like Digital Promise, the League of Innovative Schools, the Deeper Learning Network, EL Education, and of course, NGLC.
Networks for Learning
NGLC, in partnership with Curtis Ogden, FSG, Getting Smart, and Remake Learning, launched Networks for Learning to generate a new, collective understanding about creating healthy, equitable connections for Building Community. Become inspired by the ideas and principles of network design in and outside of education, dive into curated resources from leaders of adult learning networks, read stories from your peers, and add your voice to this collective effort.