Community
About Next Gen Learning and NGLC
Imagine a school truly built around students and learning.
Really imagine it.
NGLC believes in unleashing the power of education leaders and teachers to lead their local communities—students, parents and families, boards, and employers—to redesign their schools around the most impactful forms of learning we all know and have experienced.

The truth is that next gen learning isn't necessarily all that new or different. We all have experienced moments of deeply profound, engaging, life-changing learning but rarely has it happened inside a classroom in a core subject. What is new and different is that educators are making that kind of learning the backbone of what every student experiences in school, all day, every day. LEARN MORE
The Actions of NGLC
Next Generation Learning Challenges is a community of forward-leaning educators who are working in their communities and together as a network on the most urgent challenges in public education today. A non-profit initiative, NGLC was founded in 2010 with the understanding that, while we all have a role to play, it is the educators who should lead the transformation to next gen learning, because they are closest to the students and the learning.
NGLC's role is to enable those educators with the vision to transform their schools and the passion and courage to pursue it. We do this through three interdependent labs, all working together to spur innovation and broaden communities' commitment to next gen learning across the nation:
Catalyze Lab
Since we issued our first challenge grant in 2011, NGLC has invested nearly $100 million in more than 240 visionary efforts to explore, design, refine, and spread various aspects of next gen learning. NGLC-catalyzed innovators have collectively served hundreds of thousands of students and have emerged as influential national leaders in the transformation of public education toward deeper, broader, 21st-century outcomes for all students.
EXPLORE OUR CATALYZING EFFORTS and R&D INITIATIVES
Apply Lab
NGLC works with an ever-increasing number of communities, schools, and districts to apply what's been learned about equitable, deeper, student-centered learning and how to adopt these approaches most effectively. Our Apply Lab serves individual schools and districts through consulting services and cohorts of like-minded schools through partnerships with philanthropies. We have also launched Bravely, which we're working to grow into a large national network of districts working together, through liberatory, human-centered change processes, to bring next gen learning to their communities.
DISCOVER NGLC SERVICES
Amplify Lab
Our Amplify Lab informs and builds off of the Catalyze and Apply labs. It's where we illuminate the voices and lessons-learned of next gen innovators to benefit the field of K-12 education. It's also where we synthesize and articulate crucial, building-block concepts in this work—for example, what communities should know as they rethink what learners need, to thrive in a world of change.
CHECK OUT OUR BLOG & RESOURCES
The Impact of NGLC
We are rebuilding the field—with so many others.
"NGLC has shaped the field in so many important ways: by articulating the importance of redefining student success, illuminating a path forward through the breakthrough school designs, and in unleashing this pent-up creativity out there, among educators clearly seeing a need to change."
—Susan Patrick, President and CEO, Aurora Institute
We help educators lead, so that students might lead as well.
"To me, NGLC's secret is that it has activated self-determination among educators. 'I do not have to take what I've inherited, I can take responsibility to change it.' When leaders can self-actualize in that way, that is very, very powerful."
—Caroline Hill, Founder, 228Accelerator
We foster community, so we can all go far by going together.
"NGLC gave us a national community when we didn't have a local one. They gave us leverage/tailwind in making the case for the work."
—Matthew Riggan, Co-Founder, The Workshop School
The People of NGLC
Since its founding, Next Generation Learning Challenges has grown into a network of over 240 grant recipients; see many of them on this interactive map. The community has extended to a wide range of forward-leaning educators, tens of thousands in all, who haven't received funding but have joined in the collective learning journey. (Hear their voices.) It also includes a burgeoning group of organizational and philanthropic partners who are actively expanding the adoption of innovations that completely reimagine K–12 in their regional communities and nationally. See the What Made Them So Prepared and Full Spectrum of Evidence projects for examples of our efforts to multiply impact through relentless, extensive partnering.
The NGLC community is supported by a talented and dedicated staff with expertise in promoting innovation design in education, supporting next gen learning practice, and catalyzing its growth across the U.S. Our staff is supported by the NGLC Advisory Council which advises the NGLC team on strategic planning and decision-making.
NGLC passionately believes that next gen learning and social justice are deeply intertwined. Read our organizational Statement on Diversity, Equity, and Inclusion. Explore our Designing for Equity toolkit. Learn with us as we seek to become an effective and outspoken anti-racist organization ourselves.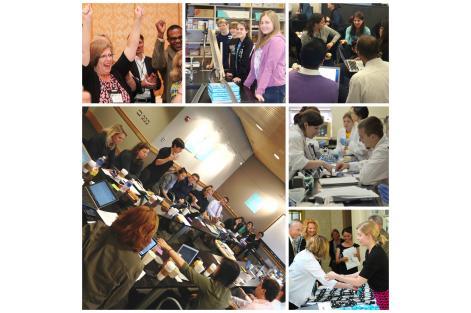 The nonprofit Next Generation Learning Challenges (NGLC) was founded in 2010 as a partnership between EDUCAUSE, the Council of Chief State School Officers (CCSSO), iNACOL (now known as Aurora Institute), the League for Innovation in the Community College, and the Bill & Melinda Gates Foundation. Funding for NGLC has been provided by the Bill & Melinda Gates Foundation, William and Flora Hewlett Foundation, Eli & Edythe Broad Foundation, Michael and Susan Dell Foundation, Oak Foundation, Barr Foundation, Overdeck Foundation, Nellie Mae Education Fund, Carnegie Corporation of New York, and Chan Zuckerberg Initiative.
NGLC is fortunate to have engaged additional partners and funders to fulfill its mission. Make a donation in support of the programs and services NGLC provides to educators, schools, and districts. Discover how you can learn and grow along with us and the NGLC community.
Next Generation Learning Challenges (NGLC) is a fiscally sponsored project of Tides Center, a 501(c)(3) nonprofit organization.Your gift may be tax-deductible pursuant to §170(c) of the Internal Revenue Code. Please visit Tides Fundraising Disclosure for additional information.