New Designs for School
What does next generation learning look like in practice?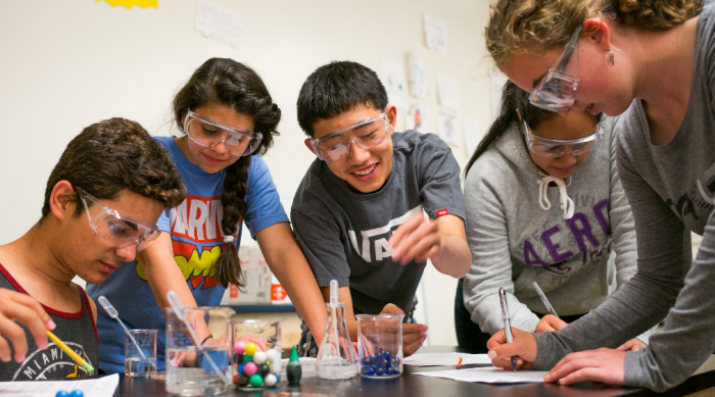 We've all had the experience of truly purposeful, authentic learning and know how valuable it is. Educators are taking the best of what we know about learning, student support, effective instruction, and interpersonal skill-building to completely reimagine schools so that students experience that kind of purposeful learning all day, every day.
NGLC has provided grant funding to seed New Designs for School that lead to better learning outcomes and have the potential to scale, with the ultimate goal of reversing stagnant academic progress and an unacceptable achievement gap among K-12 students. Solving this challenge requires taking the best of what we know about learning, student support, equity and cultural relevance, and effective pedagogy to fundamentally, not incrementally, change the learning experience in schools.

NGLC does not prescribe a particular learning strategy, but instead encourages educators to use what they know about good teaching and good learning to imagine and then create New Designs for School. To support educator-designed schools, we offer these general principles:
Student-centered, mastery-based, and blended

Delivered on regular public funds

Able to serve the scale of students the need demands
When educators emphasize a broader, deeper, more integrated definition of student success in their redesign, the schools they create are game-changers. These models can break the inertia that has prevented educational reform from making the dramatic improvements needed for the nation's youth. Solving this challenge would lead to breakthroughs in student learning, high school graduation, and college completion—particularly for low-income students and students of color.
NGLC has engaged educators in developing solutions to this challenge through grant investments and a robust content strategy. The first grant opportunity launched in October 2011. NGLC then spurred innovation in school design through the Regional Funds for Breakthrough Schools, with seven sites around the nation and 88 schools in the midst of designing and launching next gen learning.
As a learning community open to all educators, the NGLC community has made a concerted effort to broadly share successes, lessons learned, and advice to support the growth of better school designs across the nation. We are motivated by the urgent need to provide more of today's youth with a K-12 education that empowers them to lead a successful life.
And now, schools, districts, and passionate community members who are interested in New Designs for School now can tap into the expertise of NGLC directly. Learn more about NGLC Services.