New Designs for School
Breakthrough School Models for College Readiness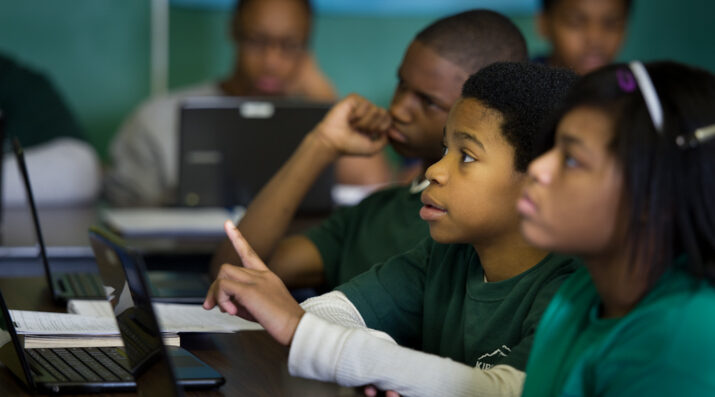 New Designs for School
New Designs for School
We've all had the experience of truly purposeful, authentic learning and know how valuable it is. Educators are taking the best of what we know about learning, student support, effective instruction, and interpersonal skill-building to completely reimagine schools so that students experience that kind of purposeful learning all day, every day.
Learn More
NGLC hopes to seed new models that result in higher learning outcomes and have the potential for scale. These new models take the best of what we know about learning, student support, and effective pedagogy to create completely reimagined schools.
Our investments in New Designs for School include two waves of Breakthrough School Models for College Readiness grants and the Regional Funds for Breakthrough Schools. NGLC aims to spur innovation that personalizes each student's learning experience, ultimately reversing stagnant academic progress and an unacceptable achievement gap among K-12 students.
The Need
NGLC recognizes both a design problem and a cost problem in K-12 education, which is leading to disengagement and unacceptable dropout rates. First, the prevailing school model largely reflects a century-old factory model that has become a "one-size-fits-none" strategy. Because every learner starts with different strengths and weaknesses and progresses at different rates, teachers often struggle to meet the needs of today's diverse student population, including low-income students and students of color.
Another problem is cost structure: many of the most successful school models are not sustainable on recurring public revenue, relying on nonrecurring public grants, private philanthropy, and other limited sources of capital to fund ongoing operations and growth. 
Some emerging school models suggest that technology can facilitate a more student-centric approach within a constrained budgetary environment. When used primarily as an enabler of personalized learning for all students, technology has the potential to accelerate mastery of critical content and skills by all students, particularly those who are behind. For more, see the Request for Proposals (now closed).
7 Design Principles for Breakthrough Secondary Schools
Student Centered: Designed to meet the diverse learning needs of each student every day
High Expectations: Committed to ensuring that every student will meet clearly defined, rigorous standards that will prepare them for success in college and career
Self Pacing and Mastery-Based Credit: Enables students to move at their own optimal pace and receive credit when they demonstrate mastery of the material
Blended Instruction: Optimizes teacher- and technology-delivered instruction in group and individual work
Student Ownership: Empowers students with skills, information, and tools they need to manage their own learning
Financial Sustainability: Sustainable on public per-pupil revenue within four years
Scalable: Designed to serve many more students if it demonstrates impact
People Working On This Challenge
See More