Resources
Open-Source Ideas, Tools, and Strategies from Next Gen Learning Innovators
Next gen learning makes it possible for educators who want to improve learning for all of their students to move past "teaching to the middle" and "teaching to the test." The shift requires different mindsets, practices, and tools. Scroll down to search an ever-expanding harvest of resources from peers who are making the shift to learner-centered practices.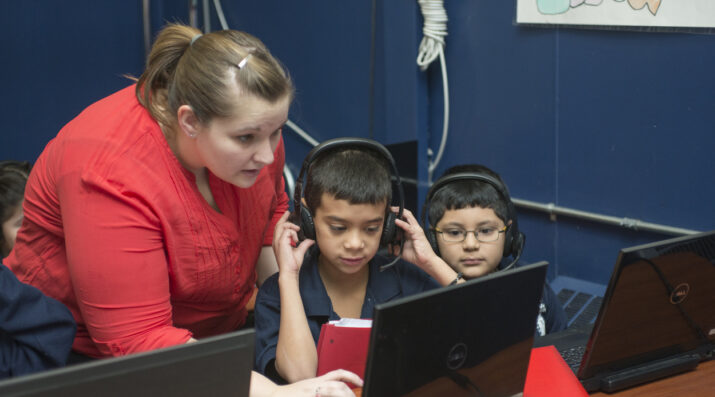 Initiatives
Go deep into these initiatives and learn how the big projects we are working on can help you move toward next gen learning.
Why Schools Need to Change
Today's learners face an uncertain present and a rapidly changing future that demands far different skills and knowledge than we needed in the 20th century.
Designing for Equity
Next gen learning serves equity when it takes a cultural lens, values whole person development, and equips students and educators to address injustice.
New Designs for School
Educators are combining the best of what we know about purposeful, authentic learning with bold ideas about student success to completely reimagine schools.
Building Community
When educators design and create new schools, and live next gen learning themselves, they take the lead in growing next gen learning across the nation.
Reimagining Assessment
Educators are rethinking the purposes, forms, and very nature of assessment, designing assessment for learning as an integral part of the learning process.
Professional Learning
If educators are to enable powerful, authentic learning among their students, they need to live that kind of learning and professional culture themselves.
Technology Tools
Educators often make use of ed tech as they make the shifts in instruction, teacher roles, and learning experiences that next gen learning requires.
Enabling Change
Next gen learning happens when everyone—kids and adults alike—takes charge of their own learning and has the opportunity to do their best possible work.
Competency-based Education
Gaining knowledge & skills, not time spent
Personalized Learning
Education tailored to, with & by each learner
Project-based Learning
Deep & active with real-world connections
Social-Emotional Learning
Educate hearts, inspire minds, navigate the world
Learner Agency
Deep & durable self in charge of own learning
Student Success
Prepared for learning, work & life
Design Thinking
Creative, disciplined, user-centered process
Change Management
Getting from here...to there
Leadership
Shaping the conditions for next gen learning
School Culture
Beliefs, values, rules, relationships, stories
Finance
Applying funds & resources for learning
Staffing
The personnel behind next gen learning
College & Career
Ties to a learner's next steps after K–12
Tools for Next Gen Learning
Tech & resources used by next gen educators
Facilities & Classroom Design
Physical spaces that advance learning
Curriculum & Instruction
The content & practice of teaching & learning
What happens after a school district adopts a graduate portrait?
Immerse yourself in colorful imagery, real student work, teacher tools, and a multitude of voices and perspectives to see how a community's vision of student success comes to life in their schools.