Why Schools Need to Change
Why is next generation learning so important and so urgent?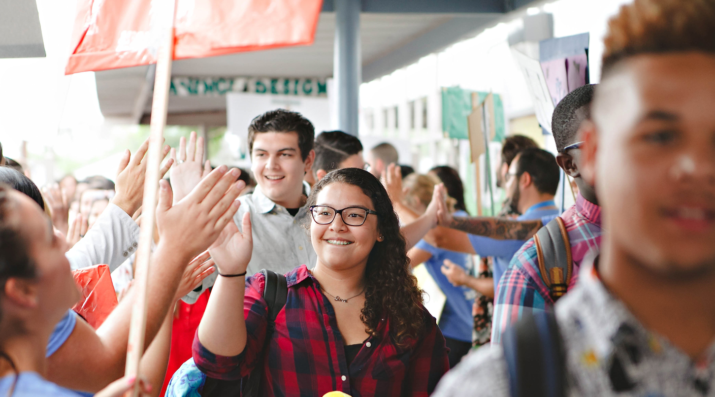 Today's learners face an uncertain present and a rapidly changing future that demand far different skills and knowledge than were needed in the 20th century. We also know so much more about enabling deep, powerful learning than we ever did before. Our collective future depends on how well young people prepare for the challenges and opportunities of 21st-century life.
Why Do Schools Need to Change?
The factory model is outdated. But why is that so? Why does our nation so desperately need to change the way learning happens in schools? Is there more to next generation learning than innovation for innovation's sake?
When next gen education leaders articulate Why Schools Need to Change, parents, community members, and the general public become supportive of—and involved in—the work of creating new designs for schools.
Answers to "why" come from all kinds of sources: Statistics and trends on education achievement gaps, employer demands, advances in technology, changing demographics, and more. Learning science and educational research that demonstrate how learning happens and the conditions that support it. The fast pace of cultural and economic shifts happening around us. The documented injustices of poverty and social and cultural oppression.
And then there are the stories: The struggling student who was getting more and more frustrated with each passing day as she kept falling farther behind. The student who was already highly skilled at applying the content in your next lesson. The bright student who was disengaged and on the brink of failing out. The frustration of having to teach to the test when you know that's not what students need most. The fatigue of adopting the newest curriculum only to be switched again in a few years.
In the MyWays project, NGLC provides compelling evidence about the impact of our changing world on today's youth and on learning. This resource will help you engage your school and local community in taking on the challenge of answering Why Schools Need to Change.
Education went through massive changes during the pandemic, so we know that change is possible. For those who don't want to go back to the way things were before COVID and are looking for connection and support to take learning forward, NGLC offers the Bravely network. DISCOVER BRAVELY
Bringing Your Vision for Student Success to Life
A popular way many school and district communities are expressing Why their Schools Need to Change is by creating a community-defined vision for student success. Often known as a Portrait of a Graduate, a Graduate Profile, or something similar like Portrait of a Learner, these visions describe the skills and competencies graduates need to thrive in learning, work, and life.
But... what happens after a school district adopts a Portrait of a Graduate?
NGLC asked five school and district sites around the U.S. how they answered this essential question: How might we redesign teaching and learning to ensure all students have high-quality learning experiences that help them continuously develop the competencies in our Portrait of a Graduate? After nearly 50 interviews and collecting even more examples of learning experiences, real student work, teacher tools, audio clips, charts and graphics, and more, we painted a picture of their unique approaches to aligning teaching and learning to their vision of student success
Immerse yourself in these stories to see how each community's unique vision of student success comes to life in their schools.
Gain inspiration and practical strategies to work on what's next for your school community.
Join our mailing list to discover how next gen educators are changing schools and transforming learning for today's students in communities all across the U.S.