Reimagining Assessment
Assessment for Learning Project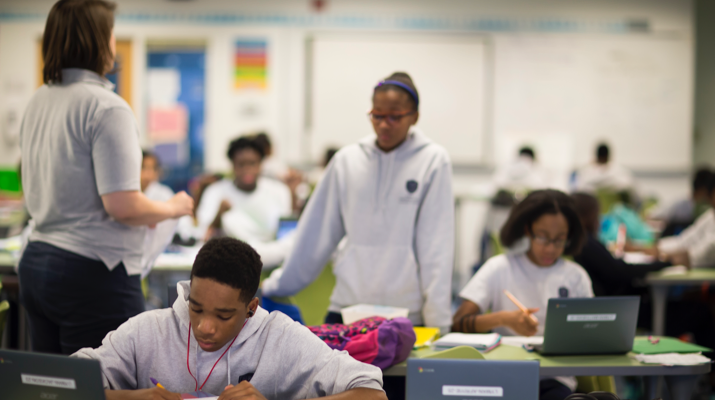 Reimagining Assessment
Reimagining Assessment
Educators are rethinking the purposes, forms, and nature of assessment. Beyond testing mastery of traditional content knowledge—an essential task, but not nearly sufficient—educators are designing assessment for learning as an integral part of the learning process.
Learn More
The Assessment for Learning Project is a collaborative initiative led by the Center for Innovation in Education with NGLC and 2Revolutions. ALP provides grants to educators who are fundamentally rethinking the core roles that assessment can play to support student attainment of deeper learning.
WHY? PURPOSE OF THE GRANT
This grant opportunity is intended to catalyze new and improve upon promising efforts in assessment for learning design.
Goal One: Advance our understanding of assessment's essential roles in the learning process, as learning models become more personalized, less cohort-restricted, more competency-based, and student-centered.
Goal Two: Help to inform and develop crucial enablers such as a) models of assessment and accountability system design, b) models of educator capacity building, and/or c) use of technology tools, all to advance Goal One.
WHAT? FUNDING PRIORITIES
The Assessment for Learning Project awarded grants for projects that directly address one or more of the following inter-related priorities.
ADVANCING GOAL ONE:

The design and implementation of models of on-going formative assessment and feedback that improve learning, deepen student agency, and increase college and career readiness.
Demonstrations that essential intra- and interpersonal skills and dispositions can be taught, learned, and assessed as a natural and necessary part of a child's experience in public education.

ADVANCING GOAL TWO:

The development of models that build educator capacity to gather, interpret, and apply professional judgment based on multiple and varied forms of evidence across a wide range of student competencies.
The design and exploration of systems of aligned assessment and accountability policies that embrace and enable richer/deeper success definitions for students and multiple, varied forms of measurement of student progress towards those definitions.
The use of technology tools within systems of assessment to enable educators using formative assessment and related data to better inform instruction and a student-centered learning experience.

WHO? GRANT RECIPIENTS
Following a Request for Learning (RFL), 148 proposals were submitted by schools, districts, state agencies, and nonprofits. Twelve projects were selected in March 2016 for funding, personalized technical assistance, high-quality learning experiences, and a national community of practice.
COMMUNITY OF PRACTICE
The Assessment for Learning Project invites the field to #rethinkassessment. The ALP Community of Practice includes grant recipients, technical assistance providers, Advisory Group members, non-funded applicants, members of peer networks, and other educators who share a passion for how assessment is used to support learning. Follow @ALPinsights to stay connected.
Assessment for Learning Project Knowledge Site
Join in the learning of the ALP Community of Practice by visiting the knowledge site where educator teams in the ALP network share what they are learning. It is not a highly polished website, on purpose. In true assessment for learning fashion, teams are sharing learning as it happens, to reflect and receive feedback to continually deepen and expand understanding.
Assessment for Learning Conference, Feb. 11-13, 2020, San Diego
Assessment for EQUITY. Assessment for AGENCY. Assessment for LEARNING.

Join the amazing educators and system leaders of the Assessment for Learning Project so we can together reimagine what's possible for assessment centered on student learning, not accountability. The conference provides hands-on workshops, practical tools, expert advice, peer learning, and a dynamic and growing assessment for learning community. Learn more at www.assessmentforlearningconference.org today!
LEARN MORE
PARTNERS
People Working On This Challenge
See More