Reimagining Assessment
Large Countywide and Suburban District Consortium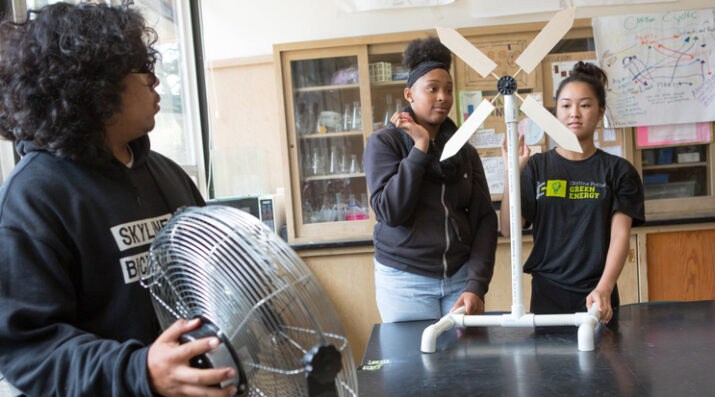 Reimagining Assessment
Reimagining Assessment
Educators are rethinking the purposes, forms, and nature of assessment. Beyond testing mastery of traditional content knowledge—an essential task, but not nearly sufficient—educators are designing assessment for learning as an integral part of the learning process.
Learn More

www.successatscale.com/
Grant Term:
24 months
Funding Priority:
Formative Assessment, Intra/Interpersonal Skills, Educator Capacity, Aligned Systems/Accountability
Measuring What Matters: Performance Assessment Collaborative (PAC)
Participating Schools
Locations:
Baltimore County, MD
Fairfax County, VA
Palm Beach County, FL
Kane, Cook, and DuPage counties, IL
Virginia Beach, VA
Settings: Urban, Suburban
School Types: District
Targeted Grades: K-12
Number of Participating Students: More than 1,000
Number of Participating Teachers: More than 200
Curriculum Areas: Intra- and/or Interpersonal Skills and Dispositions
The Team
The Large Countywide and Suburban District Consortium
Baltimore County Public Schools (MD)
Fairfax County Public Schools (VA)
The School District of Palm Beach County (FL)
School District U-46 (IL)
Virginia Beach City Public Schools (VA)
EducationCounsel
Learn more about the districts in this District Profiles presentation.
The Project
Measuring What Matters: Performance Assessment Collaborative (PAC) is a joint effort to use performance-based assessments (PBAs) to help build high-quality systems of assessment. These systems will support the shifts in teaching and learning needed to raise achievement and close gaps while enhancing federal and state policy. PAC has 3 strands:
Develop competency-based models for building educators' capacity to vet existing and develop new PBAs, facilitate student learning through them, and accurately and reliably assess student performance.
Curate a bank of high-quality PBAs tagged to each district's standards and dispositions.
Design PBAs to align with and support next-generation accountability systems.
The Hypotheses
If we provide competency-based training on quality PBA design, then educators will vet and/or create rigorous, high-quality PBAs.
If we provide school-based support to integrate PBAs into instruction, then we can improve teaching, student growth/engagement, and the quality of student data.
If we provide competency-based training and feedback to educators on scoring student performance, then educators will align their scoring to shared expectations, yielding more valid and reliable assessments of learning.
If we create common standards for high-quality PBAs and tag them by various academic standards and 21st century skills and dispositions, then we can collect, create, and curate a critical mass of PBAs that are usable across state and local contexts to accelerate the use of PBAs across all schools.
If we incorporate principles of validity, reliability, and comparability into the PAC standards, then we can help create next-generation accountability systems that encourage the development of the full range of knowledge, skills, and dispositions.
If we continuously improve and codify the PAC model, then we can effectively scale to other settings.
The Learning
The PAC project team participates in three peer-to-peer learning communities, each of which will help deepen and broaden the impact of the grant on multiple systems. First, the five districts provide a large number of schools, educators, and students who can help test and refine the models. Second, the team will also learn from other ALP grantees that may approach the work from usefully different perspectives than the team's large school district perspective. Third, the team will share what it learns with other Consortium districts to help scale successes and avoid challenges as we all advance toward high-quality systems of assessment aligned to the Consortium's "Measuring What Matters" assessment system design principles.
Photo courtesy of Allison Shelley/The Verbatim Agency for American Education: Images of Teachers and Students in Action, CC-BY-NC 4.0

People Working On This Challenge
See More