New Designs for School
East Bay Innovation Academy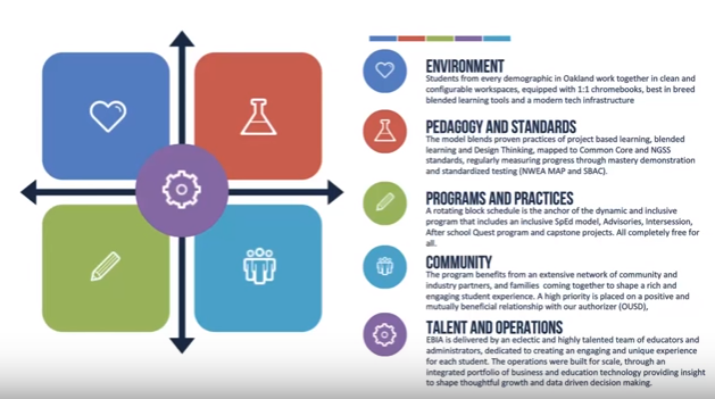 New Designs for School
New Designs for School
We've all had the experience of truly purposeful, authentic learning and know how valuable it is. Educators are taking the best of what we know about learning, student support, effective instruction, and interpersonal skill-building to completely reimagine schools so that students experience that kind of purposeful learning all day, every day.
Learn More

www.eastbayia.org/
Grant Type:
Regional Launch
Start Date:
Fall 2016
Startup Type:
New School
School: East Bay Innovation Academy
Grades Served: 6-9 (growing to 12)
Location: Oakland, CA
Operator Type: Charter
Setting: Urban
Students at Start: 240
Students at Capacity: 750
Blended Model Type: Station Rotation, Individual Rotation
Key Features: Project-Based and Experiential Learning, Early College and Dual Enrollment, Community Partnerships, Social-Emotional Development
The Operator
East Bay Innovation Academy (EBIA) is a college preparatory public charter school that provides students with the skills necessary for productive lives as citizens in a dynamic and increasingly competitive global world. EBIA is a rigorous Science, Technology, Engineering, Art and Math (STEAM)-based school with an emphasis on the social-emotional skills needed to be leaders.
The Academic Model
The school's instructional model and tools ensure that students have access to technology that personalizes learning, providing them with practice, modeling, and instruction in those concepts they are most in need of support on, meeting them at various points across the K-12 instructional spectrum.
Woven throughout classroom instruction and independent blended learning study are the principles of innovation and design thinking.
Projects are designed and blended learning platforms are selected in order to support students in making and doing.
EBIA seeks to create educational experiences wherein students explore their interests and learn life lessons taught through practice and experimentation.
The school prioritizes social-emotional learning with an advisory program, of 16-18 students each, and an emphasis on collaboration and communication skills.
The Organizational Model
The school is split across two campuses: 6-8th in one building and 9th grade across town. Both lease district-owned facilities.
The school utilizes 1:1 access to Chromebooks
A next generation professional development model leverages personalized learning and collaboration. Teachers reflect on their instructional practices, set goals that are revisited through observation and feedback, and participate in 20 full professional development days per year as well as daily team meetings.
Learn more about the NGLC Regional Fund for Breakthrough Schools program that supported these grantees by visiting the NGLC in Oakland grant page.
People Working On This Challenge
See More