Enabling Change
3 Major Shifts in Teaching & Learning: Reflections on the 2016 ELI Annual Meeting
February 25, 2016
Topics
Change Management
School Culture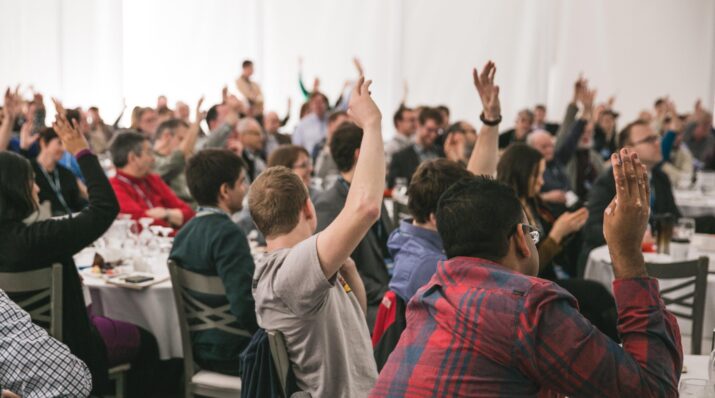 Enabling Change
Enabling Change
Next generation learning is all about everyone in the system—from students through teachers to policymakers—taking charge of their own learning, development, and work. That doesn't happen by forcing change through mandates and compliance. It happens by creating the environment and the equity of opportunity for everyone in the system to do their best possible work.
Learn More
The first two shifts in higher education are complete; it is the third shift, now well underway, that caught my attention at this past ELI Annual Meeting.
Conferences don't always have a profound impact on people. For many, the inspiration dries up after the final session's applause, as the Twitter hashtag dies down, or when the name badge hits the wastebasket.
I'm fortunate (and know many others agree) that the ELI Annual Meeting is very different. To that end, the ELI is extremely grateful to the teaching and learning community for making our recent 2016 Annual Meeting such a rewarding event! I always learn a great deal from listening and in conversation with colleagues from a great range of institutions.
One of the things that impressed me in San Antonio is what I perceive to be a third shift in what most concerns the teaching and learning community.
The first two are complete, in the sense of having broad consensus across the community. It is the third shift, now well underway, that caught my attention at this past Annual Meeting.
The first shift was a new emphasis on the learner and the activity of learning. This shift started some 13-15 years ago. One milestone was past EDUCAUSE president Diana Oblinger's refashioning of the old National Learning Infrastructure Initiative (NLII) into the EDUCAUSE Learning Initiative (ELI) in 2005. As she did so, she laid particular emphasis on learning in the three philosophical pillars of the new organization: "ELI believes that its efforts begin with a consideration of the learner." Today, I think most of us share this emphasis on learning as common ground, as a common point of departure. It's practically a reflex for us. That's the first shift.
A second shift has been moving emphasis away from technology and instead putting teaching and learning (T&L) practice in the foreground. There are myriad indicators of this shift, one of which is the growing tendency to look for instructional design in the resumes of staff hired to support teaching and learning. Another indicator is the results of the ELI 2016 Key Issues survey, where the majority of the leading issues are teaching and learning practices and not technology. While technology will always provide an operational basis for our T&L practices, it's clear that we as a community now have shifted the priority to first discovering and identifying effective practices and then find the technologies that enable them.
Both of these shifts are complete or nearly so, in that there is widespread agreement about them and their respective impacts in the community.
The third shift is a focus on cultural change, and this shift is just beginning to get into high gear. We all agree that higher education needs to change its T&L practices in order to respond to the new and rapidly changing demands it faces. The impediment here is not technology, nor T&L practice; it is, instead, the culture at many of our institutions, the intangible yet still palpable element which makes those institutions hesitant to embark on change that might enable it to achieve breakthrough transformations.
In short, this new, third shift is about change agency: how can we most effectively practice it on our campus; how do we help promote, encourage, and help bring about the academic transformations our current situation requires?
I'd invite us all to think about this issue in the coming months. Please share your thoughts in the comments section below. We at the ELI are eager to hear from you about ways we can engage around this theme both in 2016 and at the 2017 Annual Meeting.