New Designs for School
3 Ways to Put Students in the Driver's Seat with Personalized Learning
October 23, 2017
Topics
Personalized Learning
Project-based Learning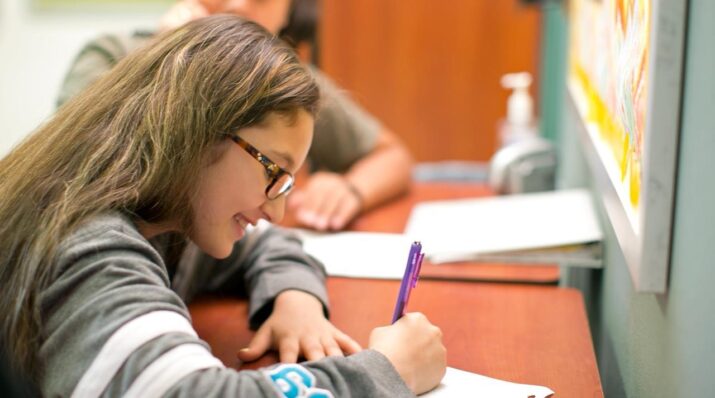 New Designs for School
New Designs for School
We've all had the experience of truly purposeful, authentic learning and know how valuable it is. Educators are taking the best of what we know about learning, student support, effective instruction, and interpersonal skill-building to completely reimagine schools so that students experience that kind of purposeful learning all day, every day.
Learn More
In 2013, Summit Public Schools built its own personalized learning platform to gain better insights into how students were progressing in relation to their personal goals. Fast forward to 2015 and what started with 19 schools has today grown to include more than 330 schools across 40 states.
Guillermo Lopez, a recent graduate of one of California's top-performing high schools, defined his education experience as running on a field instead of a track.
"You choose which direction you run," he says of the personalized learning environment at Summit Preparatory Charter High School.
Education buzzwords abound in today's high tech environment—blended learning, flipped classrooms, data-driven instruction. Personalized learning joins the list of jargon that isn't easily understood. So exactly what is personalized learning?
At Summit Public Schools, personalized learning is much more than differentiated content delivered on a screen.
"Personalized learning to me means that every single student has a pathway that makes sense to them, that's connected to their long-term goals and aspirations," says Diane Tavenner, CEO and Co-Founder of Summit Public Schools.
Students in the Driver's Seat
Founded in 2003, Summit aimed to personalize education long before technology defined the movement and transformed teachers' toolkits. In many ways, the timeline of Summit Public School's technology use reflects the changing landscape of educational technology.
In the early days of the public school network, hard copy personalized learning plans lived in manila folders. Students documented their college and career aspirations and met with mentors to align daily actions to these goals. As technology progressed, so did Summit. Personalized learning plans were eventually moved to Google Docs and tracked more frequently.
Longing for a more effective system, Summit built its own personalized learning platform in 2013 to gain better insights into how students were progressing in relation to their personal goals. To meet the needs of each and every one of their students, the platform would serve as a tool to help teachers track student learning in real-time, enabling them to customize instruction to serve student needs. Fast forward to 2015, thanks largely to support from Facebook engineers, Summit began sharing its personalized learning program and software to schools for free through the Summit Learning Program. What started with 19 schools has today grown to include more than 330 schools across 40 states.
The technology has changed, but the philosophy hasn't. Whether tracking learning through a printed worksheet or a powerful platform, students in the Summit Learning environment take center stage. Tavenner argues that putting students in the driver's seat is the biggest shift we need to make in education.
"Our students are capable of so much, and yet we don't ask them to live up to that capability," Tavenner says. "We need to broaden the outcomes that we expect from students and that we expect our schools to equip them with."
So what can personalized learning look like today, when we do just that? When it's backed by learning science and is intentionally designed to achieve student success in the areas we know matter: Cognitive Skills, Content Knowledge, Habits of Success, and Sense of Purpose?
Not drastically different from methods effective educators use today, it's a cohesive student experience that includes 1:1 mentoring, project-based learning, and individualized pathways for learning content.
The Three Pillars of Personalized Learning at Summit
1:1 Mentoring
Everyone knows that technology alone does not guarantee student learning. The true magic happens when the power of learning is combined with 1:1 mentoring. In the Summit Learning approach, students have weekly 1:1 mentor meetings to set short- and long-term goals and align daily actions to these goals. Weekly 1:1 mentorship empowers teachers to truly know each student and personalize their education to reflect their interests and passions.
Real-World Projects
Summit Learning students spend the majority of their time immersed in real-world projects—projects that culminate in a performance-based assessment such as an essay, lab report, or presentation. For example, students apply geometry and personal finance knowledge to design and budget for their dream home. Through projects, students are assessed on multiple Cognitive Skills, such as the abilities to express ideas with precision and to use relevant, credible sources to support those ideas. The Summit Learning Platform houses more than 200 projects and includes a series of built-in checkpoints, or opportunities for formative feedback, from teachers, peers, and self.
Individualized Pathways
In a traditional classroom setting, students at all different learning levels are often expected to do the same activity at the same time. Not surprisingly, this "one-size-fits-most" method often leaves struggling students behind.
In Summit Learning's personalized environment, students exercise choice in determining which content resources to review, learning how they learn best. On the Summit Learning Platform, students independently progress through playlists, mastering content across all core subject areas. Students take on-demand assessments when they are ready, rather than with the entire class at the same time. Tests can be taken multiple times until students demonstrate mastery.
But students are not left to their own devices. Teachers facilitate self-directed learning by coaching and offering targeted support through small-group and 1:1 interventions, as well as by providing extra scaffolding for students who need it.
Today, all 13 Summit Schools in California and Washington and more than 330 Summit Learning schools across 40 states use the Summit Learning approach to education. Summit's definition of personalized learning and school design are based on the best learning science. By flipping the traditional adult-driven school model and putting students at the center, Summit believes they can equip students with the skills, knowledge, and habits to live a fulfilled life.