Professional Learning
A Meaningful Education Begins with the Relationship
September 9, 2019
Topics
Leadership
School Culture
Staffing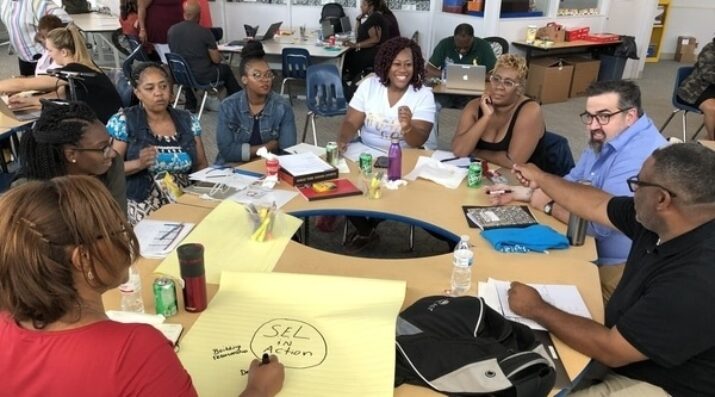 Professional Learning
Professional Learning
Educators are the lead learners in schools. If they are to enable powerful, authentic, deep learning among their students, they need to live that kind of learning and professional culture themselves. When everyone is part of that experiential through-line, that's when next generation learning thrives.
Learn More
How Distinctive Schools is using new teacher training and ongoing PD to transform relationships among staff and with students.
Teaching is a very personal profession. While staff may share a prescribed curriculum or measure their effectiveness against a universal instructional framework, teachers bring their personalities, preferences, and values to the work, thus creating a unique learning experience for their students. The relationships that teachers have with one another and with their students is at the heart of this work.
The days of teachers closing their doors and working in isolation are in the past. Teaching students how to think creatively, how to collaborate, and how to engage in self-advocacy requires that teachers engage in these same practices with one another. We must engage in meaningful conversations, ask probing questions, and be willing to take risks in our instruction. Doing so requires that we are open to feedback, that we let others see our true selves, and that we find and share our voice. Most importantly, doing so requires that we have positive and trusting relationships with one another and with our students. While these relationships develop over time, once established, they provide a foundation for teaching and learning that is hard to break.
At Distinctive Schools (DS), we prioritize these relationships, starting with our vision that keeps student learning and identity at the forefront. As individuals and as members of the DS team, we are determined to "innovate, trail-blaze and collaboratively lead a public education transformation that positively impacts the greater education community and ensures that each of our Distinctive Schools students thrives in college, career and life." These conversations begin at the start of the school year when we welcome the newest members of the DS family and we commit to the vision every day thereafter.
New Teacher Institute
Ensuring that teachers feel free to innovate, trail-blaze, and take risks in their classrooms requires an unwavering focus on building and sustaining a positive climate that fosters trust, transparency, and personal connection. Establishing this foundation for new teachers begins as soon as they enter our doors. Each year, Distinctive Schools hosts a week-long New Teacher Institute (NTI) that brings our newest members together in order to become acclimated to the "DS Way" and to answer our Essential Question, "What makes us Distinctive?" While the answer to this question continues to evolve and deepen as the organization grows and matures, an ever-present response is our focus on care and relationships.
The relationships that teachers have with one another and with their students is at the heart of this work.
These responses are often informed by the fact that NTI always begins with a two-day series on social-emotional learning (SEL). While one might assume that NTI should provide an overview of the curriculum—certainly a strategy we have tried—we have found that facilitating these academic workshops toward the end of the week actually leads to richer and more meaningful conversations. Teachers are more open to asking questions, collaborating with people they have just met, and sharing their perspectives when they have taken the time to establish relationships and explore topics such as growth mindset, effective praise, and restorative justice. SEL provides our new DS members with an anchor lens through which to explore the academics.
Carly Hasso is a 3rd grade teacher new to CICS Bucktown, a K-8 school in the DS network. In her NTI reflection, Carly noted that, "setting expectations in the classroom and creating a space that is welcoming for all students to feel at home and successful" is going to be an ongoing focus of her teaching this year. DS Executive Director of Student Services Mike McCarthy shared that, "by starting with SEL, we model how staff will be expected to prioritize student-teacher relationships and integrate SEL skill development throughout their daily lesson plans." This includes ensuring that all students have access to a rigorous curriculum and have the support they need to achieve their fullest potential.
Professional Development
In addition to NTI, ongoing professional learning further strengthens the role of relationships in our model. At DS, we often say that our work is, "with teachers, by teachers, and for teachers." We provide a variety of platforms for teachers to share their unique perspective to align our priorities to the Distinctive Schools vision and to help us make mid-course corrections when it does not. Whether a brief one-time survey, a teacher-driven roundtable, or a year-long design team to launch a new initiative, the driving force behind each is the voice of our innovators and trail-blazers: teachers.
As an example, we are in the second year of our diversity, equity, and inclusion (DEI) work. While Year 1 focused on leader learning, teachers are now beginning the DEI journey with a specific focus on identify-affirmed practices. As with almost everything we do, the conversations begin with our new teachers during NTI, and continues throughout the year. Network leaders are analyzing our curriculum choices through the lens of the students before us; campus leaders are engaging staff in a year of deep learning, self-reflection, and systems-building; and teachers will be collaborating over the course of the year to create, implement, and refine lessons to ensure they reflect the diverse students they serve.
Just as Distinctive Schools believes in the power of teacher voice, our teachers believe in creating a brave space for student sharing. Alexa Czyzynski, resident teacher at CICS Bucktown, left NTI with a personal commitment to "making sure my students have a platform and opportunity to share about themselves and get to know one another and myself." Because Alexa has been given this same platform as a teacher, she feels its importance and realizes the impact it will have on her students' self-worth and identity.
Student Services Team
Every person in the DS organization leaves a lasting impression on a child's school experience. Rigorous instruction may be the teacher's domain, but creating safe and joyful learning environments that prepare every child for a successful future is the responsibility of all. We require that school social workers, nurses, psychologists, and social workers attend NTI alongside their teacher peers to begin to develop these important relationships and to think about the impact that SEL can have on their own practice.
Angela Lee, a founding member of the newest DS school, Art In Motion says, "I'm a school social worker but I will continuously be visible throughout my campus, I will encourage preventative methods first, reactive methods second and I will be an ongoing support to staff and students by educating them on SEL and leading by example," Lee's comments reflect the collaborative leadership present at DS, another example of how relationships frame our work with each other and with students. We establish these professional relationships and collaboration opportunities early so that students feel and see that they receive support from every person they meet.
We all know the saying, "it takes a village to raise a child." At Distinctive Schools, we need one another and a collaborative approach to truly have an impact. Our vision of "transforming public education" begins with transforming our relationships with each other and our students, investing the time and personal commitment to ensuring these relationships are positive and life-giving, and seeing every person as a key piece of the puzzle.
---
Photo at top courtesy of Sarah Gaw.