Enabling Change
A New Education Research-Practice Center: Early. Personal. Relevant.
January 10, 2018
Topics
Design Thinking
Change Management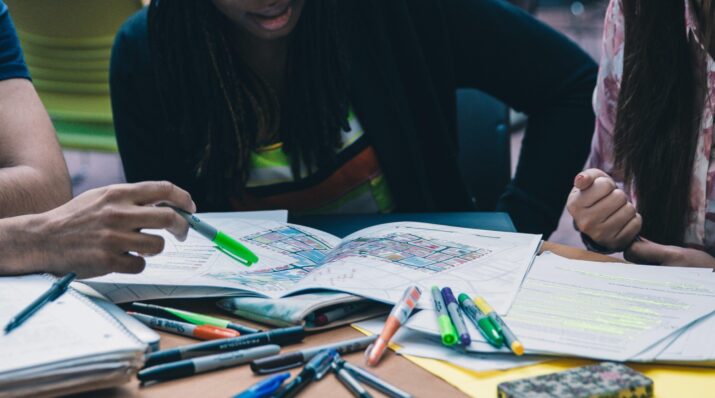 Enabling Change
Enabling Change
Next generation learning is all about everyone in the system—from students through teachers to policymakers—taking charge of their own learning, development, and work. That doesn't happen by forcing change through mandates and compliance. It happens by creating the environment and the equity of opportunity for everyone in the system to do their best possible work.
Learn More
The International Center for Educational Research and Practice is a center of neuroscience study, addressing learner needs from birth to college and career.
In January 2018, a new International Center for Education Research and Practice (ICERP) will open on the campus of the Vista Unified School District (VUSD) in north San Diego County. The Center "pre-launched" last May with a small event headlined by Stephan Vincent Lancrin, director of research for the OECD Center for Education Research and Innovation, Bret Schanzenbach, the CEO of the Vista Chamber of Commerce, local government officials, and CEOs of local, global, high priority sector businesses.
Thematically, the design of ICERP directly supports the three brushstrokes guiding the journey of Vista Unified: Early. Personal. Relevant. Accordingly, ICERP has three primary partners: VUSD where 100 percent of K-12 schools are now engaged in Personal Learning, University of California at San Diego Graduate School of Education (UCSD GSE) with a focus on research at the early ages, and the San Diego Workforce Partnership (SDWP) which addresses disconnected youth and the fueling of talent for high priority sectors in San Diego County. The Center is led by this post's co-author, Dr. Matt Doyle. As Executive Director of the Center, Doyle is charged with building relationships between partners and educators. Advisory Board members include representation from IDEO, Google, Qualcomm, Manpower, OECD, the United Way Partnership for Children, San Diego County Department of Education, Montessori Institute of San Diego, Solatube, Gulf University of Science and Technology, Digital Promise, and more. The Center resides under the governance of a new non-profit, the Vista Foundation for Innovative Learning.
Taking Action So Learners Win
The heart of the Center—its Action Council—is carefully constructed to include a balance of research and practice leaders. Three VUSD principals hold seats on the Council representing elementary, middle, and high school levels. UCSD and SDWP are members as well, providing guidance and alignment to research and the world of work. New Learning Ventures (NLV) is playing a key role in the design, organization, and implementation of the Center as part of its multi-year systemic change management engagement with VUSD.
ICERP is designed to:
Conduct neuro-scientific research in a school-community setting so that the usual lag time between research and practice based on findings is significantly reduced. UCSD GSE has a series of projects in line, mostly targeted to younger learners, where the returns to society will be greatest over time.
Offer open access to research findings and serve as a global role model and disseminator of knowledge. The Center is committed to engaging an international perspective and sharing results internationally. International board membership includes the OECD Center for Education Research and Innovation headquartered in Paris, and the Gulf University of Science and Technology headquartered in Kuwait City.
Facilitate "inter-sectionality of thought" among the partners so that the impact of the research can serve the disciplines of lifelong learning, college and career readiness, family and community engagement, and societal-scale thinking. Working together, UCSD, VUSD, and SDWP are creating a spectrum of programs designed to make school more relevant and prepare students better for a knowledge-based society and globally competitive economy.
The philosophy of the Center is based on three uncommon wisdoms:
Focus on the learner. The Center will be able to track research as students grow rather than simply accessing a snapshot of development that is common in education research.
Use of transformation change management. Research findings will immediately be interpreted for practice and will just as immediately impact best practices in teaching, learning, career prep, etc. This closes the usual gap from research to practice.
Embedded practice. Locating ICERP directly on the preK-12 school campus encourages a two-way interactive dialogue between researchers and the real environment. Put simply, it is the opportunity to put context around research.
A Complete Lifespan Approach to Learning
ICERP has the potential to create a game-changing global center of scientific study, in the important field of neuroscience, addressing the needs of the learner from birth to college and career. For learners' very early years, the Center will focus on informing parents, educators, and community of neuroscience-based practices for developing the whole child. For elementary and middle years, the Center focuses on STEM and new approaches to creativity and critical thinking. For later working and lifelong learning years, employers, entrepreneurs, and economic development reap the benefits of the Center's work supporting individual talent, international economic growth, and innovation. The benefits of this research approach will improve societal and economic development for generations to come.
While the Center's vision is just beginning, here are some elements of the vision which we foresee:
Advancement of neuroscience with advantages to researchers in the U.S. and globally,
Improvement of teaching practices as study findings are translated into effective teaching and learning practices,
Improvement in parenting skills and education choices as neuro-scientific research yields new information,
Efficacy sharing about programs to ensure that the greatest quality of programs is offered to U.S. and global public and private schools,
Advanced use of change analytics and change management protocols such as app-based roadmaps and rubrics to ensure changes in practice consistent with findings,
Shared design thinking, best practices, and thought leadership,
Shared collaboration and professional development, and
Opportunities for leadership (principals, Center members) collaboration and exchanges—physical and virtual.
There is also the potential for shared current programs:
P-3—In partnership with CLIMB (Center for Low Income Mobility) and MISD (Montessori Institute of San Diego), the Center is leading the implementation of a P-3 Continuum intended to close the achievement gap before it starts by aligning wrap around community services to foundational language, literacy, and numeracy skills development.
Creativity and Critical Thinking—This OECD Center for Educational Research and Innovation initiative into redefining the meaning and measures of creativity and critical thinking has been conducted at VUSD and eleven other countries around the world for the past three years. The research initiative is moving into the higher education phase in 2017-18. Findings will impact the PISA Exam (Programme for International Student Assessment).
Talent Cities/Talent Bridges—In partnership with New Learning Ventures, San Diego County is in its second year of piloting Talent Cities. Talent Cities creates a data-driven closed feedback loop for continuous improvement between education entities, employers, and entrepreneurs. The goal is to make school relevant, proactively share in defining future talent descriptors, and create an agile, ready talent base that will fuel economic growth in high priority sectors. With Talent Bridges, students may virtually intern with employers in others' countries thereby experiencing the virtual world of work, forming teams on demand, working across time zones, identifying geographic-based opportunities, utilizing 21st century skills in a virtual setting, receiving a global Talent Cities profile, and forming a go-forward network that can help sustain economic growth and political alliance strategically.
Ultimately, the International Center for Educational Research and Practice aspires to address the challenge of "inter-sectionality of thought." Bringing research and practice together is the only way school districts and their communities can create the learning environments that will prepare today's students for tomorrow's future.