New Designs for School
A New Tool for Mapping Your Next Gen School
April 13, 2016
Topics
Competency-based Education
Project-based Learning
Social-Emotional Learning
Design Thinking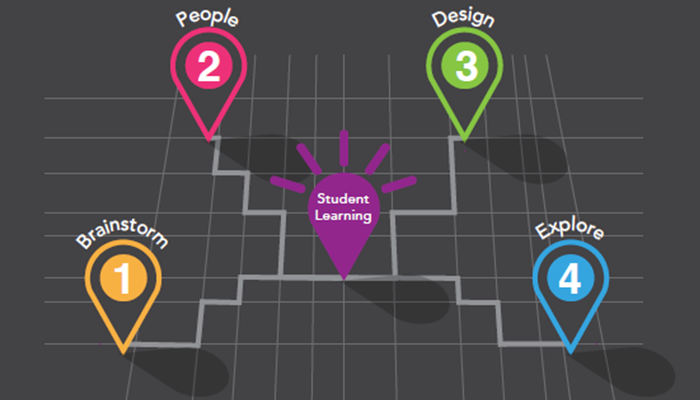 New Designs for School
New Designs for School
We've all had the experience of truly purposeful, authentic learning and know how valuable it is. Educators are taking the best of what we know about learning, student support, effective instruction, and interpersonal skill-building to completely reimagine schools so that students experience that kind of purposeful learning all day, every day.
Learn More
A new tool tracing the journey of two schools from (re)design to launch can help educators on their own journey to next generation learning.
The number of components to consider when it comes to designing and implementing next generation learning environments can seem overwhelming. How do you design a school centered around student learning that is personalized, flexible, competency-based, interactive, and engaging? Once you design it, how do you actually implement it?
NGLC breakthrough model schools are deeply engaged in this work. So NGLC and 2Revolutions partnered up to ask two NGLC grantees—Piedmont School District, in rural Alabama, and Intrinsic Schools, in the windy city of Chicago—to take us on their journey from design to launch. And with their stories, insight, and resources we've created our newest tool, A GPS for Breakthrough Model Design: Mapping Your Next Gen School With Intrinsic Schools and Piedmont School District as Guides. We're so excited to share it with you!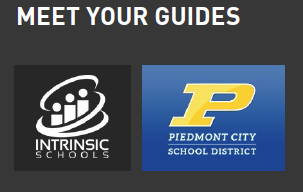 The name is intentional; this tool really is a GPS. The first stop on the route is the brainstorming phase (p. 6) where Intrinsic and Piedmont iterated, dreamed big, wrote ideas down, threw ideas out, and really dug deep to figure out what it was they wanted students to know and be able to do and how learning should feel and how it should happen for kids and adults. We include excerpts from their original brainstorm sessions and reflections as they look back at that time. For Piedmont, a small district that sits in the foothills of the majestic Appalachian Mountains, students have limited opportunities for jobs and postsecondary success unless they move far away from their small city. Superintendent Matt Akin, Ed.D., and his team wanted to make sure school felt relevant and connected to the larger world to ensure kids succeed after they leave high school.
Next stop on the journey is creating a diverse team of people (p. 7) to do the work—for Intrinsic and Piedmont that was a mix of administrators, teachers, parents, students, and community members.
Once the vision and team were in place, Piedmont and Intrinsic tackled design (p. 8), asking and answering questions about what their model should look like; what their priorities were in transformation; the kind of culture and climate they wanted to cultivate; and more.The final stop in the tool deeply looks at both school's planning designs (p. 10), highlighting elements of their original proposals, such as how they enable a personalized pace for learners; how they use time creatively to implement their model; technology's role; and financial planning. We also describe what changed during implementation because inevitably many things shifted.
Your journey of next gen learning uniquely depends on the young people you serve, your community, and your vision for learning. Getting a chance to walk alongside two schools that are doing this work can help you decide what your path should look like—we can't wait for you to explore it.
Download A GPS for Breakthrough Model Design: Mapping Your Next Gen School With Intrinsic Schools and Piedmont School District as Guides