New Designs for School
Increasing Access to Talented Teachers and High-Quality Learning in Greater Boston
January 18, 2022
Topics
Student Success
Change Management
Staffing
Tools for Next Gen Learning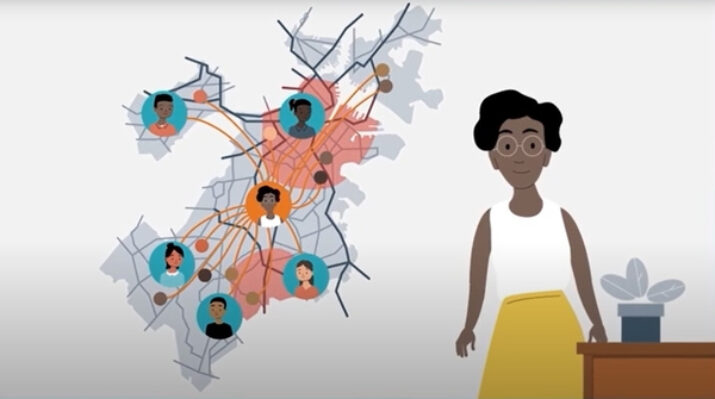 New Designs for School
New Designs for School
We've all had the experience of truly purposeful, authentic learning and know how valuable it is. Educators are taking the best of what we know about learning, student support, effective instruction, and interpersonal skill-building to completely reimagine schools so that students experience that kind of purposeful learning all day, every day.
Learn More
Campus Without Walls leverages the power of public schools, communities, and technology to connect students all over Boston to classes taught by the region's top teachers.
Students in high-need schools often lack access to rigorous and engaging learning opportunities. The COVID-19 pandemic worsened existing challenges in attendance, academic performance, and social and emotional learning (SEL) that students experience in under-resourced schools. For the most vulnerable students in Greater Boston, the risk of losing an entire year of academic progress was high..
Through Campus Without Walls, many students have a new opportunity to catch up—and get ahead.
Coordinated by BUILD, Boston Opportunity Agenda, and the Rennie Center for Educational Research & Policy, Campus Without Walls leverages the power of public schools, communities, and technology to connect students all over the city—regardless of their neighborhood of residence or their assigned school—with classes taught by the region's top teachers.
We're physically liberating young people and removing the silos and separation so that they can access all the great things that public education offers.
–Ayele Shakur, Chief Executive Officer, BUILD
The program liberates young people from some of the structures that traditionally define school-based learning. For us, liberated learning…

Increases students' access to great teachers
Increases visibility for students and families so they can advocate for higher quality experiences at their home schools
Raises expectations and accountability for high-quality education
Facilitates more diverse and authentic relationships
Creates a professional learning community for educators
Supports deeper learning by connecting students to schools, universities, employers, and out-of-school time providers throughout their communities and the larger world
Connecting Students with Teachers across Greater Boston
In Spring 2021, the Campus Without Walls pilot in Boston launched across 16 schools, 13 community-based organizations, and 2 universities serving approximately 600 students in grades 6-12. While school closures impacted all students in the wake of the pandemic, not all communities faced the same set of challenges. Students at already under-performing high schools were at the greatest disadvantage. That's who Campus Without Walls has focused on reaching through its virtual offerings.
Most students in the program are from Boston Public Schools as well as charters and parochial schools in Greater Boston with a high percentage of students of color whose families live on a low income.
The program's teachers are content experts chosen based on criteria from the Massachusetts Department of Elementary and Secondary Education. To help make sure the Campus Without Walls education is inclusive, the program seeks teachers skilled in culturally affirming practices.
The Campus Without Walls experience works like a virtual field trip. Lead teachers open their classrooms for a thematic unit and invite a partner class in. What students learn varies by semester. The Fall 2021 Course Catalog offers more information on the types of courses offered. Additionally, teachers can pull into their classrooms our enrichment modules which provide units on topics such as college readiness, wellness, and career readiness. The learning is brought to life through project-based learning.
The program connects classrooms to classrooms, so all students can participate synchronously or asynchronously with the lead teacher. Classes are hosted via an accessible online learning platform where students receive personalized teaching and learning content. They also have the opportunity to earn certifications and badges in key proficiencies identified by employers, including Microsoft Office, résumé writing, and design thinking.
The program's hybrid approach increases access and equity. The virtual component allows students greater access to courses outside of the confines of their actual classroom.
Reimagining Public Education for Equity
Campus Without Walls' implementation grew as a response to the pandemic but has the potential to make important shifts in public education far beyond this moment. By combining virtual learning technology and entrepreneurial thinking, Campus Without Walls aims to address the inequities present in under-resourced communities and help students thrive through the remainder of the pandemic and beyond. Over time, Campus Without Walls seeks to drive the following systemic changes in our public education system:
Elevate the teaching profession
Support teachers as facilitators of learning
Create a diverse teacher pipeline
Promote schools as community hubs
Move toward a competency-based assessment system
Enable students to access high-quality learning experiences beyond their assigned school for credit
Help families, students, and teachers gain visibility to high-quality teaching and learning
Advocate for Broadband for All as a basic right for low-income families