Enabling Change
Adult Learning Culture: An Underrated Ingredient for Success in Uncertain Times
September 1, 2021
Topics
Learner Agency
Change Management
Leadership
Staffing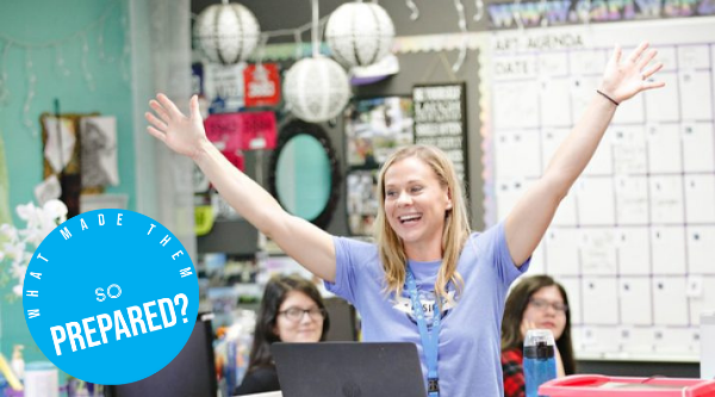 Enabling Change
Enabling Change
Next generation learning is all about everyone in the system—from students through teachers to policymakers—taking charge of their own learning, development, and work. That doesn't happen by forcing change through mandates and compliance. It happens by creating the environment and the equity of opportunity for everyone in the system to do their best possible work.
Learn More
What Made Them So Prepared?
A Project about K-12 Resilience
Three next gen schools demonstrate why it's so important to invest in adults to build a learning culture that's strong enough to weather any storm.
A recent ASCD article confronted an uncomfortable reality: the COVID-19 pandemic is likely not the only major interruption to K–12 schooling in our lifetimes. Contemplating an uncertain future, the article explores several key shifts—from investment in universal broadband to the adoption of competency-based pedagogy—that if adopted would position schools to navigate an uncertain future more confidently.
Several of these shifts resonate with what the What Made Them So Prepared? project, involving nine partner organizations, is learning by digging into the elements of preparedness that allowed schools in the "next gen learning" universe to pivot effectively in the face of school closures last March. As part of this project, our organizations—The Learning Accelerator and the Christensen Institute—teamed up to learn from three schools that were generous enough to share their stories and experiences as project participants.
Based on our conversations, we are convinced of the importance of an additional shift that, if widespread, could contribute to schools' resilience through both current and future upheaval: strong adult learning culture.
All three of the school leaders we spoke with reported that having a strong adult professional learning culture was key to building resiliency and weathering an ongoing crisis—especially when initial plans needed to change. Each of their stories show why having a strong adult professional learning culture pays off.
"How Can I Catch You Doing Something Good?"
Mike Rubin joined Uxbridge High School, a public district school about 50 miles southwest of Boston, as principal in 2015. At that point, "we spent a year defining what it meant to have a professional culture," Rubin said. The school was able to increase teachers' common planning time and hire additional new staff who were sorely needed. Rubin said that he told candidates, "We're looking for people with courage. I want you to have ideas, and it takes courage to take new ideas to an established staff." He also worked hard to change how evaluations were conducted. "We did away with the 'gotcha' culture," he said. "My approach was, how can I catch you doing something good? That took a little longer, because people had been burned."
By the time of an accreditation visit in 2018, there was substantial evidence that the school's adult culture had shifted. The report from the visit highlighted a high level of collaboration among teachers, the school's priority on common planning time, and the relationships among staff both inside and across departments.
Then came the pandemic. "I think things would have gone badly pretty fast," reflected Rubin, without a trusting and collaborative adult culture. But with that culture in place, Uxbridge demonstrated greater resilience and adaptability in a high pressure situation. For example, Rubin required teachers to do intensive joint lesson planning before the fall 2020 school year started. "It was a calculated risk," he said. But ultimately the trust among adults in the school won out against the stress of the moment. Teachers worked with each other to divide and conquer on the lesson plans, and even redesigned elements of the curriculum to emphasize interdisciplinary themes and cut out non-essential but time-consuming activities. When they ran into challenges, they co-designed new solutions.
In the end, Rubin is immensely proud of his staff. At the end of this year, teachers agreed that student learning is on track, students reported feeling supported and cared for, and every senior who started the school year in 2020 graduated in 2021. In response to a request from his superintendent, Rubin typed up an 11-page document of accomplishments he wanted to celebrate at the school. The document makes it abundantly clear: he succeeded in his goal of catching teachers doing plenty of good.
Two Districts, "One CART"
Rick Watson is the CEO of the Center for Advanced Research and Technology (CART), a career-oriented learning program for high schoolers that launched two decades ago as a collaboration between two central California districts: Fresno Unified and Clovis Unified. The program works by enrolling 11th and 12th grade students from high schools in both districts into a "capstone program" wherein they spend half of their school day in CART's career-oriented laboratories, ranging from biomedicine to multimedia to cybersecurity. Each lab engages students in project-based, hands-on learning facilitated by a team of teachers: one teacher with a career credential in the lab's focus, one English teacher, and a third academic subject teacher.
If there's one thing that Watson and his staff have learned how to do from their unique position between two districts, it's how to navigate ambiguity and bridge differences to create a coherent learning community for students. Although CART's governing board includes both district superintendents, Watson noted that policies and procedures, school communities, and staff culture are extremely different in each district. "We have to operate differently between the parameters of two districts," Watson said. "We've always done that." That constant negotiation has led to two important results: first, in the absence of being able to assume a staff culture from one or the other district, CART has had to create its own unique identity and culture. And second, the CART team is used to adapting and negotiating ambiguity, given the different district policies they are subject to.
During COVID, these elements of CART's unique, strong adult culture were tested—and demonstrated their value. While the Fresno and Clovis districts always differed, during COVID their differences came to the fore. "These districts operate top-down and dictated what students and employees did during this pandemic," said Watson. "But we could not do what each individually did, because Fresno and Clovis were entirely opposite." If staff hadn't been accustomed to regularly negotiating how things get done, Watson reflected, the school might have crumbled under the cognitive dissonance that COVID magnified.
And although Watson and his staff finished the year exhausted, there's also substantial evidence that they succeeded at holding together CART's unique learning environment in spite of all the pandemic's challenges. Senior CART students rated the school higher than they ever had this year, compared to the last four years. Staff agreed that the school's leaders handled the pandemic the best they could have, given the circumstances. Watson recounted that at a recent board meeting, the Fresno and Clovis superintendents jointly praised him. "They told me, 'Thank you for doing what we were unable to do. You did it not our way or their way, but YOUR way.' And going forward, our way at CART has become much more important."
The school deliberately constructs an adult learning culture to parallel its student learning culture—and extends that adult learning culture to include parents and caregivers as key learning resources.
"I Lead Our Team in the Same Way We Lead Learners"
Tyler Thigpen founded The Forest School, a private, diverse-by-design school just south of Atlanta, based on a core belief: "Every kid is a genius and can change the world. They should be given the authority, autonomy, and freedom to do it. That default belief guides everything we do." The school enrolls learners from pre-K through 12th grade in its multi-age studios, facilitated by guides who use Socratic methods to support student learning.
Thigpen pointed out that several factors—like the school's self-directed learning model and high-quality online learning curriculum—contributed to making the school's transition to pandemic-era learning smooth. But as we learned more from Thigpen about how the last 18 months have gone, it became clear that another key to success was how the school deliberately constructs an adult learning culture to parallel its student learning culture—and extends that adult learning culture into students' homes to include their parents and caregivers as key learning resources. "From a leadership standpoint, I'm committed to leading our team in the same way we lead learners," said Thigpen. "Guides drive their own professional learning and lead their own check-ins with me, and in turn I am Socratic with them."
In addition, what's particularly notable about The Forest School is that its adult learning culture doesn't stop with staff: it extends into students' homes to include their parents and caregivers as key learning resources. The school's goal is to align expectations for learners among multiple key adults in their lives so that learners' development can accelerate. "Our guides do a lot of work with parents and caregivers to get on the same page so that learners experience the same expectations from us all around," said Thigpen. Especially this past school year—when enrollment at The Forest School doubled amidst the pandemic—Thigpen himself took on major responsibilities for onboarding families and supporting their learning. The result is a school with a remarkably coherent vision for learning that's well understood among students, families, and staff alike.
A Priority for the Next School Year and Beyond
So yes, as the ASCD article suggests, invest in universal broadband. Yes, work toward competency-based learning and focus more on deep learning than on broad content coverage. But don't forget a critical key to resilience—which the schools we interviewed demonstrated—invest in adults to build a learning culture that's strong enough to weather any storm.
---
This article was developed through the What Made Them So Prepared? project. What can we learn from public schools and districts whose learning models and organizational cultures made them genuinely prepared for the challenges of COVID? The answer should shape public education for decades to come. Nine organizations, assembled into a partnership by Next Generation Learning Challenges (NGLC), are collaborating this year to explore that answer, through a project funded by the Leon Lowenstein Foundation: What Made Them So Prepared? Follow #PreparedProject on Twitter.
Photo at top courtesy of Da Vinci Schools.