Reimagining Assessment
Alternative, Stackable, and Microcredentials: Where are we headed?
October 14, 2016
Topics
Competency-based Education
College & Career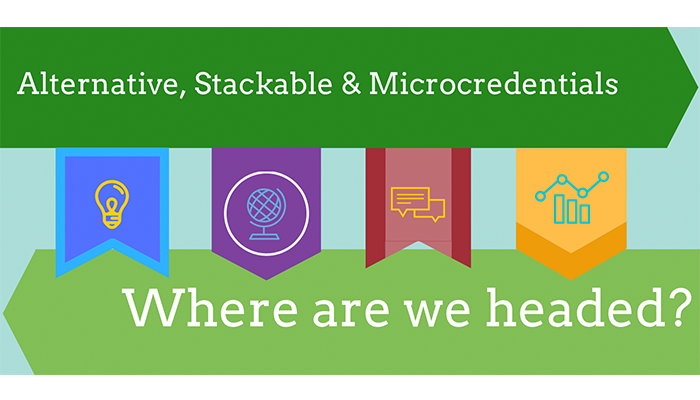 Reimagining Assessment
Reimagining Assessment
Educators are rethinking the purposes, forms, and nature of assessment. Beyond testing mastery of traditional content knowledge—an essential task, but not nearly sufficient—educators are designing assessment for learning as an integral part of the learning process.
Learn More
Competencies gained through a college degree are under scrutiny; academics, graduates and employers must constantly look for ways bridge the skills gap.
Competencies gained through a college degree are under scrutiny, especially after Arum and Roksa's (2011) groundbreaking findings based on the Collegiate Learning Assessment (CLA) scores, which pointed to lack of significant improvement of higher learning skills such as critical and analytical thinking. Arum and Roksa (2014) further found that better performance in these higher learning skills do factor into finding and keeping a job after graduation.
College graduates and employers constantly look for ways bridge the skills gap. Rapid developments in science and technology are commonly thought to produce new knowledge faster than other disciplines. This has resulted in a shorter lifespan for the traditional college degree, warranting continuing professional development. To respond to the needs of these fast-changing knowledge and skill areas, institutions offer a variety of professional education programs. Experimentations in professional education programs based on  competency-based and skill-focused credentials from reputable universities, such as the University Learning Store, are a great fit for alternative/microcredentials and badging.
However, the pace with which microcredentialing is going beyond experimentation into mainstream is not necessarily neck-breaking.
Alt Credentials in Industry
A recent EDUCAUSE blog entry pointed out that while these new forms of credentials do provide more granularity in terms of a person's skills and competencies, employers may not necessarily have the time, awareness, or interest to examine this additional evidence to factor them into the hiring process. Career firms such as Burning Glass report a trend for "upcredentialing", where jobs traditionally not requiring bachelor's degree are now requiring it.
For example, while only 19% of existing executive secretaries and executive administrative assistants hold a bachelor's degree, Burning Glass reports that 65% of job postings require a bachelor's degree now. Employers increasingly rely on the bachelor's degree as a recruitment filter, when the skills underlying that degree do not necessarily match the requirements for success on the job.
How do we, then, explain this disconnect between higher education's increasing experimentation with alternative and microcredentialing and industry's growing emphasis on bachelor's degrees? It seems the college degree is here to stay, and some think the real worth of alternative credentials will be in their added value to the traditional college degree, such as prior learning assessment or prerequisite learning. I argue that the stackability of these credentials to lead a pathway to an eventual degree is of critical value as well.
"Eating Your Own Dog Food"
There is a colloquial term "eating your own dog food" that is believed to have originated at Microsoft in the 1980s. It refers to the practice of a company using its own products and services for its internal operations before the product hits the market. I think this term fits higher education's approach to badging and microcredentialing really well. While we in academia continue the badging discussion, I hear us talking extensively about the needs of employers. Well, we are employers, too, and I ask us, when was the last time we included a micro or alternative credential in our job announcements within higher education? A quick search on higheredjobs.com in the disciplines where advocates of badging are in higher density (such as instructional technology/design, distance education) reveal no job postings with a mention of an alternative credential or badge. Similarly, Georgia Tech, an innovative powerhouse and a leading institution in its implementation of MOOCs, or Penn State, known for its recent work with UPCEA on microcredentials, had no job posting with a mention of badges or microcredentials at the time of this writing.
Gartner's 2016 Hype Cycle for Education places open microcredentials closer to the 'Trough of Disillusionment,' with a possible recovery to the 'Plateau of Mainstream Application' in five to 10 years, citing institutional policies, faculty acceptance, and verification processes as important factors that will contribute to the success. While adoption of integrated and open standards badging and microcredentialing remains a technology infrastructure challenge, the academic procedures and processes of microcredentialing are quite possibly the real challenges to wider adoption.
Similar to many other higher education institutions, we at Georgia Tech Professional Education (GTPE) have been piloting a badging solution for the last year. In charting our next steps toward a broader digital and alternative credentialing strategy, we feel there is a need for further exploration, discussion, and dissemination of learnings from experiences.
We have recently partnered with the International Association for Continuing Engineering Education (IACEE) and EDUCAUSE Learning Initiative (ELI) to bring international experts in the field to an online conversation on alternative credentials, microcredentials, and badging to discuss current efforts, successful examples, and emerging frameworks for the creation, interoperability, and sustainability of these innovations. Among these experts are Kyle Bowen and Kyle Peck of Penn State, Patrina Law of the UK's Open University, Daniel Hickey of Indiana University, Denise Paster and Alan Reid of Coastal Carolina University, and Mark Leuba of IMS Global Learning Consortium.
With the possible proliferation of alternatives to the commonly acknowledged "college degree," how do we create a shared understanding, a common currency that we, higher education institutions and employers alike, will recognize and accept?
Join us for a free webinar on this topic:
"Alternative, Stackable, and Microcredentials: Where are we headed?"
Wednesday, November 9th, 2016 from 9am to12:45pm EST
The webinar is sponsored by Georgia Tech Professional Education (GTPE), International Association for Continuing Engineering Education (IACEE) and EDUCAUSE Learning Initiative (ELI). We'll explore answers to this and many other questions on the topic; also, we invite you to help us celebrate Georgia Tech's 40th year of learning at a distance!