Reimagining Assessment
Assessment for Learning: Abolitionist Leadership and Empowerment Evaluation
April 2, 2021
Topics
Learner Agency
Leadership
School Culture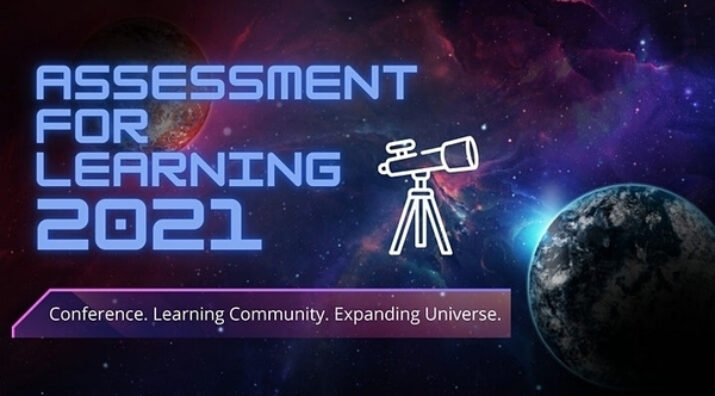 Reimagining Assessment
Reimagining Assessment
Educators are rethinking the purposes, forms, and nature of assessment. Beyond testing mastery of traditional content knowledge—an essential task, but not nearly sufficient—educators are designing assessment for learning as an integral part of the learning process.
Learn More
Two education leaders are moving discussions about accountability and testing toward the generative, transformational design needed to build a more just and student-centered public education system.
The Assessment for Learning Conference is produced by the Assessment for Learning Project, in partnership with Envision Learning Partners and Leadership + Design. It is an annual exhibition of learning for a growing community of educators dedicated to building assessment systems from the student out, rather than the top down.
As we approach our May 6-7 Conference, we are previewing flipped sessions submitted by the assessment for learning community. Today we offer two sessions that can help move our discussions around accountability and testing away from superficial, shortsighted debates toward the generative, transformational design necessary to build a more just and student-centered public education system.
Watch these two sessions and it'll be the best 15 minutes of your day!
Abolitionist Accountability
The first comes from Dr. Robert Harvey, the superintendent of East Harlem Scholars Academies and author of Abolitionist Leadership in Schools. In his Ignite Talk "Abolitionist Accountability: Multilateral Feedback, Redistributing Power, and the Human(e)," Dr. Harvey invites and challenges us to reimagine and reinvent dominant concepts of accountability, using principles drawn from the history of Abolitionist thought.
Empowerment Evaluation
The second comes from Dr. Susan Lyons, a psychometrician and founder of Women in Measurement. In her session Empowerment Evaluation: Assessment for Learning...For Schools, Dr. Lyons explains the "theory of change" of our current testing and accountability system, and offers an alternative grounded in community ownership, participation, and capacity building.
Accountability that Promotes Justice
These two sessions draw on different intellectual traditions and speak in different voices, but they make similar invitations. In their own ways they're both radical and radically common-sense. They invite us to interrogate dominant assumptions in our education policy. And they challenge us to imagine accountabilities that DISRUPT rather than REINFORCE oppressive power structures.
Is this a conversation you want to be a part of? Register now for the Conference! Free and discounted tickets are available.