Professional Learning
Workforce Development at Scale: Connecting Boston Public Schools' Teachers with the Industry Partners in their Backyard
March 11, 2020
Topics
Project-based Learning
Staffing
Professional Learning
Professional Learning
Educators are the lead learners in schools. If they are to enable powerful, authentic, deep learning among their students, they need to live that kind of learning and professional culture themselves. When everyone is part of that experiential through-line, that's when next generation learning thrives.
Learn More
The Boston Public Schools Externship is a workforce development program that connects teachers to the vibrant local STEM industry to open up career pathways for the city's students.
When you think about your time in high school, who helped you think about and plan for your future? Probably your parents, maybe older siblings, a sports coach, or the leader of a club or activity you were involved in. Think about how beneficial your personal network was. Folks there to help you apply for jobs, tell you where you could find a great internship, walk you through the college application process, and guide you toward your major. A network like this can be indispensable for jobs and careers: in 2015, a Pew Survey conducted by Aaron Smith found that 66 percent of respondents relied on close friends and family when searching for a job.
Many students, who do not have the kind of robust personal networks that you may have had growing up, rely upon their teachers, librarians, and school counselors for this kind of network support. They are the team who can help turn their passion into a career and put the language behind their skills so they know what jobs they can and should apply for. In the Boston Public Schools (BPS), we have countless teachers who are eager to serve as a network for their students. And through our new Externship program, we're working to bolster their ability to do so. The persistent issue is time and resources. Importantly, many teachers have spent their lives as educators, making them unfamiliar with what a 21st-century workplace looks like outside of the classroom.
Career Opportunities: When the Bridges are Blocked by the System
As of January 2019, Boston is ranked as the number two STEM city in the country. There are employment opportunities all over the Boston Seaport district and extending into Cambridge. As of 2018, over 600,000 people in the Boston area are employed in one STEM field or another. We're home to the likes of Autodesk, Apple, and Eli Lilly to name a few. The best and the brightest flock to Boston to be a part of it.
In the last few years, BPS and our non-profit partners have been fielding inquiries from these organizations looking to engage with our students. They've noticed that few applicants are from Boston and even fewer are from BPS. While Boston might seem interconnected, the bridges into Cambridge and the Seaport district are more than just a physical barrier. It's not hard then to imagine that a lack of resources and awareness, systemic bias, and responsibilities at home could regularly keep students from venturing out into Boston to connect with these opportunities.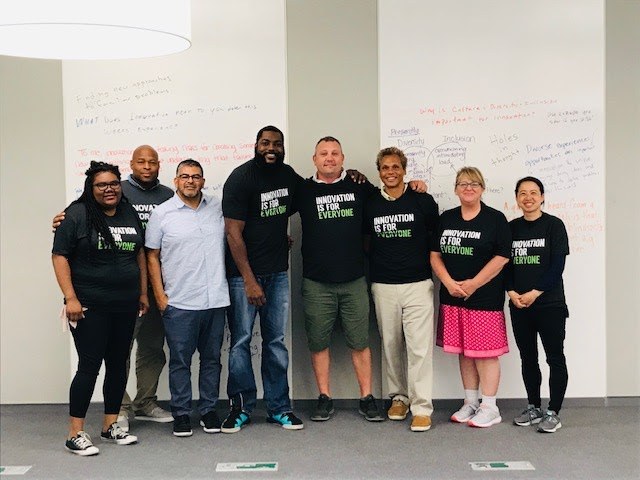 This group of Boston Public Schools teachers participated in the VentureCafe Externship (Courtesy of Karissa Goff)
Breaking the Barriers: Connecting Students to their Passions through their Educators
In the summer of 2019, BPS piloted the Externship program with UnitedWay Merrimack Valley, the Boston Opportunity Agenda, and Autodesk for 25 of our teachers, librarians, and support specialists. It is built to serve as a workforce development program, both for our teachers and our students. Because a student's teachers are often their strongest network ties, a program to develop teachers' workforce exposure and connections could be beneficial in addressing these missed connections for students.
"The Boston Public Schools Externship Program provides such a neat way to reach teachers and tangentially reach many students that might be interested in STEM careers," noted Gary Pease, the director of client services for Externship partner Nitsch Engineering. "Nitsch Engineering got involved because we hoped that we could provide some education to multiple teachers about what architects, engineers, and construction firms do, and about the tools we use in our daily lives."
BPS Externs were offered three different opportunities to treat the city of Boston as their classroom: a two-week Architecture, Engineering and Construction (AEC) program with Autodesk, a week-long program with the VentureCafe Foundation, and a two-day program with FableVision in their FabSchool Maker Studio.
Each program had a different focus and different outcomes all centered around the same goal: exposure to the 21st-century workplace in a way that could benefit teachers, their present day classrooms, and their students' career aspirations. Kellyanne Mahoney, the youth program specialist at Autodesk, values the BPS partnership for its workforce development potential. "This is important not only to Autodesk," she explains, "but also to our customers who continue to face a skilled labor shortage, including the construction industry, with 80 percent of construction firms recently reporting that they are having a hard time filling hourly craft positions representing the bulk of the construction workforce."
Kellyanne sees the program as a two-way street, with industry learning from teachers, too, stating, "This program aligns with Autodesk's commitment to supporting schools, educators, and ultimately students, to navigate the gap between the old and new economies. It also provides the opportunity for us to gain teacher insight into how to best educate and open career pathways into the AEC industry for students."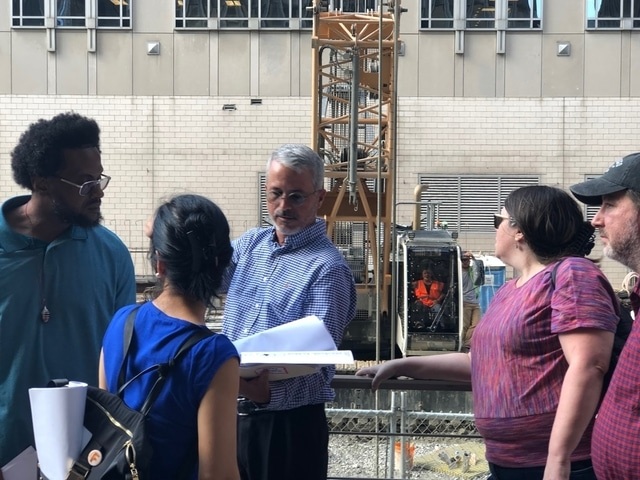 Boston Public Schools teachers on site during their externship. (Courtesy of Kellyanne Mahoney)
Gary at Nitsch Engineering told us, "We hoped we would inspire these teachers and provide them with tools and examples so that they could pass along this knowledge and excitement around these careers to their students for years to come." So at the end of each Externship, we ask that the participants create some sort of lesson plan focused on what they learned during their experience. The goal is that they can bring some of the content into their classrooms. More importantly, perhaps, is that the externs are able to build some of the professional skills into their classroom instruction and projects as a result of their time with industry professionals.
For example, during the Life Sciences Pharmaceutical Externship over this year's February break, the externs noticed an industry theme of celebrating failure. Externs felt that they learned that drug development companies learn just as much from failure as they do from success, and each of the seven teacher externs said that this was a key life skill they were going to take back to their students in their science, math, computer science, and even physical education classrooms.