Enabling Change
Brave before Perfect: Transforming Learning in Rural North Dakota
January 21, 2020
Topics
Competency-based Education
Student Success
Change Management
Leadership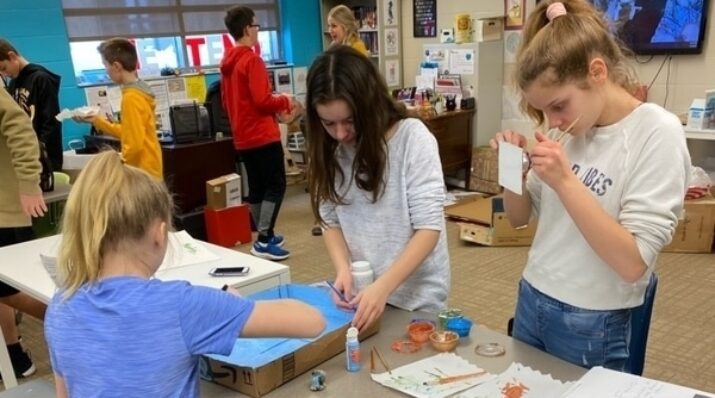 Enabling Change
Enabling Change
Next generation learning is all about everyone in the system—from students through teachers to policymakers—taking charge of their own learning, development, and work. That doesn't happen by forcing change through mandates and compliance. It happens by creating the environment and the equity of opportunity for everyone in the system to do their best possible work.
Learn More
Practitioner's Guide to Next Gen Learning
Northern Cass School District in North Dakota makes quick wins—not quick fixes—to personalize learning.
Northern Cass has emerged as an incredible bright spot for transforming learning and adopting good practices from across the nation. I think they are going to be the shining star for the rest of North Dakota.
—Barry Sommer, director of advancement at Lindsay Unified School District, Lindsay, CA
Communities may call it next gen learning, deeper learning, personalized learning, or something unique to their local context, but the will to redesign education is gaining traction. Schools and districts are transforming themselves to place students at the center of their learning and provide equitable opportunities to develop skills and knowledge for lifelong success. With numerous exemplars available to learn from, more and more educators are asking, We know what we want learning to look like at our school, but how do we make the change?
In response to questions like this, NGLC is committed to exploring not only what next gen learning can look like but also what next gen change can look like. This month's edition of Friday Focus: Practitioner's Guide to Next Gen Learning focuses on one district's transformation story—the journey toward personalized, competency-based learning at Northern Cass School District 97 in Hunter, North Dakota.
Barry Sommer from Lindsay Unified School District, Northern Cass's mentor district, describes Northern Cass's progress as "remarkable." According to Barry, who was featured in this Practitioner's Guide story from 2018 about Lindsay Unified's own decade-long learning redesign, "Northern Cass is only in their second year of implementation of personalized learning, but they are rocketing forward at all levels with significant support from all stakeholders. Already, every learner is being impacted by a very well thought out system."
To tell Northern Cass's transformation story, I spoke to Cory Steiner, the district's superintendent, along with director of personalized learning Tom Klapp and personalized learning coach Jessica Stoen, to find out how such significant change unfolded in the district, including:
Shifts in adult mindsets
Key changes in educator practice
Assets that enabled the change
A Monumental Shift in Thinking about School
Shouldn't every kid get meaningful learning? And if it's good for every kid, then we have to blow up school. Total transformation. This is not the school it was two years ago.
—Cory Steiner, superintendent of Northern Cass School District 97
At Northern Cass the transformation began when educators grappled with powerful ideas through book studies, including texts from outside the field of education. For example, Tom credits reading Good to Great: Why Some Companies Make the Leap...and Others Don't by James C. Collins as a "monumental event" that helped educators "find our why for change and get away from the kind of mission statement every school has and never refers to." For Jess and 20 of her colleagues participating in a teacher leadership academy, the seminal book was Inevitable: Mass Customized Learning: Learning in the Age of Empowerment by Chuck Schwahn and Beatrice McGarvey.
According to Jess and Tom, discussions of books about organizational change, leadership, cultural trends, and the structural changes required to meet all learners' needs prompted educators to ask the question, "How do we make our learning environment meaningful for all kids?" Tom adds,"It was just an activity in a class. It was never intended to go this far, but those discussions led to a sense of 'we have to do this.'"
At about the same time, Cory had the opportunity to visit Lindsay Unified School District, where he first met Barry and saw performance-based learning in action. "It was a game changer," he recalls. "It allowed us to see what could be."
Like many schools and districts in the NGLC community, a key early step at Northern Cass involved rethinking the district's graduation requirements to reflect the skills, knowledge, and dispositions learners need to thrive in a changing world—what Northern Cass calls "choice-ready skills." According to Barry, however, the process they used to develop the Northern Cass Portrait of a Graduate also required new ways of thinking about the role learners should play in all aspects of their learning.
Today, Barry reports that Northern Cass "shines in learner agency," but Cory recalls that early iterations of the new graduate profile were "one hundred percent created by adults, and kids were not invested. So we got kids involved and redesigned it. As part of our strategic planning, we held community events and talked about [the portrait of a graduate] with higher ed, the community, and the students. They can speak powerfully about what they learn and how they learn. A real learners' mindset came out of that work."
Not only did learners co-create the graduate profile, they continue to define the choice-ready skills and rise to what Cory calls "the challenge to make it part of the daily life" at school. For example, Jess describes Northern Cass's "first ten" approach in the elementary grades: "For the first ten days each year, we focus on choice-ready skills. Learners choose their own words to define them, being intentional about what skills like leadership and accountability mean and the different ways they could show them."
Practices for Personalization
Personalization, learner agency, and proficiency-based grading are key practices Northern Cass has adopted to enable all learners to develop choice-ready skills. Learners co-create a personalized learning plan to learn, practice, and demonstrate content proficiency at their own pace. Self-pacing, according to Tom, "is one of the things that comes up loud and clear from kids as meaningful to them."
Jess illustrates with the story of how, at a convening of educators, one learner described the experience of self-pacing. She recalls how "a guest asked the panel of Northern Cass students, 'What has personalized learning done for you?' and the learner answered that 'as a special education student, I have always felt I held other learners back, but with self-pacing I don't feel that way anymore.'" According to Jess, "it was very emotional for us adults and vulnerable for him. But that is why we are doing what we are doing."
To support a self-paced approach, Northern Cass uses flexible grouping strategies instead of traditional age-based grades. Learners are assigned to learning levels based on their current level of academic proficiency, which may vary by subject area. "It's very fluid," Tom explains. "Cohorts are regrouped every few weeks based on level. No one is ever just stuck for a year."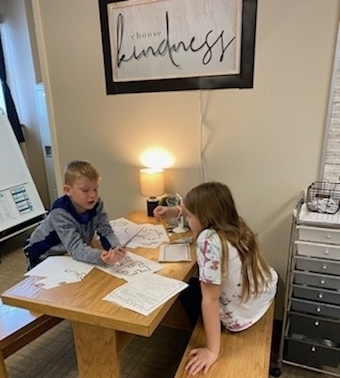 Even very young learners in Northern Cass School District 97 exercise agency around where and how they learn. (Courtesy of Northern Cass School District)
Although self-pacing is a notable example, flexibility seems to be a recurring theme in the descriptions Cory, Jess, and Tom provide about adult practice in Northern Cass schools. In addition to the pace of learning, learners exercise considerable agency in determining how and where they learn. According to Cory, it's a common occurrence to hear "pre-K students explaining not only how they are learning but why and what's best for how they learn." Jess observes that learners as young as six years old are "not only choosing where they work, they are also thinking about why they would choose that place."
According to Cory, flexibility around where and when learning can take place includes authentic learning outside of the school—from archeological digs for dinosaur bones to internships and industry certifications. For example, when one learner at the high school level wanted more music classes than her small school could provide, Northern Cass educators helped organize independent learning to support her love of music. Cory explains, "Now she is creating a capstone based on composing and performing music in a public concert and taking college courses to do it."
Tom cites similar stories of personalized, passion-driven learning experiences, such as a learner whose independent study involves writing a novel and working with a publisher, a group of learners interested in education who use their school's learning management system (LMS) to design coursework using authentic tools, and another learner who designed an advanced project, "not just in English or math but in all content areas. We co-designed a project that accomplished 12 standards at once."
Tom sums up Northern Cass's learner-centered approach this way: "We hear what our kids want and do whatever we can to make it happen." What is more, Cory adds, designing learning is a collaborative effort, with learners and educators working together. "It's not a 'we vs. them' mindset. There's a lot more of 'us' now."
Working in tandem with personalized learning at Northern Cass is proficiency-based grading, which Tom identifies as another key lever for transforming learning in the district. In place of letter grades, educators use proficiency scales to measure learner progress, from Level 1 (Emerging) to Level 4 (Extended), with Level 3 indicating proficiency in a standard or choice-ready skill.
"Personalized learning and proficiency-based grading go together well," Tom says, "because it's not about getting some arbitrary point value. We focus on learning. When kids focus on that and not just getting things done to get an A, that's when it transforms learning in the building."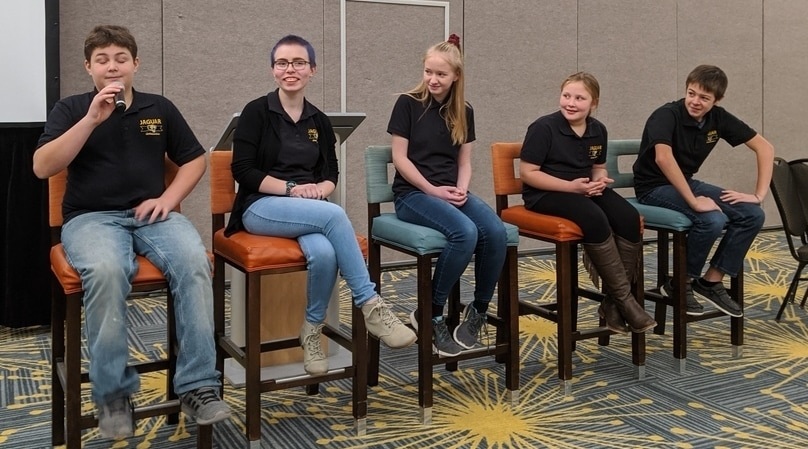 Northern Cass "Jag Ambassadors" answer questions about personalized learning at the North Dakota Personalized, Competency Based Learning (NDPCBL) convening in December 2019. (Courtesy of Northern Cass School District)
Assets and Challenges
"Brave before perfect" is the mindset. Just do what's best for kids. It's not easy, but being hard is not evidence that it's wrong.
—Cory Steiner
The Northern Cass educators I spoke to are committed to proficiency-based grading as an essential pillar of their model, but they acknowledge that the shift away from traditional grades presents more of a challenge than other changes. Tom reports, "The mindsets around grading have been around for a long time. Proficiency-based grading is an odd concept to throw at them. It's not so much opposition as a lack of understanding."
Fortunately, Northern Cass has partners in the effort to transform the way educators, learners, and parents talk about learner achievement. One of these partners is the Mastery Transcript Consortium (MTC), an organization dedicated to rethinking the high school transcript to reflect learners' unique skills, strengths, and interests. Northern Cass serves as a beta site for MTC's transcript prototype. With MTC's support, Cory explains, the district "is trying out a proficiency-based transcript. Developing something that gives information and evidence on what students can do is a piece that we need. We are talking to universities and sharing what our transcript means. The universities have been supportive, and we plan to strengthen those partnerships."
Finding new and better ways to communicate the full breadth of young people's learning, Tom adds, "can give higher ed or an employer a clearer picture of who the kid is and not a random number that says what they are worth. There is so much more to each human being that will make them successful and valuable to your organization."
Another key partner is Lindsay Unified School District, which supports Northern Cass's systemic change through their Lindsay Leads initiative, with funding from the Bush Foundation. Barry recalls Cory's first school visit this way: "We met [Northern Cass leaders] and knew right away we would like to support, connect, and learn from these folks."
"Lindsay Unified has worked really closely with us and given us lots of real-time support. Our kids are even connecting via Zoom and Instagram," says Cory. "Barry has been amazing." Tom adds, "They've been kind of a big brother to us, very open and willing to share resources. We try to do the same and pass on our knowledge. It's a ripple effect."
It's clear from talking to Barry and the educators at Northern Cass that human capital has been the greatest asset in the effort to transform district schools. Barry gives quite a bit of credit to Cory. "I have to highlight that a significant part of their success has been skilled leadership," he says. "Cory is a real visionary for second-order change."
Cory, for his part, praises the educators in his district, saying, "It takes a lot of effort and empathy to put aside what's best for adults—to be truly learner centered—and boy do our people work. There are lots of other schools up the road in Fargo where they could teach. There are easier options, but they have not taken them. Teachers stay here because the right work is always the right work."
Resources
---
Photo at top courtesy of Northern Cass School District.