New Designs for School
Building Justice: Our Class Designed a School Justice System in Two Months
April 17, 2023
Topics
Project-based Learning
Learner Agency
College & Career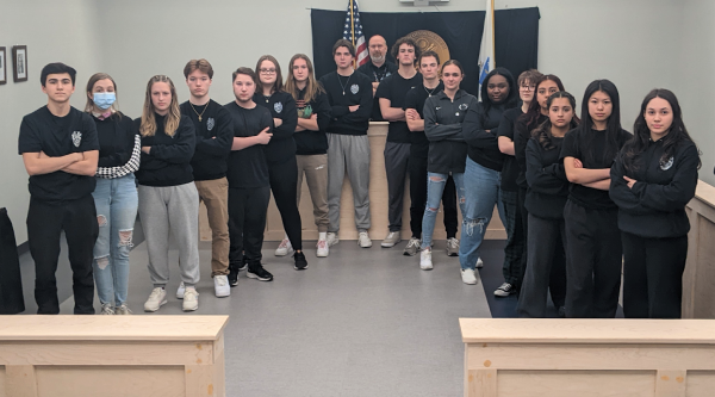 New Designs for School
New Designs for School
We've all had the experience of truly purposeful, authentic learning and know how valuable it is. Educators are taking the best of what we know about learning, student support, effective instruction, and interpersonal skill-building to completely reimagine schools so that students experience that kind of purposeful learning all day, every day.
Learn More
The founding members of their high school's youth court describe how they designed, advocated for, and set up the youth court as an alternative to their high school's traditional approach to discipline.
When my teacher Mr. Reed told my Criminal Justice class the idea he wanted to bring to life, I was nervous. We watched a video of a Youth Court case at another school and he said this was his idea. He wanted us, the seniors of the Criminal Justice Career and Technical Education (CTE) program at Attleboro High School in Massachusetts, to build a Youth Court. "Before this, I had no idea what a youth court was," recalled classmate Janelle L. When implemented in public schools, the Youth Court is an opt-in program for students to experience the success of restorative justice and give students more opportunities to redeem themselves.
The Youth Court would be an alternate system for students who are sent to the dean for violating low level infractions of our school's student handbook. They can decide to receive the punishment, suspension, detention, etc., from the dean or they can opt into the Youth Court. The court would hear their case and listen to their side of the story. They'd deliver a fair, reasonable disposition which could include a formal apology essay, community service, extra help, etc. The offense would be wiped from their record as long as they completed the disposition.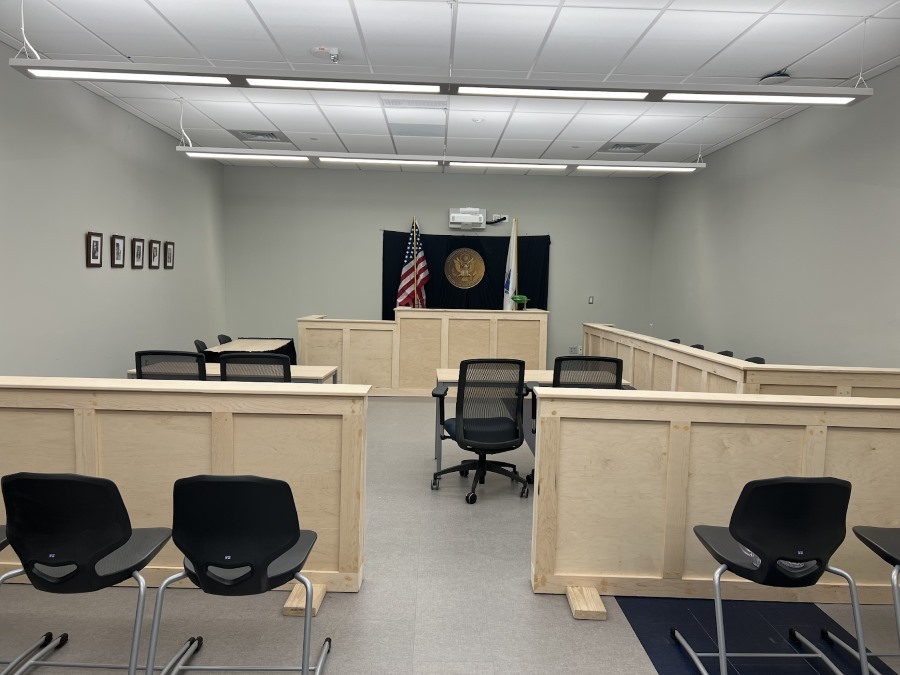 Attleboro High School's Trial Room
I was skeptical, I won't lie. Building a justice system from the ground up with real students and real cases seemed like a huge feat. "I thought it was a bit far-fetched but I liked the idea," said Aniyah E, a fellow classmate. Nevertheless, we started working and I never expected it to become what it is today.
Mr. Reed started with creating groups of students who'd be in charge of different aspects of the project. We hit a lot of speed bumps in the beginning. People were pining to be in groups with their friends. There wasn't a lot of organization and Mr. Reed wanted us as students to run the project, to become a well-oiled machine that'd drive itself. But we were at a loss. Our first discussion was extremely chaotic and frustrating. No one wanted to agree and we were slowly turning against one another.
Mr. Reed found a solution for the chaos. A business needs leaders, managers who'd oversee everyone working and help one another work together. We nominated and voted. Our managers became Peter D and Janelle L, two classmates who are well respected and good friends. "What I really enjoyed about this role was the ability to be a part of all the groups," Janelle said when asked about her role as manager. "I was constantly able to check in and review my peers' work. This allowed me to feel more confident in advocating for the Youth Court because I had an idea of all the work we have completed and all the things we need to work."
At the beginning of every class Mr. Reed conducted standing meetings, where we stood in a circle and discussed what we were doing individually. It helped Peter and Janelle know what tasks everyone was working on. It also allowed us to recognize when someone didn't have a task so they could be given one. We also completed weekly goals to help structure our group work. "I worked on turning each student's weekly goals into a to-do list that helped the class and Mr. Reed see what work was in progress, to be reviewed, and what work was completed," Janelle recalled. "In this role I was able to sit in on most of the meetings we had with other schools and the meetings we had with the assistant principals." With Peter and Janelle's guidance, we were able to work together effectively.
One group was in charge of creating a slideshow about different youth court models. Others were doing extensive research on restorative justice as well as reaching out to schools who'd created their own Youth Courts to ask for the methods and strategies they used in their building process. When asked about reaching out, Aniyah recalled she "liked hearing from other schools who made our current goal a reality."
The youth court models group presented three models so that we could choose one. First was the peer jury model, which included a student or adult judge and a jury of students. Second was the tribunal model, a model involving a panel of three youth judges that decides the disposition for the respondent. Lastly there's the adult judge model which includes an appointed adult judge deciding the dispositions. We unanimously picked the peer jury model. It was the most inclusive and primarily student run. After careful deliberation, we decided the judge would be a student as well.
Then came the real work. We started making presentations about the Youth Court to show the school committee, students, and teachers. One group made a presentation about the peer jury model, what it would entail. Another group was in charge of putting together a list of dispositions to present to the school committee as well as what kind of cases we would take. Once those presentations were completed, we started creating documents for each role of the Youth Court. Roles included the Judge, Jury Members, Bailiff, Respondent, Student Advocate, School Advocate, and Clerk. "The class was a machine," said Niko D. "Everyone was the cogs—in order to keep it moving we all had to know what we needed to be doing but also what other people were doing too. What someone else is working on directly impacted what I was working on, and vice versa."
Regarding roles, each one needed forms describing what the role entailed and if the person in that role agreed to the Youth Court's terms. For example, the Respondent had to sign off that they agreed with the Youth Court's conditions and to follow through with their disposition. They were also made aware that if they didn't come to court or didn't complete their disposition, they'd be referred back to the dean.
Once the forms were completed they were sent to me as the editor and I finalized them. I added the school logo and the Youth Court logo as well. A graphic design class collaborated with us to help create the logo.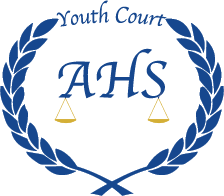 Attleboro High School Youth Court Logo
Not long after came the school committee meeting. Some students, including the managers and groups who'd compiled the separate presentations into one large presentation, presented in front of the school committee. "It was very intimidating but also very empowering in the sense we got the opportunity to be heard by the school committee," Aniyah told me. The committee members asked questions and discussed the value of adding a Youth Court to the school's disciplinary process. As Aidan D, one of the seniors who presented (along with Jon D), recalled, "We convinced the school board of the Youth Court's potential and were approved to start conducting mock trials to test the viability of the Court; as well as continuing to revise and create documents that now act as the foundation for our system." Janelle told me that "it was an amazing opportunity to present all of our hard work and in the end gain the approval of the school committee."
With this approval, we started to crack down on making the Youth Court look official. A new group, including Sarah M and Glizia F, was given the responsibility of adding a Youth Court section to the Attleboro High School website. The site would include our names as founders, buttons to access the documents we created, and photos of the courtroom. "It will help students and parents learn about our court and what we strive to do," explained Sarah. A larger group wrote a script for and filmed a mock trial video to show the process of going through the Youth Court, which would be added to the website.
Other students Zoe S, Ethan D, and Curtis K were in charge of building a marketing plan for the Youth Court. "It's important to be able to reach different students and get our message out," said Zoe. Creating something like an Instagram account as well as putting up posters around the school would help the Youth Court reach a wider, student targeted, audience. "We were even able to collaborate with other CTE students to make a marketing plan and design our posters," Zoe explained. Throughout the entire process of building the Youth Court, we've been collaborating with other CTE programs. The Carpentry CTE built the courtroom for our Mock Trial club as well as the Youth Court. The Graphic Design CTE has been helping us create the logo for the Youth Court and the posters.
Working together as a class like this has been unlike any project we've ever done. We've all learned valuable life lessons and gained work experience. "Between the standing meetings and working in small groups to all accomplish one thing, I would say mainly it has taught me how to collaborate with my peers," recalled Curtis K when asked what skills this project helped him develop. Janelle said, "I will be happy to graduate knowing I'm leaving a legacy behind at Attleboro High School. It's also been great watching all our hard work turn into something that's going to last and be used for years to come." The work we've done to build the Youth Court was long and strenuous. It's all worth it because the Youth Court will be our legacy. So many students will be helped and we can't wait to start our first cases.
At our last school committee meeting, which was covered by our local news station, the school committee approved us to start our first cases and asked if we could have three or four solid cases by the end of the year. We've talked to the assistant principals and they've agreed to start referring students to us in the next few weeks. We are all very excited and can't wait to see how it goes. We hope the Youth Court will be successful and live long after we graduate.
---
All images courtesy of Attleboro High School. At top: The founding members of the Attleboro Youth Court.