New Designs for School
Chicago Tech Academy: Walking the Talk for Real-World Learning
December 13, 2019
Topics
Project-based Learning
Student Success
College & Career
Curriculum & Instruction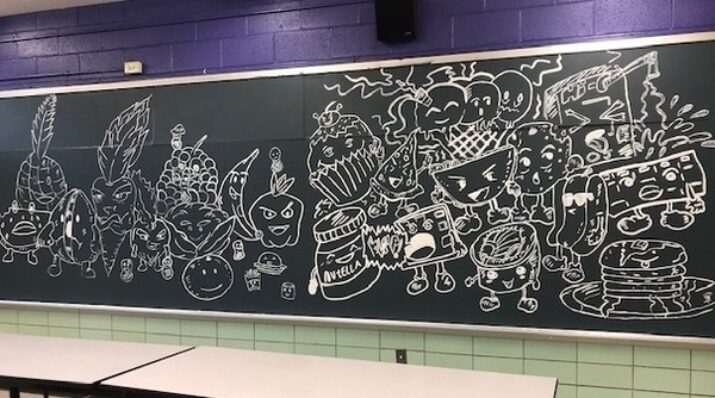 New Designs for School
New Designs for School
We've all had the experience of truly purposeful, authentic learning and know how valuable it is. Educators are taking the best of what we know about learning, student support, effective instruction, and interpersonal skill-building to completely reimagine schools so that students experience that kind of purposeful learning all day, every day.
Learn More
Practitioner's Guide to Next Gen Learning

Real-world learning requires smart partnerships with local industry professionals, and ChiTech staff offer valuable advice on designing real-world learning experiences for all students.
The interior of Chicago Tech Academy is anything but sterile. Stained-glass window panels made by students cast many-hued shafts of light on the high school's stairwells. One hallway is dominated by a floor-to-ceiling mural warning of the effects of carbon emissions. On another wall a photography exhibit celebrates female identity through student self-portraits. There's even a wall mounted with refrigerator doors, which serves as a massive canvas for spontaneous magnetic poetry.
However, one of the most striking aspects of ChiTech's program is how permeable these apparently solid walls are. Starting in the ninth grade, all learners are supported to forge relationships with the people and the world outside of school as they follow a real-world learning path, culminating in a month-long internship junior year. Located in the heart of downtown Chicago, ChiTech strives to live up to its mission to "educate, empower and connect a diverse next generation of entrepreneurial thinkers" by partnering with the city's tech community and other local industries to provide authentic real-world learning to every student.
For this edition of Friday Focus: Practitioner's Guide to Next Gen Learning, I spoke to school leaders about real-world learning at ChiTech, including:
Why real-world learning is a signature feature of ChiTech's program
Ways the school partners with local industry professionals
Advice and recommendations based on their experiences
Designed for Equity, Inspired by Stories
Some of our students struggle with what their dream job could be and picturing all of the options that are available when it comes to college and career. A real-world learning program allows students to have the opportunity to find out what it's like to be part of the business community. This experience gives them a critical view of what people do when they go to work and what it is businesses do on a daily basis. This experience can help grow a student's dream, and even contribute to a larger dream.
—Keith Palz, principal, Chicago Tech Academy
Equity is a key driver behind the high school's ambitious approach to real-world partnerships for learning. Seventy-six percent of ChiTech's 300 students are African American, and another 19 percent are Hispanic. All 300 participate in an internship. As Keith explains, "It's all about equity. We don't single out certain people—everybody gets that vision and experience."
Tashiara Little, director of corporate engagement, describes how her own experiences working in a corporate setting inspired her to join the ChiTech team and work to promote equity: "I was one of the only black women in the company, and I often dealt with imposter syndrome—like I did not belong there. Coming to ChiTech was a chance for me to develop students to have the confidence to feel that they belong."
Her colleague TJ Pavlov, ChiTech's real world learning manager, points to similar motivations for starting the internship program at ChiTech. As a classroom teacher, he was inspired by the authentic experiences happening in places like High Tech High in San Diego. "I was influenced by others who were doing project-based learning. It made me reassess how we educate students and opened the door to think about what's possible." At the same time, however, TJ observed that Chicago "has a real segregation issue. Kids can feel they don't belong in some parts of the city." Making a commitment from the beginning to place every student in an internship, he says, was one way to ensure that all students would have the opportunity to have more authentic experiences in high school.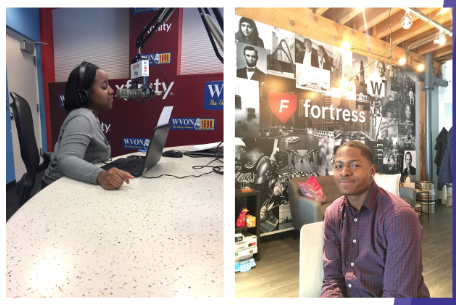 Chicago Tech Academy interns at work.
(Courtesy of Chicago Tech Academy High School)

Along with a shared commitment to equity as a fundamental principle, educators at ChiTech are continually inspired by the stories of individual students and the transformative effects of real-world learning on their lives. For example, Tashiara describes one young woman's internship experience at a public garden. According to Tashiara, this student generally did not engage with people at school. She spoke so seldom that many of her classmates had never heard her voice in three years of learning together.
As an accommodation, the student was intentionally placed in an internship setting that would not require much speaking. Even so, Tashiara remembers being concerned about the Performance of Learning (POL), the public presentation that is both the culmination of the internship and a ChiTech graduation requirement. However, as Tashiara recalls, "Her mom came to the Performance of Learning in the garden. The student did a phenomenal job. It was so warming to see. Her mom cried." "And her peers were both appreciative and amazed to hear her speak," adds TJ.
TJ also tells the story about an internship POL, one that resulted in deep learning for the host company as well as the student. "We had a quirky young man who was working at a very hip and 'up with the times' company," he recounts. "We all expected it would work well for him. He was the only person of color in the entire workplace, though, and he wanted to address that in his POL. He delivered an authentic story—a talk from his heart—about his experience being the only one who looked like him. His colleagues walked away with a different perspective on diversity in the workplace. They had probably never considered it before."
Connected to the Community
No student will ever ask, "Who painted this wall?"
—TJ Pavlov
If you could actually meet with kids, that could be life changing.
—Tashiara Little
According to TJ, what started as a pilot internship program soon evolved into a more comprehensive experience for learners, one that begins in ninth grade. Before embarking on a month-long internship as juniors, younger students participate in power lunches and mixers with professionals, go on career-oriented field trips, and, as TJ puts it, "have two years to get used to professionalism and the mindsets that go with it."
Providing so many real-world touch points requires strong relationships with local business professionals. Tashiara's work involves connecting and supporting—as well as educating—corporate partners: "On a day-to-day basis, I talk to individuals who want to give back in some capacity but don't know how."
To illustrate, Tashiara tells the story of a local corporation and its plans for a day of service at ChiTech. Specifically, the company offered to paint the school. "They wanted to volunteer," Tashiara recalls, "but their boss did not see putting kids in front of a professional or having a power lunch as volunteer work. Painting is great, but that's not what students really need. I pushed back on that idea because we are looking for something that has an impact on students." As Tashiara and TJ explain, the goal of partnering with local tech firms and other industries is to have a lasting, positive effect on learners. To that end, ChiTech provides a variety of opportunities for companies to connect with learners and support them on a real-world learning path—to help students grow essential skills for career success and make informed decisions about their futures. All of the events foster student learning through positive interactions with industry partners, but they range considerably in terms of depth and commitment of the adult professionals' time.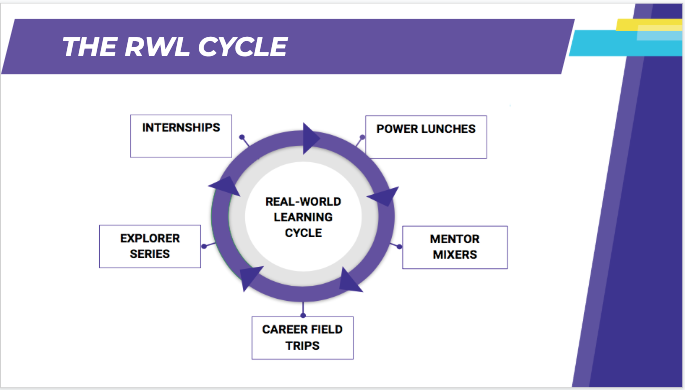 ChiTech's real-world learning pathway offers all students multiple opportunities to engage with adult professionals, workplace experiences, and potential careers. (Courtesy of Chicago Tech Academy High School)
At one end of the spectrum lies what Tashiara calls "getting your feet wet—coming in to chat informally about your work for an hour at lunch." A deeper engagement might include hosting a "mentor mixer" with activities to strengthen interviewing and networking skills. Hosting an intern is the most common long-term partnership activity at ChiTech, but companies can also propose a multi-day "explorer series" for adults and students to work together on a company problem or challenge.
As of this year, ChiTech also channels corporate volunteerism to support deep and lasting impact through their Corporate Ambassador program. A Corporate Ambassador partnership involves a team of three or more volunteers from different departments within a company. These volunteers commit to engaging with a group of students—usually juniors—throughout the school year. According to Tashiara, a key benefit to this approach is that it allows the adult professionals and the cohort of learners to really get to know one another prior to the internship at year's end.
Tested by Experience
TJ, Tashiara, and Keith are forthcoming about the challenges of doing this work, especially around sustainability as the school grows. At the same time, they are willing to share with fellow educators what they have learned through experience and from interactions with the students and real-world learning partners they work with.
First off, Tashiara recommends that schools choose industry partners thoughtfully based on the people involved and their motivations for connecting with students. "It's great to link yourself to a big name," she explains, "but it's all about the people. It works best if it's grass roots—people who want to work with teenagers and not because their boss says they have to take an intern." For this reason, ChiTech often partners with smaller companies. "We find they are really engaged. If, on the other hand, the initial conversation is more like 'our corporate responsibility department wants us to do this,' then we know it may not be the best fit."
"This work is not easy," Tashiara adds. "It requires you to be flexible. You are going to make mistakes along the way, but you learn and grow. We often hear the term 'build the plane as we are flying,' but the impact is so great and seeing the students' POLs is worth it. Don't give up because you have one bad experience. Sometimes you just can't be prepared. The unexpected will happen. Every year we have at least one student get fired."
"Even getting fired can be a learning experience," TJ chimes in. He advocates for ensuring that real-world opportunities, including internships, are part of all students' learning paths. "What is happening outside of the classroom complements what is going on inside and can be just as valuable. So it has to be for every student," he argues. "It's easy to provide experiences like these for top-tier kids, but the students who make you a little nervous to send out of the building deserve it, too."
"Kids have a hard time making decisions when they don't know what their endgame is, what they are working toward," TJ explains. "Tashiara and I work together to try to give them the knowledge and experiences to help them with that."
Resources
The employer resources in this Google Drive folder include ChiTech's internship handbook, intern evaluation forms, and sample projects for meaningful types of work in a variety of corporate departments.
---
Photo at top courtesy of Amanda Avallone.