Professional Learning
It's Never Too Late to Innovate
October 30, 2019
Topics
Competency-based Education
Staffing
Curriculum & Instruction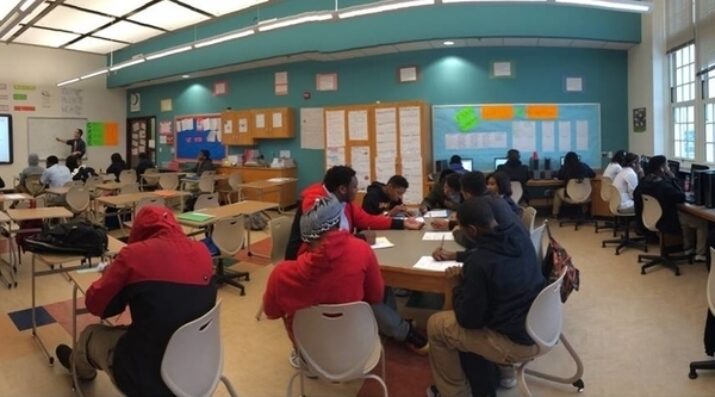 Professional Learning
Professional Learning
Educators are the lead learners in schools. If they are to enable powerful, authentic, deep learning among their students, they need to live that kind of learning and professional culture themselves. When everyone is part of that experiential through-line, that's when next generation learning thrives.
Learn More
Why November is the Perfect Time for Educators to Refine Their Practice
As a teacher, I'm never sure what to do with November. The excitement of the new school year has worn off, but Winter Break is still far away. I've gotten to know my new students, and started to realize what's working and what isn't. The days outside are getting shorter, but my school days feel longer and longer. Sounds a bit depressing, no?
In fact, it's exactly the opposite—November is often my favorite time of the school year. Why? Because it's the best time of the year to innovate. And we've got just what you need to get started.
******

Innovating as an educator can be hard. Innovation requires constant iteration—the process of testing, refining, and retesting something new—while education often demands consistency: frequent change can confuse students and interfere with learning. Changes, when they are made, must be well thought out, well explained, and well maintained throughout the implementation process.
Fortunately, a school year offers natural moments for transition: Winter and Spring Breaks. Teachers, benefiting from a recharge, have the energy to impart new rules and procedures; students, having forgotten some of the old systems, are ready to learn new ones. These opportunities to make changes, based on what teachers have learned about their students so far, are exceedingly valuable. They should not be missed.
Yet changes to a classroom's very function can't be designed overnight. They require study, planning, and perhaps even a bit of experimentation prior to that first day back. And rare is the teacher that wants to spend an entire Winter Break planning. So, when should a teacher start? Easy: November.
******
Of course, finding time and support to innovate during the school year, even in November, is not easy. Merely staying afloat as a teacher is hard enough!
What teachers need, therefore, to improve their practice during the year are concrete, manageable, and easily implementable strategies that can solve the challenges they encounter everyday. Overarching pedagogical shifts have their place—I advocate for several—but are better taken on over the summer. November training must give teachers tools that they can use tomorrow.
Finally, given the time demands of an average teacher's schedule, mid-year training must be flexible in terms of time commitment, and reward a teacher's investment of time and energy with not only effective strategies, but some sort of credential that validates teachers' hard work.
At The Modern Classrooms Project, we spend a lot of time thinking about the best ways to train and support teachers as they innovate: we've designed a new PD paradigm that has produced significant benefits for teachers and their students alike. Yet our in-person training model has, to date, limited our reach, despite inquiries from teachers across the country and world.
That's why, today, we are proud to announce the launch of our newest initiative: a fully blended, self-paced, mastery-based online course we call Building Modern Classrooms. In this course, we've distilled the essential elements of our week-long summer workshops into three concrete strategies that teachers—anywhere in the world and in any subject area or grade level—can use to solve three common problems:
Strategy 1: Differentiating with Instructional Videos. For many teachers, it's impossible to simultaneously challenge high flyers while supporting struggling learners. This results in boredom and disengagement for students at both extremes. In our course, we show teachers how to solve this problem by creating their own instructional videos, which students can then watch at their own paces both in and outside of schools. Creating videos may seem tricky at first, but it's not. Our step-by-step guide walks teachers through the entire process.
Strategy 2: Motivating Students with Self-Pacing. At this point in the school year, student motivation can drop dramatically, and it becomes a teacher's job to push students through the content. This is quite hard for a teacher to do day in and day out! We show teachers how to reorient their classrooms so that students take control of their own learning, providing both templates and best practices for progress tracking and student motivation. Getting students to take ownership of their learning isn't magic—there are best practices for motivating students and our course explains several.
Strategy 3: Building Mastery through Smarter Grading. Many students make their way from year to year without ever truly understanding the content they're supposed to learn. This may seem inevitable—but it isn't. We show teachers how tweaks to their assessment and grading policies can get students past mere completion, and onto authentic mastery of key content and skills.
Our entire course is free to teachers—with paid subscriptions for educators who want additional support with classroom innovation/transformation—and completely flexible in terms of commitment. Plus, all teachers who complete the course are eligible for three CEUs from George Mason University. We've heard from teachers far and wide who want to transform their classrooms to be more student-centered, and we believe this is the best way to support them.
So, the question I now have for educators who want to better serve their students is this: It's almost November—what are you waiting for?
---
Photo at top courtesy of Robert Barnett