Professional Learning
Competency-Based Advisor Hiring & Preparation: Introducing 3 Key Competency Clusters
July 19, 2017
Topics
Staffing
College & Career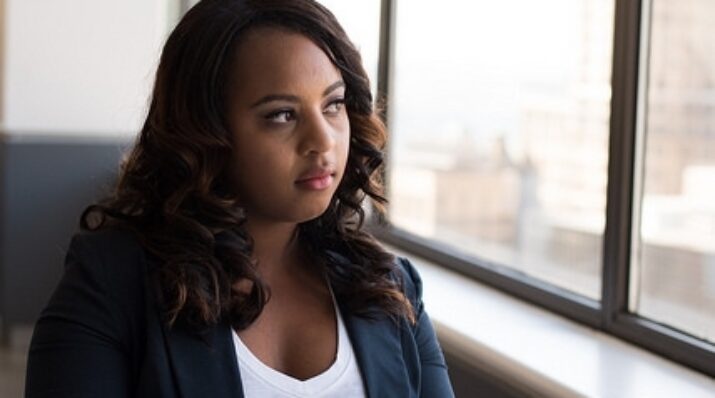 Professional Learning
Professional Learning
Educators are the lead learners in schools. If they are to enable powerful, authentic, deep learning among their students, they need to live that kind of learning and professional culture themselves. When everyone is part of that experiential through-line, that's when next generation learning thrives.
Learn More
Redesigning hiring practices, professional development, and performance evaluation for advisors represent an excellent start for guaranteeing relevant, forward-thinking advisement to our students.
College practitioners are understandably concerned with effective management and organization of their advising systems. While this is an important effort in the overall student success mission, let's not overlook the individual advisor who remains at the center of this work. What attention, if any, is being paid to their opportunities for skill expansion and development? What advantages for both students and postsecondary institutions could arise from this kind of investment in advising teams?
I was an advisor for the first several years of my career, and admit that I was amazed at the lack of focus on professional development other than a periodic insurance of institutional knowledge. I made it my purpose to contribute to the advising practices at the start of my doctorate work in 2006.
My review of the advising literature guided me to competency-based research intended to contribute to hiring, professional development, and performance evaluation. Redesigning hiring practices, professional development, and performance evaluation for advisors represent an excellent start for guaranteeing relevant, forward-thinking advisement to our students. The advisor competency model addresses three clusters that contribute to effective advising performance.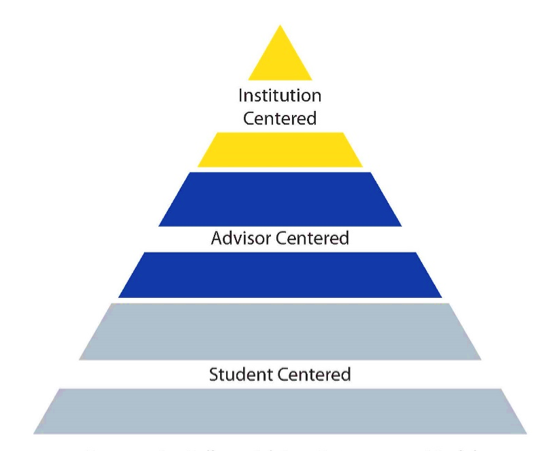 With the help of an expert panel, survey research, and exploratory factor analysis, I developed a job competency model for college advisors. Advising and student success leaders can use this model in several key areas of their division, including:
recruitment and selection;
job performance and evaluation; and 
professional development specific to advising teams.
The advisor competency model is a three-factor solution that summarizes and groups competencies into interpretable clusters. These competencies clusters are student-centered, advisor-centered, and institution-centered—and they include a combination of emotional, social, and cognitive competencies.
Three Key Competency Clusters for College Advising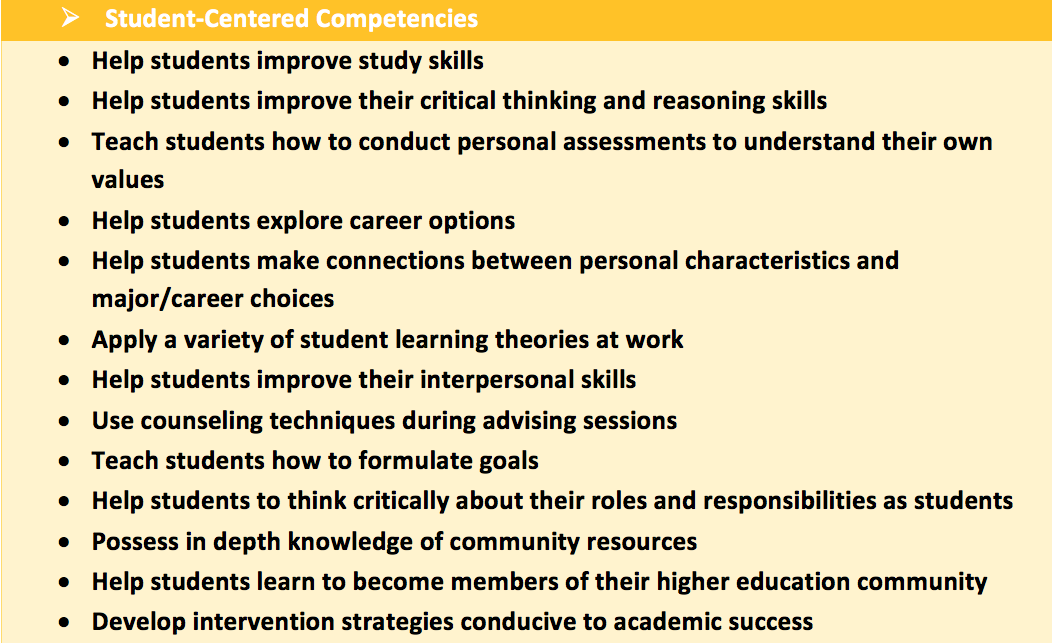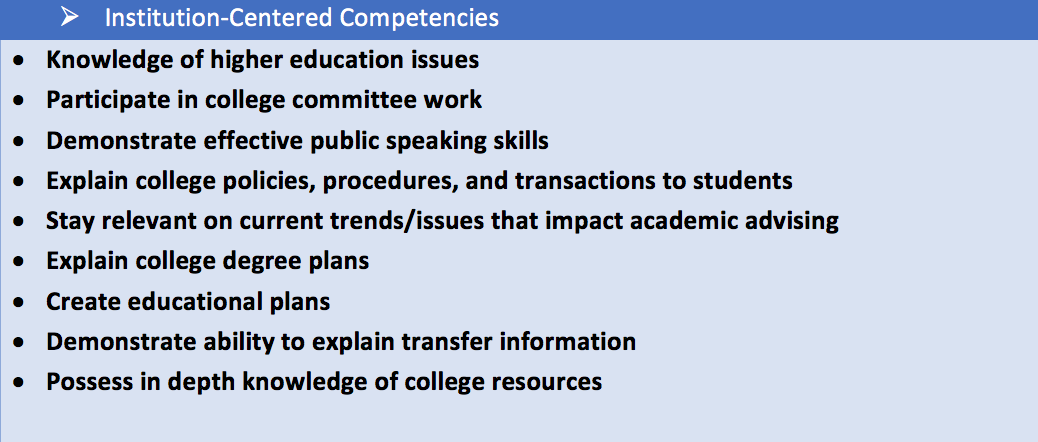 The job competencies clusters above provide an evidence-based competency model that summarizes the various categories of aptitudes needed for successful performance as a college advisor. These competencies should be blended to allow for the most effective performance.
For example, an advisor must interact with students using social intelligence competencies. Also, students arrive on campus with a variety of personal, social, and academic challenges. These types of continuous social interactions also require emotional intelligence skills, such as active listening and controlling emotions in difficult situations. The advisor must also have the cognitive skills to perceive multiple causal relationships and to help students solve issues. The scenarios in which these competencies would be advantageous are likely as varied as students themselves; will be useful to utilize this model in hiring and professional development practices.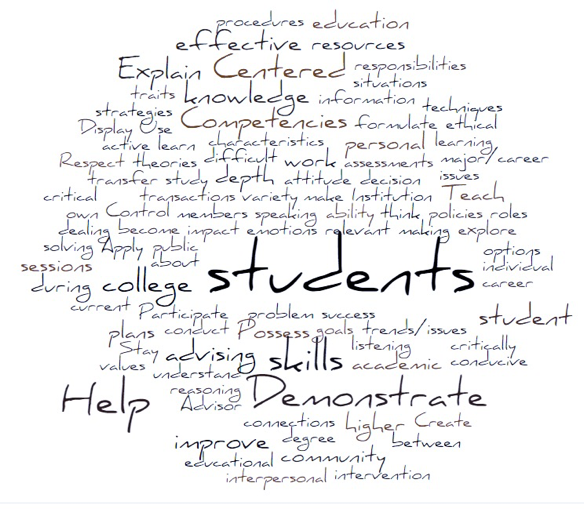 Effectively Evaluating Advisor Competencies
The following recommendations have proven useful on our campus, both in improving the quality of advising and in boosting staff retention.
Include annual performance goals for each member of your advising team, and review current competency attainment levels based on the established competencies clusters. The supervisor and advisor should discuss missing or under-developed competencies, and collaborate on a plan for improvement.
Employing competency development as part of the annual performance evaluation will drive the development and implementation of training programs and improve desired advisor competencies. Those creating staff training programs may consider all categories of the advisor job competency model during developmental stages, emphasizing both student-centered and advisor-centered competencies.
Emphasize the importance of emotional and social intelligence in the hiring and training of advisors and professional development tied to building competencies. Utilization of the advisor competency model will most likely lead to improved recruitment and selection practices, career development programs, and improved performance management processes.