New Designs for School
Competency-based Learning at Building 21
April 15, 2016
Topics
Competency-based Education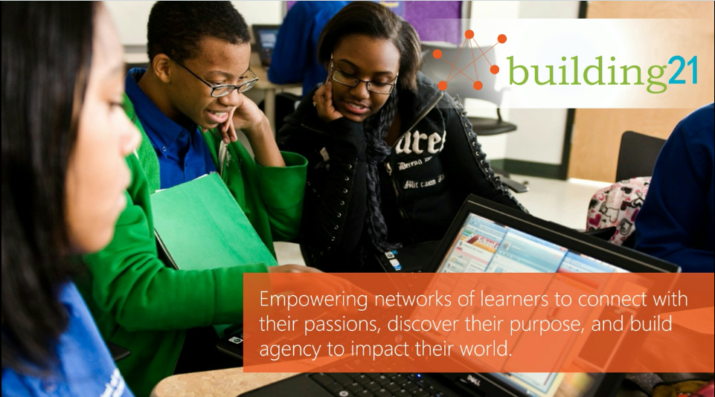 New Designs for School
New Designs for School
We've all had the experience of truly purposeful, authentic learning and know how valuable it is. Educators are taking the best of what we know about learning, student support, effective instruction, and interpersonal skill-building to completely reimagine schools so that students experience that kind of purposeful learning all day, every day.
Learn More
The competency-based education model behind this Philadelphia district partnership school is gaining attention for its competency framework and information dashboard.
What's going on inside Building 21? The competency-based learning model behind this Philadelphia district partnership school is in its second year of operation and gaining attention.
CompetencyWorks Digs into the Building 21 Model
First, for an in-depth look at the school's competency-based structure, check out the CompetencyWorks case study.
In this case study, CompetencyWorks' Chris Sturgis looks at the framework and structure of the "Learning What Matters" competency model co-developed with the School District of Philadelphia, and how they are organized so that each competency has a continuum of performance levels associated with it. As an example, B21 has established four performance levels for "Frame a scientific question," which is one of the skills required for the competency, "Lead Scientific Investigations." She then goes into the strategy and processes for learning, assessment, scoring, and grading that operationalize B21's learning model.
Sturgis starts this exploration into B21 with an important reminder: know your students. The school's designers knew they would be serving a student population in Philadelphia with circumstances that make it hard for them to be successful: many if not most of the students would be entering the high school with inadequate preparation, irregular past attendance from high mobility and suspensions, and exposure to significant upheaval and violence in their daily lives. The school's vision, values, and instructional approach all align with serving these students.
In the second post, she takes a close, deep look into B21's open-source, student-centered, competency-grounded information system and dashboard. Sturgis shares her "wide-eyed wonder" with enough detail to understand how both teachers and students use the tool to gauge progress, score assessments, and map learning opportunities.
Upcoming Events to Learn More about Building 21
Join iNACOL on April 20 for their webinar, "What Is Competency-Based Education?" when part of the conversation will focus on B21's innovative model. Just two days later, Building 21's Laura Shubilla and a B21 student are on the panel of presenters for AYPF's Forum, "Making Learning More Meaningful in a Reimagined Accountability System." You'll have to be in Washington, D.C. to attend the forum, but AYPF often provides archived materials from past events online.
You can learn more about Building 21 through NGLC, too. First, get a grounded perspective on the school's model design by visiting the Building 21 grantee page.
Then, check out what B21's Chief Instructional Technologist, Tom Gaffey, shared as a featured guest in last week's #NGLCchat on Competency-based Education. Scan the Storify archive [no longer available] for @mr_pedagogy's tweets and other mentions of @B21Network.
Lastly, NGLC takes grantees on a site visit trip to Philadelphia this June with a stop at Building 21 on the itinerary. We'll be sure to share our takeaways from the visit on the Next Gen Learning blog shortly after.