Professional Learning
Digital Badging: the Rise of Skillbuilding Recognition at EDUCAUSE
June 2, 2015
Topics
Competency-based Education
College & Career
Tools for Next Gen Learning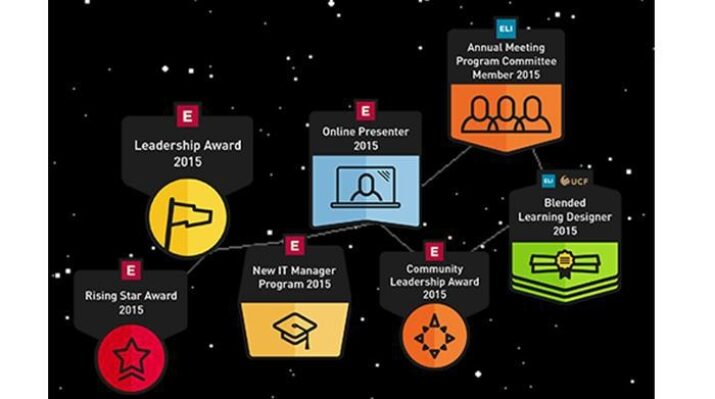 Professional Learning
Professional Learning
Educators are the lead learners in schools. If they are to enable powerful, authentic, deep learning among their students, they need to live that kind of learning and professional culture themselves. When everyone is part of that experiential through-line, that's when next generation learning thrives.
Learn More
Digital badges document incremental, lifelong learning and recognize professional engagement and achievements.
If you haven't already earned a digital badge—or don't know someone who has—you might be wondering what they're all about. Digital badges are a highly visible way to document incremental, lifelong learning that can also be used to recognize professional engagement and achievements.
In 2014, EDUCAUSE launched a digital badging program in support of the higher education community we serve. Badging is an exciting new platform for engaging the community and recognizing professional accomplishments. (As a visual representation of your work and achievements, badges tend to attract a lot more attention than a lengthy list of text.)
EDUCAUSE offers the opportunity to earn badges in any of five categories—all of which closely align with our portfolio for professional development and community engagement:
Communications badges are earned by those who share knowledge or lend expertise by presenting online or face-to-face, including webinars, seminars, and conference session presentations.
Community Service badges recognize volunteer efforts to serve, including conference session proposal review, program or advisory committee membership, and programmatic thought leadership.
Leadership Development badges acknowledge initiative and commitment in intense, participatory learning experiences for professional and personal growth as managers and leaders in the institute program portfolio.
Leadership Awards badges are awarded to standout community leaders honored through the annual EDUCAUSE awards program.
Subject Matter badges recognize engaged development in specific content areas accomplished through online courses or other learning experiences.
For each badge, specified criteria and required evidence are detailed in associated metadata, creating transparency for the recognition. Badge earners may choose to display and share their badges in many ways but the most powerful mechanism (as you might have guessed) is through social media. Every time a badge is shared or viewed, it makes a digital impression.
Especially for badge earners active in social media space, the impact of a single badge can be exponential. (For EDUCAUSE, LinkedIn remains the most significant social network, as 88% of our badges are displayed there.) Recipients may now display badges within their LinkedIn profile as well as in their news stream.
Kim Round, Director of Instructional Technology at Saint Anselm College, has earned several EDUCAUSE badges for presenting at conferences, reviewing proposals and participating in the Breakthrough Models Academy.
"I've learned so much from EDUCAUSE and enjoy mentoring, as well as being mentored," Round said. "The digital badges I've earned not only add a highly recognizable credential to my profile; they describe my volunteer and professional development activities in a meaningful way—and in sharing my EDUCAUSE digital badges on LinkedIn, it allows me to share these professional development opportunities with others."
As you might expect so early in the development of a rapidly growing field, metrics surrounding badges have yet to mature. Acceptance rates are the best measure we currently have to determine which badges resonate most in the community. At EDUCAUSE, we track acceptance rates regularly, review holistically and tweak the program accordingly. Badging program success is also impacted by education, communication, and marketing efforts, all of which vary somewhat by badge type and audience.
EDUCAUSE badge activity increased dramatically in the 16 months since we began tracking it–from less than 24,000 near the beginning of the program's first year to 357,000 badge impressions by the middle of year two. During that time, of course, the quantity of badges issued also increased, from approximately 1,200 in 2013 pilots to nearly 5,000, cumulatively, by June 2015. What we can gauge from this data is that digital badging is a rapidly growing field. We're excited about the potential for microcredentialing our members.
Dustin Hilt, a program analyst at Simmons College and recent participant in EDUCAUSE Breakthrough Models Academy, agrees that higher education is still working to determine the role of digital badging. 
"As I think about this issue, the EDUCAUSE Digital Badging Program has provided me with a firsthand opportunity to better understand the potential of these credentials, while also improving my LinkedIn profile by creating a more detailed overview of some of my accomplishments," Hilt said.
"Combined with the research by EDUCAUSE on trends and best practices, this effort should ensure that the organization and its members play a leading role in the conversation on digital badging." (Hilt displays both his digital badges for presenting at an EDUCAUSE conference and for participating in the Breakthrough Models Academy.)
As badging grows in popularity, EDUCAUSE's own program has garnered attention and most recently, a significant accolade. In April, the Center for Association Leadership (ASAE) awarded EDUCAUSE the Gold Circle Award for New Product/Service Launch Campaign for the digital badging program. EDUCAUSE was selected from among 193 entrants to the competition, whose projects were judged by experienced marketing, membership, and communication professionals from associations, nonprofits, and for-profit organizations. Judging criteria included program strategy, execution, results, a call-to-action and creativity. The award is an important recognition of a successful program launch at a time when very few associations had begun implementing badging for members.
If you're interested in learning more about badging, check out the following useful resources from EDUCAUSE:
If you're considering launching a digital badging program, stay tuned to find many more details of our experience documented in my upcoming conference paper and presentation "Lessons Learned in Launching an Award-Winning Digital Badging Program," which will appear on this blog later this month!