Why Schools Need to Change
Five Educator-Driven Innovations Emerging in the Era of COVID-19
October 22, 2020
Topics
Project-based Learning
Student Success
Tools for Next Gen Learning
Curriculum & Instruction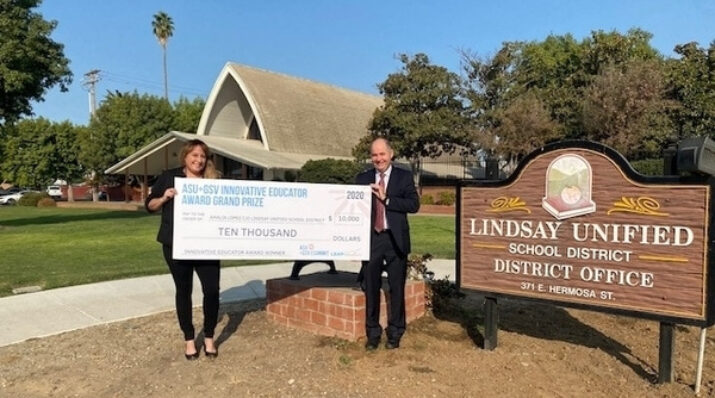 Why Schools Need to Change
Why Schools Need to Change
Today's learners face an uncertain present and a rapidly changing future that demand far different skills and knowledge than were needed in the 20th century. We also know so much more about enabling deep, powerful learning than we ever did before. Our collective future depends on how well young people prepare for the challenges and opportunities of 21st-century life.
Learn More
Five inspiring projects, including personalized PD at Lindsay Unified, are innovating education despite the challenges presented by the pandemic.
When schools shuttered in March, we had to confront a disturbing reality: COVID-19 didn't cause many of the deficiencies we're experiencing. It simply revealed them.
For at least a half-century, we've simply plugged holes in a system that really deserves a wholesale redesign of our education system—evidenced by the long-standing inequities between rich and poor, outdated scheduling models, a one-size-fits-all approach to teaching and learning, and the drumbeat from employers demanding workers who are better prepared for the digital economy.
And while the challenges loom large, the pandemic has spurred inspiring innovation across so many schools in our country. Their work not only gives us a glimpse of what a new education paradigm could look like, but demonstrates the transformations possible.
Some of these innovations were recently amplified on a global stage, with investors, philanthropists, and educational entrepreneurs at the virtual ASU + GSV Summit. My organization, LEAP Innovations, joined forces with ASU+GSV to recognize incredible educators whose innovations serve as a model for us all. Lindsay Unified School District, a rural district serving a mostly LatinX population in California, received the inaugural award, which recognizes educators who are leading innovations in their communities and fostering meaningful changes within their school districts.
Here are five inspiring projects from finalists that are innovating education despite the challenges presented by the pandemic. All finalists' presentations are available to view in depth at the Innovative Educator Award's Video Library.
Personalizing Professional Development
Lindsay Unified's winning entry, which earned the district $10,000, featured a digital platform that gives teachers real-time insights and personalized training.
The district transformed its learning management system, Empower, into a teacher-facing dashboard where teachers can set personal career goals, access professional learning, upload evidence, and monitor their progress. Through the dashboard, teachers have identified personalized training and development that not only supports their teaching, but is rooted in the needs of their students.
The dashboard has given educator teams unique support for their own practice. But even more impressive, the data culled from the dashboard provides insights into their students' engagement and progress toward learning goals, which has made it easier for teachers to collaborate with parents and other district staff.
Redefining How We Measure Student Outcomes
A finalist and winner of a $1,000 prize, the Utah Department of Education (UDE) began its project with a simple question: Do we have a complete picture of what makes a "good" school? The answer led to a new way to collect data about school performance, one that values experiences as much as graduation rates and test scores.
The state has created a system that adds nontraditional data sets to the usual methods for measuring a school's success. Today, anyone can visit the dashboard and learn that 87.5 percent of Utah's teachers are proud to tell people where they work, but 500 out of 6,000 don't see themselves as teachers in the next two years.
UDE is creating the data through surveys to parents, teachers, and students. The results no longer stop at the district level, but are forwarded to UDE and added to the state education dashboard. Members of the public can view answers by race, gender, and age just as they can with traditional indicators like SAT scores.
Blending Out-of-School and In-School Learning
Another finalist and $1,000 prize winner is Build UP (Build Urban Prosperity), a Birmingham, Alabama-based early college/high school that seeks to end the cycle of generational poverty by helping students earn workforce credentials and become a homeowner.
Beginning in eighth grade, students spend half the time in an academic setting learning skills that relate to the other half, a paid apprenticeship in real estate and construction. At the end of six years, students have a high school diploma and an associate's degree in their chosen field. Once they've landed a job, launched their own business, or enrolled at a university, graduates take over deeds to properties they renovated during their apprenticeships—complete with zero-interest mortgages and passive income on rental properties.
Build UP lets students learn a marketable skill and begin building wealth while helping revitalize their communities.
Preparing Students for the World of Work
In California, the Cajon Valley School District is helping students as early as kindergarten master a skill that's rarely covered in K-12 curricula: adulting.
The district's World of Work program provides grade-appropriate instruction on everything from finding a fulfilling career to how to pay for college. It's Mission of Me course begins by helping students become self-aware by learning about their unique strengths, interests, and values. Then students embark on an academic and career journey, where they're exposed to a variety of career paths and academic options. The course ends by students telling "My Story," a way for them to review everything they've learned about the workforce and themselves.
World of Work also includes a financial empowerment curriculum, so students are equipped to understand money long before they've made their first big expenditure.
Creating Community Partnerships
The Rock Valley Community School District in the heart of Iowa's steel country, has created a fully-functional—and profitable—manufacturing operation that's staffed and managed by students.
District leaders realized that many students were missing out on higher-paying steel industry jobs because they lacked proper training. Enter Rocket Manufacturing, which operates under the belief that the best way to prepare students for the workforce is to bring the workforce to them.
Students spend time during the school day running a machine parts and tools business. Some work in manufacturing, others in marketing, accounting, web design, customer service, and even social media. Students receive further instruction on employability traits, ethics, financial literacy, and communication.
By collaborating with instructors and the business community, students learn all elements of employability—from concept to delivery.
---
Photo at top courtesy of LEAP Innovations.