Technology Tools
How Academic Advising Reform Helped Students Succeed at George Mason University
September 14, 2017
Topics
Change Management
College & Career
Tools for Next Gen Learning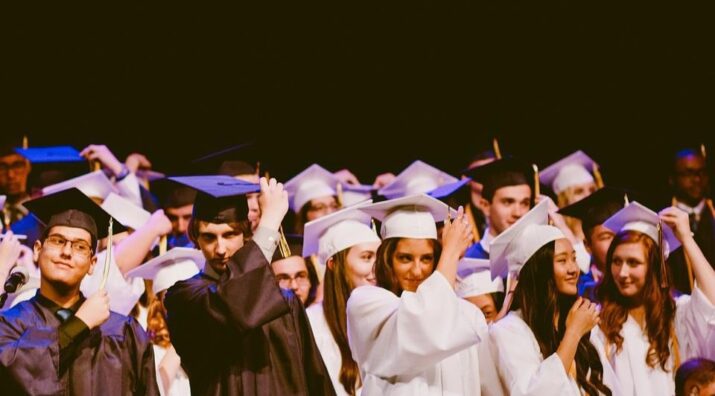 Technology Tools
Technology Tools
Educators often take advantage of educational technologies as they make the shifts in instruction, teacher roles, and learning experiences that next gen learning requires. Technology should not lead the design of learning, but when educators use it to personalize and enrich learning, it has the potential to accelerate mastery of critical content and skills by all students.
Learn More
A new structure for George Mason's academic advising system that includes more collaboration across colleges and schools, preserved autonomy, and greater consistency and oversight has resulted in some big payoffs in terms of student success.
While autonomy is a great strength of George Mason University's culture, too much of it can weaken any organization. Specifically, having each academic advising unit operate independently of one another has occasionally led to students experiencing varying levels of support, which were not always consistent with their needs or with university standards. Unfortunately, many of those experiences reported in a 2014 survey of graduating seniors were negative. That year, academic advisors and college advising leadership banded together to identify ways to increase consistency and improve this vital student service by forming the Academic Advising Reform Committee (AARC).
Jeannie Brown Leonard, Dean of Student Academic Affairs, Advising, Retention, and Transitions, who co-chaired the AARC, is optimistic about the committee's positive impact on advising.
"The Academic Advising Reform Committee (AARC) identified weaknesses in academic advising such as lack of shared philosophy, goals, outcomes and uneven training for academic advising," Brown said. "There were other issues as well, where students were confused about where to go and whom to see for academic advising, and some departments had advisors with higher than average student caseloads. By expanding capacity and quality of academic advising, students will benefit from improved transition support, accurate degree planning, and meaningful conversations about interests, skills, and abilities leading to a more engaged college experience."
Weaknesses were addressed by proposing a new structure of George Mason's academic advising system, which called for more collaboration across the colleges and schools, preserving the schools' and colleges' autonomy while providing greater consistency and oversight.
The committee made several specific recommendations that went into effect immediately, including designating leaders ('advising liaisons') for academic advising within all the schools and colleges, and the creation of a role to support greater coordination across the colleges. The university's new Academic Advising Effectiveness Specialist, Terri Bevilacqua, now meets regularly with advising liaisons, serving as a central hub for information and feedback.
Other AARC proposals have also been successfully implemented, including: a shared student-centered mission and vision for academic advising, and collaboration with Mason Academic Advisor Network (MAAN) on ongoing professional development, training, and recognition of academic advising excellence. Additionally, support from an Integrated Planning and Advising for Student Success (iPASS) granthas enabled the university to leverage technology in improving students' academic advising experiences.
The iPASS grant allowed George Mason leaders to select a degree planning software and launch a student success management system. For Claudia Borke, an academic advisor in the Department of Bioengineering, using the new software drastically reduced the time she spent preparing and meeting with students, and gave her more control over her workflow. Prior to implementing the system, an advisor in Bioengineering would typically see lines of students waiting for an advising appointment during registration. Now, Claudia designs and carries out targeted email outreach campaigns to students who may need support. Her late winter campaign included reaching out to seniors who as a result scheduled appointments earlier than usual.
When meeting with a student, Borke glances over at her computer screen and with a few clicks can see whom she is meeting with, a brief situational update either in the advising report or note, and an overview of the student's academic progress. The software also reminds her of follow-up meetings with students months later. By scanning advising plans and other forms, she eliminates trips going back and forth to the file cabinets of the bioengineering office located on the other wing of her building; it also enables her to establish an instant connection with the student. Students feel welcomed and cared for because she has an immediate grasp of their situations.
Her students feel the difference of a well-organized, in-depth advising session versus waiting in long lines for a short impersonal one. Many voted for her to win the institution's Advisor of the Year award. "Some years I was seeing my advisor, Claudia Borke, every month. I would never have gotten through the maze of paperwork and known what classes were best suited for my interests if it wasn't for my advisor," says Katrina Colucci-Chang, who graduated cum laude last May with a bachelor's degree in bioengineering and a minor in dance.
When Colucci-Chang won the NASA Aeronautics Scholarship, she turned to her advisor for guidance. Her advisor was the one who understood that since the NASA scholarship was both a scholarship and an internship, there were separate processes for each, and was able help Katrina fill out all the necessary paperwork and point her toward next steps. "Claudia was very organized, had strong institutional knowledge and helped me navigate a confusing process," says Colucci-Chang. During her NASA internship, she worked with commercial airline pilots on a research project measuring biological signals of the pilots such as heart rate, brainwaves, perspiration and respiration rate. These measurements were taken as pilots responded to various scenarios while flying a plane simulator.
Colucci-Chang developed a love for research at the age of 10, when she would visit her father at his lab. Her father was a chemical engineering professor at the University of Puerto Rico, and he would take her on field work trips where he would study renewable energy sources such as microalgae farms. Her parents nurtured her love for science at an early age. This fall, she will continue her studies in Virginia Tech's Biomedical Engineering doctoral program.
Successful students such as Colucci-Chang know how important academic advising is to their academic goals. Research also shows academic advising is crucial for retention and graduation. Since George Mason began focusing its attention on improving academic advising, its annual retention and graduation rates have been steadily increasing. In a recent report based on data from the 2016 Graduating Senior Survey, 95% of first-time freshmen who met with academic advisors three or more times during their studies at George Mason graduated in six years or less.
The work George Mason's advising leadership continues to do to improve academic advising is paying off. It is not just benefitting advisors who feel further supported, connected and motivated, but it is also helping students become exemplary Mason Graduates: engaged, reflective citizens and well-rounded scholars who are prepared to act.