Reimagining Assessment
How Can Students and Teachers Co-Design Learning?
July 15, 2019
Topics
Learner Agency
Student Success
Curriculum & Instruction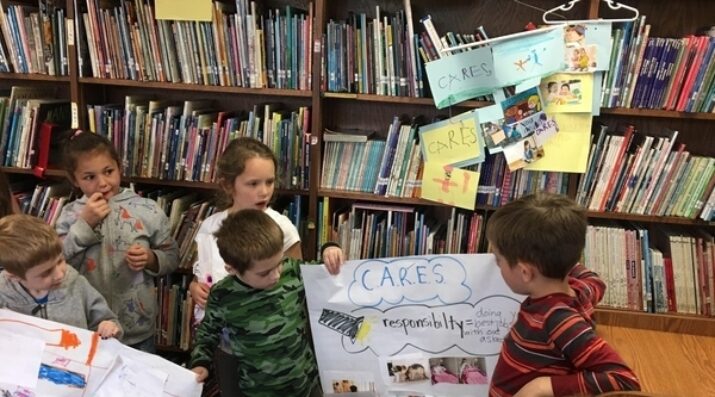 Reimagining Assessment
Reimagining Assessment
Educators are rethinking the purposes, forms, and nature of assessment. Beyond testing mastery of traditional content knowledge—an essential task, but not nearly sufficient—educators are designing assessment for learning as an integral part of the learning process.
Learn More
Working with students to craft lessons in New Hampshire classrooms pushes student learning and deepens teacher understanding of their students and the learning process.
Jonathan G. Vander Els
New Hampshire's Assessment for Learning Project (ALP) continues to break down barriers that have existed regarding students' traditional roles in the classroom. Our Phase II effort, known as Next Generation Collaborative Learning Design, is centered on the essential guiding question, "How can students and teachers co-design learning?"
Our project explores this with two distinct, yet connected, prongs that inform our learning. The first, student exhibition, is focused on facilitating opportunities for deeper learning from kindergarten through 12th grade through the development and implementation of an exhibition opportunity (see our recent EdWeek commentary about one school's co-designed efforts). The 11 participating districts have been supported by the New Hampshire Learning Initiative and Envision Learning Partners.
The second prong involves a K-5 group of three schools that are developing Curriculum Replacement Units (Marion and Shephard) to completely replace existing units, built with student agency and co-design as primary tenets in all aspects of the unit design. This work is facilitated by the New Hampshire Learning Initiative and the Center for Assessment. Each school—DJ Bakie School (Sanborn Regional school district), Maple Street Magnet School (Rochester school district), Memorial School (Sanborn Regional school district)—have grade-band teams that are developing cross-curricular units of study that allow for extensive levels of student agency throughout the instructional and assessment aspects of the unit.
The schools' districts also participate in New Hampshire's Performance Assessment of Competency Education (PACE), a first-of-its-kind assessment and accountability system that puts teachers at the center of instructional and performance-assessment design, development, and implementation. As a result, many teachers in our ALP effort have been engaged in performance assessment and competency-based work for some time. As we reflected on their practices, we identified the need to deepen our efforts. We explored ways to meet the needs of ALL learners by personalizing our competency-based system and putting students at the center of the learning and assessment process. This was the genesis for Next Generation Collaborative Learning Design.
As I described in an article on CompetencyWorks, the integration of skills and dispositions into curriculum, instruction, and assessment in our schools has become a central focus interwoven through any of our efforts developing competency-based models in New Hampshire schools. New Hampshire refers to the 21st-century skills as Work Study Practices (WSP). As we sought to broaden our definition of student success by integrating WSP into curriculum, instruction, and assessment, it became evident that students were able to better develop their communication, creative problem solving, collaboration, and self-directed learning skills.
This focus had a profound impact on the teachers as well as the students. As Dr. Patricia Haynes, the director of academics, professional learning, and student affairs for the Sanborn Regional school district shared, "The use of co-design in our classrooms not only pushes the learning of the students involved, but also deepens the understanding the teachers have of both their students individually and the learning process as a whole. Students can speak about their learning in a meaningful way, are able to make connections across multiple content areas, and are energized by what they learn."
It led many of our teachers to identify Work Study Practices as the critical lever moving forward in providing students with the tools to develop greater agency in their learning. It also led many of us to consider how this increased focus on these critical competencies could lead to achieving greater equity in our schools, a major focus for our second phase of our ALP project. Clearly, integrating Work Study Practices as critical competencies and highlighting adult learning were powerful forces for change in our classrooms.
Sarah Benson, a 1st grade teacher at DJ Bakie School, experienced this evolution in practice based upon firsthand experience. Sarah's account provides a timeline that exemplifies how thoughtful, explicit instruction and opportunities for feedback (assessment FOR learning) have allowed her students to be more successful.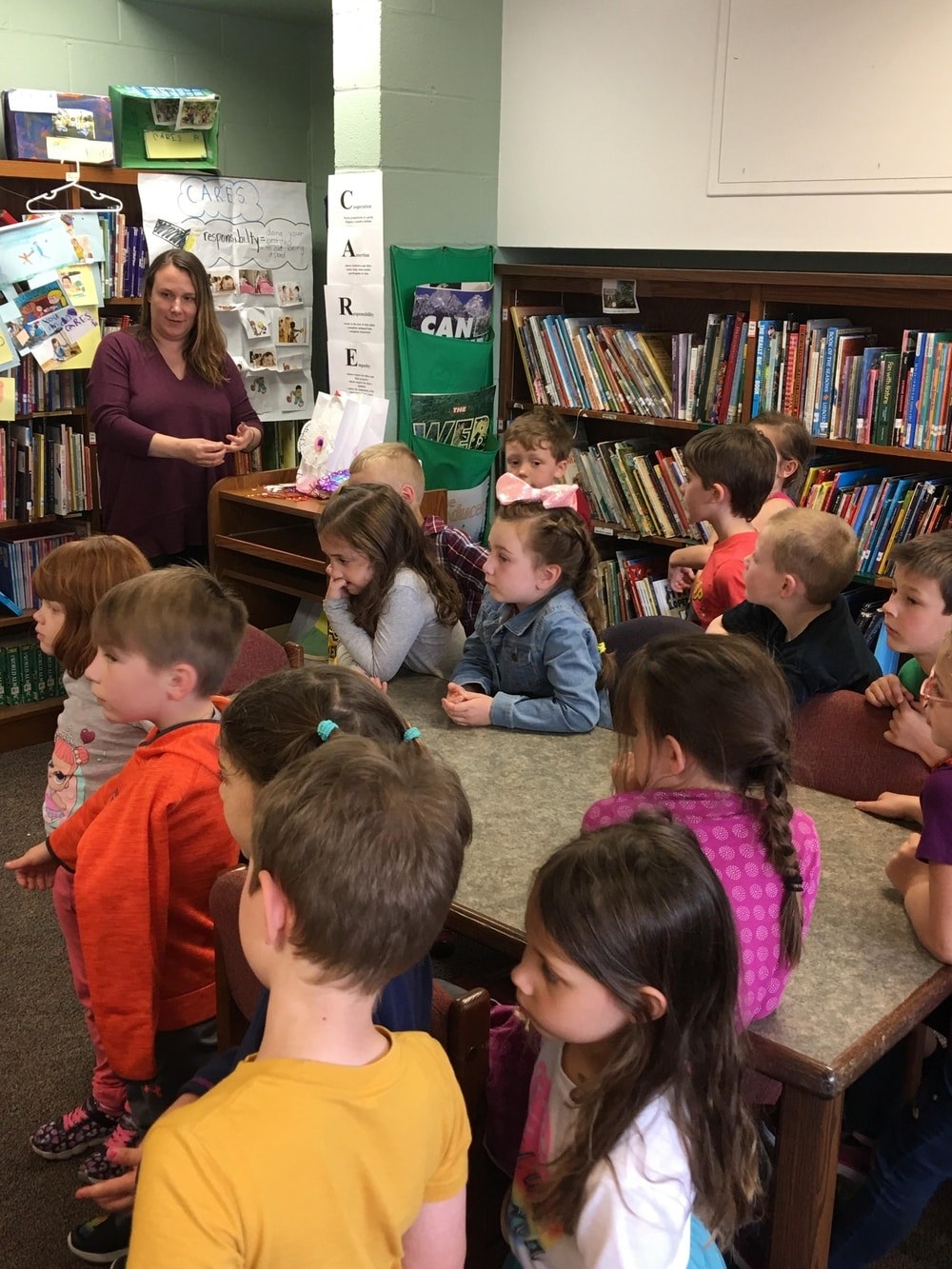 Sarah Benson, 1st grade teacher at DJ Bakie School, co-designing learning experiences with her students. (Courtesy of Elizabeth Paul)
Sarah Benson
As a primary-level classroom teacher for several years, I had always embedded Work Study Practices (WSP) in my practice. I have always strongly believed in the importance of teaching empathy, responsibility, cooperation, self-control, and assertion to learners. However, it was when I joined the New Hampshire ALP team that I discovered just how deeply I could go with these concepts and how much more ownership my little learners could have over their own social-emotional and academic journey. I felt like if I could help them to begin to deepen their own understanding of themselves as individual learners, as well as their concept of themselves as productive group members (at ages 6 and 7), their success in and out of school would greatly increase.
At the beginning of my ALP journey, I collaborated with a primary-level group of teachers from kindergarten through grade 2. Together, we jumped into focusing on the concept of co-design and Work Study Practices within our unit. Our six-week unit began in April and focused around community helpers. We were excited to observe how deeply our multiage students could demonstrate thinking about how community helpers influence society. Working with learning progressions (instead of solely grade-based standards) felt like we would naturally meet each learner where they were. We felt we were challenging and supporting students where they needed to be, not solely based on their grade-level expectations.
Upon reflection of the unit, all six teachers were astounded at the increased level of engagement, autonomy, and agency of our students. We were amazed at the growth we saw in our learners over the short six-week unit. Our multiage students displayed ownership of their learning during both the process and the product. Students also began to manifest an understanding of their individual self as a learner and as a collaborator. We saw kindergartners who wanted to be in charge of "researching" and 2nd graders who deemed themselves responsible for getting the tools and materials needed. This sense of self and how they each contributed to the process of displaying learning was amazing, and we could see how truly meaningful it was to their deeper learning.
My experience as a team member within our ALP cohort learning how to include students in co-designing units, while immersing them in constant reflection of WSP, has been truly life changing. Over the past three years, it has become common practice for me to explain the "big idea" and then the "essential question" of a unit. Now, rather than planning everything from there, I include the students in how we would answer this essential question. The students' dialogue, analysis, understanding, and remembering of information has been monumental.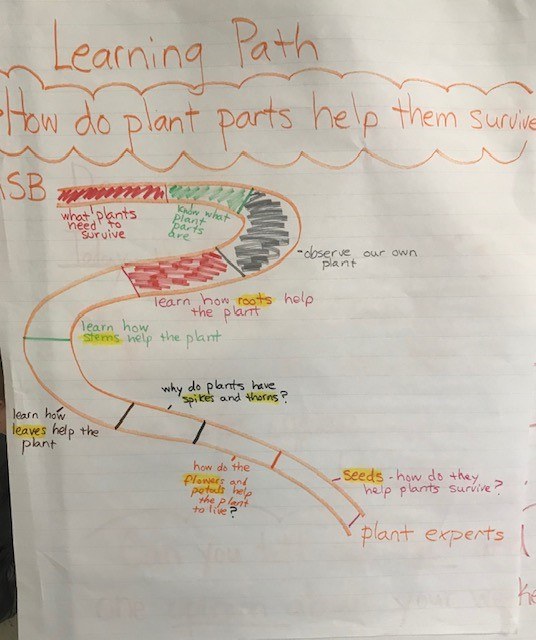 Students participate in co-designing their "learning pathway" for the unit. (Courtesy of Jonathan Vander Els)
My 1st grade students have displayed such rich thinking about themselves as explorers, planners, and inventors. For example, this past year, my class was able to create over half a dozen different resources for our school library focused around WSP. At the beginning of the unit, I simply presented them with the question, "How can we share why Work Study Practices are important?"
From that essential question, the students were able to brainstorm and collaborate an entire unit from creation to assessment. My 1st graders reached out to the school librarian, asking her how many resources our school had that centered around WSP. Next, they decided to create their own plethora of tools for all students to be able to check out of our library. They also deemed what information was necessary in these tools. After creating this checklist, the students went to work independently or in groups. Students made books, posters, murals, mobiles, dioramas, songs, and more for our library. Lastly, they assessed themselves, determining whether or not their project met the requirements for what they had decided was a "quality" resource for their peers.
This work with ALP has allowed my students to think about curriculum in a deeper way and also allows them to reflect on their own strengths as a learner. Teaching with an underlying focus on co-design with Work Study Practices as a lever has opened up so many doors to support the diverse needs of my students. They are also beginning to practice important 21st-century professional skills like goal setting, collaboration, creativity, growth mindset, and problem solving. Allowing my students the autonomy and agency to carve their own learning path, create their own product, and assess themselves fairly has empowered my little learners to think big. This type of thinking and demonstration of self and of knowledge travels far beyond 1st grade and out of the classroom. In my opinion, empowering students with these skills helps to set them up as a deeper-thinking, lifelong learner.
---
Photo at top, courtesy of Elizabeth Paul: Students share their presentations on work study practices with their classmates. These will be available in the library for use as resources for students throughout the school.