Professional Learning
How to Hire Teachers with a Next Gen Mindset
September 8, 2016
Topics
Learner Agency
School Culture
Staffing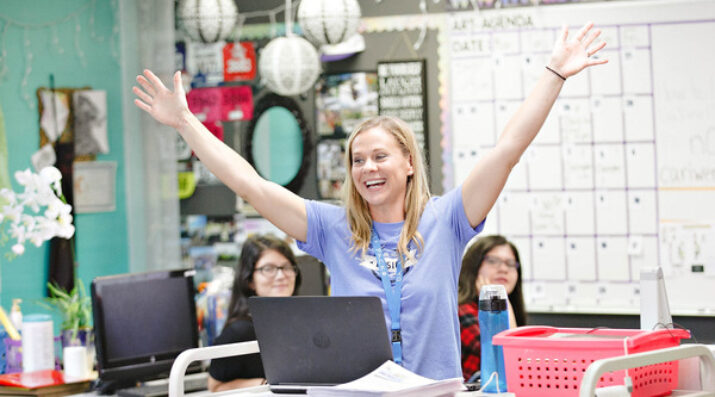 Professional Learning
Professional Learning
Educators are the lead learners in schools. If they are to enable powerful, authentic, deep learning among their students, they need to live that kind of learning and professional culture themselves. When everyone is part of that experiential through-line, that's when next generation learning thrives.
Learn More
New NGLC brief shares the hiring strategies used by Da Vinci Schools & Generation Schools Network.
Many schools are looking to hire caring and talented people, yet we've recently discovered that successful next gen schools are reimagining hiring as one more rich dimension of their overall learning design. The result? Thoughtful, performance-oriented processes for selecting top talent.
True, hiring is a priority at next gen schools. These leaders understand that teachers matter. They understand that talent plays a role in their overall ability to deliver on the promise of their school's design and vision. And, they value a 'next gen mindset' as much or more than traditional notions of pedagogical skills, knowledge, and experience.
You'll find these insights along with some next gen essentials of talent selection in our new brief, Next Gen Tools: Hiring for Mindset, which features NGLC schools Da Vinci Schools and Generation Schools Network.
Da Vinci Schools, with its project-based school design, has taken hiring to the next level by seamlessly integrating selection activities into the learning experience for both students and teachers. Candidates teach a sample lesson, interact with students, plan with other teacher candidates, and respond to questions from the broader community. Students are invited and expected to provide constructive feedback publicly and privately. Students have a "vote" and are asked to think critically about this potential new member to their community. Responsibility is in play. Ownership is at stake. Students are asked to support their viewpoints with observations, evidence, and make connections to the values expressed and implicit in their school's culture. This real world situation is embraced as the hands-on opportunity for learning and community-building that it in reality is.
Next gen school leaders understand that teachers are the difference makers. And collaborative teaching teams hold the recipe for their school's "secret sauce." The interactions and relationships of teachers and students are contributing to the power of the learning experience. Openness to and ability to collaborate, then, as part of the 'next gen mindset,' rises to the top of the list of most desirable attributes. For the two featured schools, collaboration is an extension of fit with the school's community, climate, and culture. Collaboration skills must be demonstrated, usually in multiple ways, and in the final assessment, both schools choose fit over teachers who have singular expertise and skills.
A 'next gen mindset' is important because it demonstrates that a candidate's skills and beliefs mesh with the school's culture and that school culture reflects a set of intentionally cultivated conditions for learning. Developing a community of learning and learners means these selection decisions impact an entire school community. Recognizing this, next gen leaders assume a role as a community member, uphold broad-based engagement, and embrace the experience as fundamentally one of learning.
The details of the hiring strategy and tools to implement it (schedule, sample exercises, assessment prompts) are provided in Next Gen Tools: Hiring for Mindset. Read it now.