New Designs for School
Leadership Habits, Genius Hour, and Learner Profiles in Colorado
May 15, 2017
Topics
Personalized Learning
Change Management
Tools for Next Gen Learning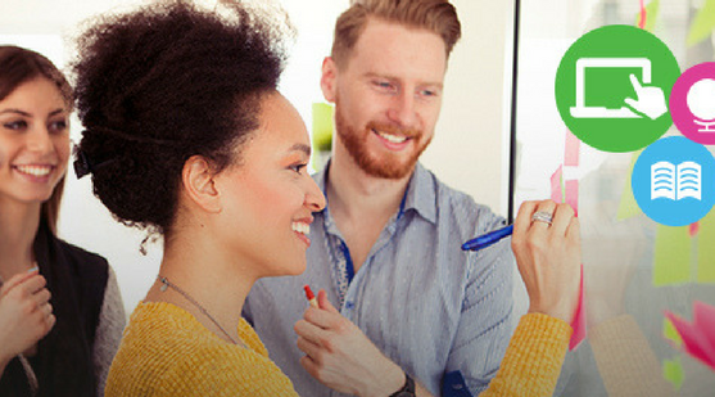 New Designs for School
New Designs for School
We've all had the experience of truly purposeful, authentic learning and know how valuable it is. Educators are taking the best of what we know about learning, student support, effective instruction, and interpersonal skill-building to completely reimagine schools so that students experience that kind of purposeful learning all day, every day.
Learn More
Practitioner's Guide to Next Gen Learning
Schools across Colorado are shifting to more personalized learning by starting with Steven Covey's Habits of Success, IB's Learner Profile, and Google's Genius Hour.
In March, I had the pleasure of joining an NGLC Learning Excursion to Colorado. In this Friday Focus: Practitioner's Guide to Next Gen Learning, you'll learn about:
How leadership habits of success can be an entrypoint for personalized learning;
How student-led research projects modeled on Google's 20% Time can make student agency contagious;
How student-led conferences and the International Baccalaureate program can support personalized learning.
"We need to find a win-win solution" Habits of Success at Martinez Elementary
Our first stop on the excursion was Martinez Elementary in Colorado Springs School District 11, one of three districts partnering with the Colorado Education Initiative to support next generation school transformations. As Scott Fuller, Next Gen Learning Coordinator for the district, explained, D11's vision for next generation learning is grounded in five principles, illustrated in the graphic below.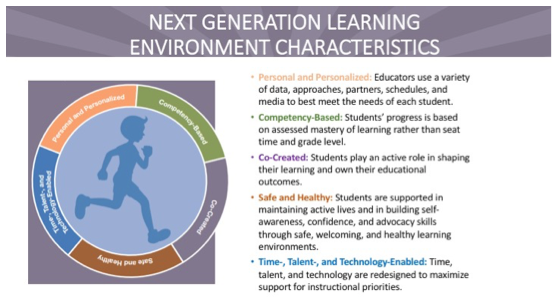 While these principles are shared, each school's pathway to bringing them to life is individualized. D11 supports schools through a three-tiered strategy that begins with initial professional learning (focused on "seeing is believing"), engages schools in deep change management, and then supports schools in message development and communication.
Martinez has just completed the visioning phase of change management, and the school is focused on broadening and deepening its shared understanding of student success as an entrypoint to personalized learning. One of the launching points for this was a teacher book study of The Leader in Me, by Steven Covey and colleagues, of The Seven Habits of Highly Effective People fame. In a crowded and often confusing landscape of frameworks related to success skills and dispositions (see the new NGLC MyWays website for a "Rosetta Stone"), the book and associated materials provided a valuable common language.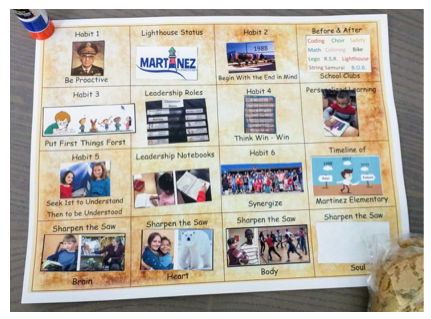 During our visit, we heard and saw constant evidence that these habits were deeply ingrained in the school's culture. When we asked for an example of one of these habits, a six-year old on the student panel chose synergize (Habit 6):
"At our design competition, I worked together with my friend to make our lego structure. I did the body because that part is harder."
One of the parents we spoke with said that the Habits transfer into home life too:
"I heard my first grader tell her younger brother, when they were fighting over a toy, 'We need to find a win-win solution' (Habit 4)."
The habits are visually present throughout the school, in murals and student art like the leadership mountain below.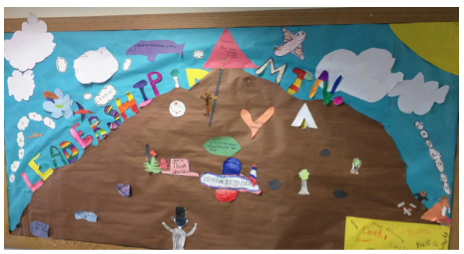 They're also taught explicitly using materials from The Leader in Me. Most importantly opportunities to practice and apply the skills are built into each student's learning experience through structures like the Martinez STEM Lab, where all work is collaborative and grounded in problem solving. As the STEM lab facilitator told us, "This isn't another thing on the plate—it is the plate."
"Why doesn't a bat fall when it sleeps upside down?" Genius Hour at Trailblazer Elementary
This is an excellent question, posed to me by a first grader at Trailblazer Elementary School, also in D11, during the school's Genius Hour. Modeled on Google's 20% time (in which employees can pursue projects of their own choosing), Genius Hour is one of the ways Trailblazer has brought its school-wide commitment to student agency to life. Beginning in kindergarten, students have at least one full hour per week (and typically more) to generate their own questions, research the answers, explore their interests, and extend these interests into projects.
Teachers support students to pose questions using interest inventories and sites like www.wonderopolis.org. They also read books like The Most Magnificent Thing and Not a Box, and use examples like Caine's Arcade to get kids thinking about how they might change the world. The well-directed Genius Hour excitement in the kindergarten room I observed demonstrated that these young students are fully capable of self-directed, inquiry-driven learning (though the teacher told me not to be surprised if most of the questions that day focused on animal locomotion in various forms, which is a perennial Genius Hour favorite for 5-year-olds).
Starting to practice student-led learning at an early age helps young children build confidence and experience in self-direction. Teachers said that self-directed learning is contagious: "I've had so many students [in their regular classes] say things like, 'Ms. Myers, I found this great video—can you put it on Schoology so that other kids can look at it?'" Older students told us that they often continue their Genius Hour projects on their own time—like the students who built a functioning hovercraft, the one who built a DVD player from spare parts, or the one who started teaching himself Elvish from Tolkien's Lord of the Rings. "The best Genius Hour projects," a teacher told us, "just lead to more questions."
"I know my kids so much more now"
Student-centered Learning at Sabin World School
At Sabin World School, a Denver Public School that partners with The Imaginarium, the path to personalized learning has been about bringing together multiple elements, including technology integration and the school's longstanding International Baccalaureate (IB) Primary Years Programme, into a cohesive student-centered whole. As principal Kirsten Frassanito shared, the most important factor has been the school community's belief that "Students come to us as whole, complete individuals. They already have what they need in order to be successful, and our job is to bring it out."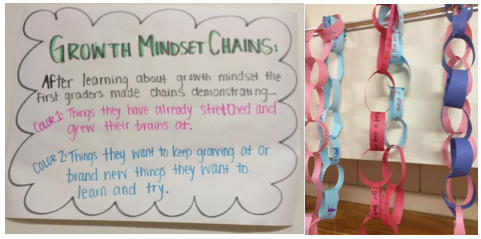 Sabin has embraced learner profiles—in two senses—as a way to do this. First, IB uses the term "Learner Profile" to describe the set of skills, dispositions, and attributes that the program seeks to foster in students: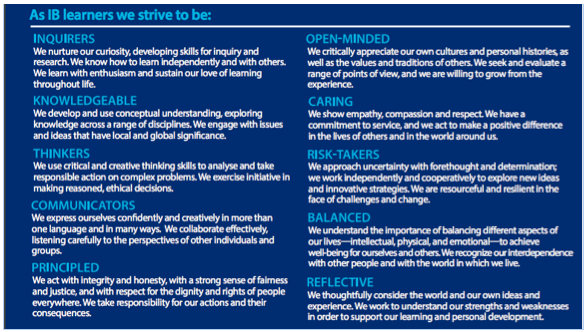 Viewing these attributes through the lens of personalized learning (and using next gen practices and structures to bring them to life) makes the learner profile even more powerful. For example, inquiry, risk taking, and reflectiveness are crucial ingredients of learner agency. Being attentive to balance, caring, and open-mindedness is crucial to truly knowing each student as an individual. And cultivating complex thinkers and communicators is essential to what MyWays calls "Creative Know-How."
Sabin teachers are also working with students to more explicitly link student goals to these attributes, bringing the IB concept together with what we at NGLC think of as a Learner Profile—an individualized snapshot of a student's personal goals, interests, learning assets, and needs. Students discuss these goals with parents and teachers in student-led conferences, and the students we spoke with were clear and reflective when speaking about their goals:
"My goal is to stand up for what's right, not just stand by and not say anything"
"My goal is to help others be successful"
"My goal is to be more 'IB' than I am. Even though I'm good now, I want to be better"
The teachers and leaders we spoke with were very open about the ups and downs of making such a fundamental transition—letting go of control and trusting (as well as supporting) students to own their learning. One teacher told us, "We [as teachers] need to think about how we can be vulnerable in our own learning, so that students can as well." They joked that this vulnerability led to occasional trips into the "valley of despair." But the message we heard loud and clear was one of agency—both for educators and students.