Enabling Change
Learners Lead at Lindsay Unified
December 18, 2020
Topics
Personalized Learning
Learner Agency
Change Management
Leadership
School Culture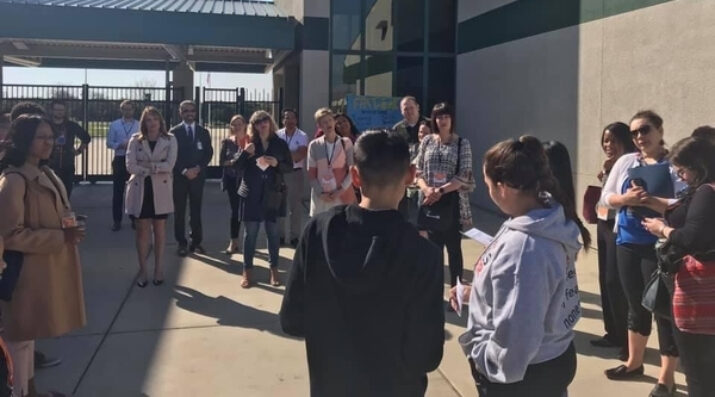 Enabling Change
Enabling Change
Next generation learning is all about everyone in the system—from students through teachers to policymakers—taking charge of their own learning, development, and work. That doesn't happen by forcing change through mandates and compliance. It happens by creating the environment and the equity of opportunity for everyone in the system to do their best possible work.
Learn More
Practitioner's Guide to Next Gen Learning

A learner tells the story of her leadership at Lindsay Unified School District, as an empowered change agent working to transform the learning experience.
On November 30, 2020, about 65 people—district leaders, mostly—attended the first session of a convening of the Transformation Design community of practice, via Zoom. The purpose of this virtual session, co-hosted by NGLC and Lindsay Unified School District in Lindsay, California, was to launch the work the eleven participating districts will undertake this year. In 2021 the cohort will support one another to tackle their current highest-priority challenge(s) thoughtfully and effectively, with reference to the new approaches to catalyzing productive change that they have built together over the last two years.
Like so many activities that were formerly held in person, this year's convening was redesigned for a virtual experience. What is usually a two-day event, for example, has been broken up into four shorter sessions. Instead of an informal meet-and-greet over coffee, the emcee from Lindsay Unified prompted pairs in breakout groups to talk about a favorite "go to" song. Next, she reviewed the agenda and goals for the day, shared her screen to talk about how her district's learning platform is supporting anytime, anywhere learning during school closures, and, in a virtual breakout session, discussed her district's pressing challenges with fellow leaders.
For many educators in the NGLC community, these elements of a virtual gathering will sound pretty familiar. Nothing particularly remarkable here. Oh, but I forgot to mention: the member of the LUSD team who is emceeing all four launch events is Alexis "Lexi" León, a senior at Lindsay High School. Lexi, along with other learners from LUSD and from peer districts in the Transformation Design cohort, are not only members of the district teams, but also leaders and change agents in the work to transform their schools for equity and lifelong learner success.
For this edition of Friday Focus: Practitioner's Guide to Next Gen Learning, I spoke to Lexi and to Barry Sommer, the director of Lindsay Educational Foundation for Learning, about the leadership roles learners fulfill in the district's ongoing work to develop Lifelong Learning Standards in all learners, as well as to support, empower, and motivate other educational entities to transform their systems to personalized models via the Lindsay Leads initiative. In our conversations, Barry and Lexi described:
Ways that learners act as leaders in their district
What it's been like to serve as a learner who leads
Lexi's hopes for her own district and other aspiring innovators
Ways and Reasons to Lead
We are uncompromisingly learner centered. If we keep our focus on learners owning their own learning, then we create motivated learners who go after learning and have the kind of voice and agency that reminds adults of why we are here. That's the Lindsay way.
—Barry Sommer
According to Barry, learners are considered essential stakeholders and are included, along with educators, site and district administrators, staff, and parents, in decision-making and addressing challenges. "When we work to solve," he says, "learners, their parents, and learning facilitators (LUSD's term for teachers) are all involved."
This commitment to empowering learners was evident throughout the Transformation Design virtual convening sessions. For example, the Lindsay team included not only adults like Barry and Superintendent Tom Rooney, but also four learners from different schools and grade levels: Lexi, Connor Dunbar, Emma Alcantar, and Diego Loftin.
Moreover, the learners' role was not simply to give input or respond to proposals made by adults and positional leaders. Rather, it was the learners on the Lindsay team who identified "learner engagement" as the pressing problem of practice the team should address with the Transformation Design cohort this coming year. As NGLC director Andy Calkins observes, "The amazing thing to me was the Lindsay team's receptivity to the student voices on their team, talking directly about issues of engagement and relevance."
In addition to stakeholder engagement, learners are also invited to participate in ongoing leadership programs. Lexi, for example, serves on Lindsay High School's Empower team and also on the district-wide Lindsay Leads team. As Barry explains, each learning community (Lindsay's way of referring to schools) has a Team Empower made up of learners. They are charged with serving as tour guides and in-house experts for the hundreds of visitors who participate in site visits to LUSD schools to learn about Lindsay's personalized learning model.
The Lindsay Leads team, Barry points out, is a more exclusive group, made up of learners like Lexi, but also of adults in a variety of roles. This is the group that travels to places as distant as Washington, D.C., and North Dakota, as well as throughout California. Team members—learners included—participate in consulting activities, organize and facilitate webinars and other professional learning experiences, and deliver keynote addresses to educators and other stakeholders who are embracing what Barry refers to as "radically learner-centered design."
Barry describes the extensive training team members receive, much of it from nationally recognized experts. He recalls, for example, a session with an opera singer on "presence" as a key element of effective public speaking. The learners on the Lindsay Leads team are paid—in scholarship funds—for their participation in these trainings, as well as in the national consulting work.
For Lexi, what began as an invitation to join her learning community's Empower team in sixth grade has grown into a six-year experience as a Lindsay leader.
The Voice of a Learner and Leader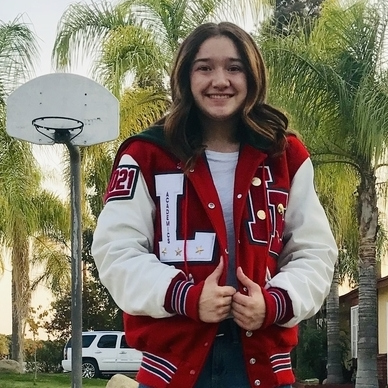 Lexi credits her work with Empower and Lindsay Leads, as well as serving as team captain in soccer and volleyball, for teaching her to "speak out and stand tall." (Courtesy of Lexi León.)
How did you first get involved with leadership?
In my 6th grade year, my learning facilitator noticed my presentation skills and recommended me to our Team Empower Coordinator. They told me about the Empower teams and the Lindsay Leads team and the responsibility it held. I understood that this was not about the perks like getting out of class or getting a free lunch, but about having the chance to share the Lindsay story while learning a few things along the way. By being part of Team Empower and Lindsay Leads, I would have the opportunity to not only share the Lindsay way, but share my story and how, from a learner's perspective, our learning experience has changed.
What is the story you tell about your experience with personalized learning at Lindsay Unified?
My favorite feature of Lindsay's model is having my own learning plan to reach my goal, whether that's a two-year college, four-year college, or the workforce. That flexibility applies to all learners and builds an inclusive environment. It has allowed me to see where I'm at in my graduation plan. With this visual it has helped me accelerate in my classes and even take college courses.
My 8th grade year, I enrolled in my first college course, and now, in my senior year, college courses are the majority of my schedule. I've taken most of my general education courses, and I'm on the path to get my AA in Communications from College of the Sequoias. I've taken courses like stats, Spanish for Spanish speakers, Mexican-American Studies, and the History of Rock and Roll.
I want to highlight that Lindsay is a great system for those who learn faster and those who learn at a slower rate. The idea is that we normalize everyone's differences in learning. Instead of using grade levels, we use content levels to signify what level of learning you are at. These may also vary by subject. For instance, in science I am in content level 12. However, for math I am at the college level. Lindsay does not restrict learners from exceeding the expectation—they encourage it.
What has also tremendously helped me succeed is our 1-4 performance level grading. We have strayed away from the traditional A, B, C, to ensure learners are learning and not only going through the motions. Every stage in my learning progress has held a very valuable part in my education that I use in my college courses. I can say with full confidence that I know and understand the material I have learned throughout high school because of this.
What are some of the experiences you've had on the Empower and Lindsay Leads teams and what did you learn from them?
As part of Lindsay Leads, we have been given several opportunities to attend workshops to help with public speaking, posture, attitude, etc. Most recently it has been on how to tell your story. This has helped me become very comfortable speaking with adults in a professional setting. During Empower visits, we learners lead the tours and presentations that are given to our visitors. We also do Q & A panels to share the work we do at conferences.
Lately we've been doing Zoom calls instead of in-person visits. I have been acting as emcee at the Transformation Design convening. I have given the presentations virtually of what was supposed to be in person on a visit to school districts in North Dakota.
Meeting with so many adults gave me the chance to work in an adult setting and hold myself to a higher standard. It also influenced the language I use. As I am still a learner, I do switch often between using slang and proper English. This can be challenging at times to remember the appropriate times to make that switch, but thankfully we practice enough that it hardly ever is a problem.
What are your hopes and recommendations for Lindsay Unified's continuing transformation?
We are moving away from APs (Advanced Placement courses), and we are encouraging concurrent and dual enrollment at sister colleges like College of the Sequoias in Visalia. I think this is a smart move, especially in our small town, because it helps many kids with the financial burden that restricts many from attending college. This opens up a lot of doors for learners to connect with colleges and start working on furthering their education.
Several of my friends have taken AP, and all I hear is about their stress if they don't pass that exam. It's easier to do college; you go through all of the learning, but everything does not depend on one final test. The courses are paid for, and now some are being offered on the high school campus, where the books are free as well. So you can take a college U.S. history course in place of the required high school course, knocking two birds with one stone.
My college courses I did were on my own—my mom drove me over. I am lucky that my mom works in our school district as an elementary counselor because she knows a bit about college courses as a district employee. Not many kids are lucky enough to have parents that know and understand that. We have a lot of first generation college students, and their parents simply just don't know. This is why I'm excited that Lindsay has implemented the CECA (California Early College Academy) program to get learners connected.
What advice would you give to educators who are considering more learner-centered, personalized approaches?
We don't leave anyone behind, and we don't hold anyone back at Lindsay. Learning at a slower rate is OK in order to to build that strong foundation, and Lindsay allows for that. You don't just get through the class; you have to learn. What's the point of moving on if you are not learning anything?
Redesign the entire school, and start with the mindset. At Lindsay, we changed our vocab. We use the terms "learners" instead of student, "learning facilitators" instead of teachers, "learning environments" not classrooms, and schools are "learning communities." We changed this to move away from the traditional tone of sitting at a desk while a teacher talks the whole class period. We use this language to show that our learning at Lindsay means more.
You have to be okay with not achieving this the first time. [Designing for personalization] is going to involve some trial and error, and that's really OK. Every school is different, which means that what works for mine may not work for yours.
Resources
---
Photo at top of a learner-led tour, courtesy of Lindsay Unified School District.