Why Schools Need to Change
Making Mental Health a Priority in Schools with Time, Talent, and Trust
September 13, 2021
Topics
Social-Emotional Learning
Finance
Staffing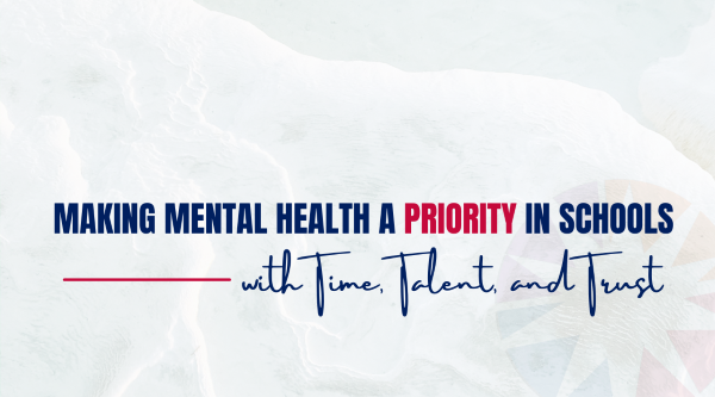 Why Schools Need to Change
Why Schools Need to Change
Today's learners face an uncertain present and a rapidly changing future that demand far different skills and knowledge than were needed in the 20th century. We also know so much more about enabling deep, powerful learning than we ever did before. Our collective future depends on how well young people prepare for the challenges and opportunities of 21st-century life.
Learn More
Distinctive Schools is making new investments to provide support for mental health and wellness to teachers, students, and families. Here are four ways to invest in mental health in schools.
As schools across the country open their doors to welcome students and teachers back to a return to in-person learning, things feel different, yet eerily the same. Hallways bustle with movement, classrooms hum with conversation and laughter, and classrooms buzz with excitement and energy. At the same time, the Delta variant rages on, forcing schools to continue to grapple with mitigation measures, anxious parents and staff, and a general feeling of uncertainty. This uncertainty has defined the past 18 months and is taking a toll on the mental health and wellness of our school communities.
This juxtaposition, a reality for students and staff across the nation, is also the experience at Distinctive Schools (DS). We are excited for the 2021 school year but also know that the work ahead will continue to challenge us. In order to be successful, we must be resolute in our goals for the year and stay true to our vision, especially during challenges. This year, we are focused on three priority areas: diversity, equity, and inclusion (DEI), mental health and wellness, and learning acceleration. These priorities will drive our work across every area of the organization. We will challenge decisions that do not align. We will have critical conversations, or what we call "distinctive dialogue" when we see or hear things that move us further away from achieving these goals. And we will ensure that what we invest in, whether it be an investment of time, talent, or capital, reflects our beliefs and priorities.
Jeff Donoghue, chief financial officer for DS, has made shifts to address school needs moving forward. "The past 18 months have presented us with an opportunity to pivot. We will not go back to the way things were," he shared. "The world has shifted," Jeff continued, "and as leaders and educators we bring forth a new perspective on what matters most; we need to invest in what we believe in. Recognizing what schools require, specifically around mental health and wellness, trauma-informed practice, and ensuring that we make the right investment in our students and families—we have an opportunity to innovate and improve."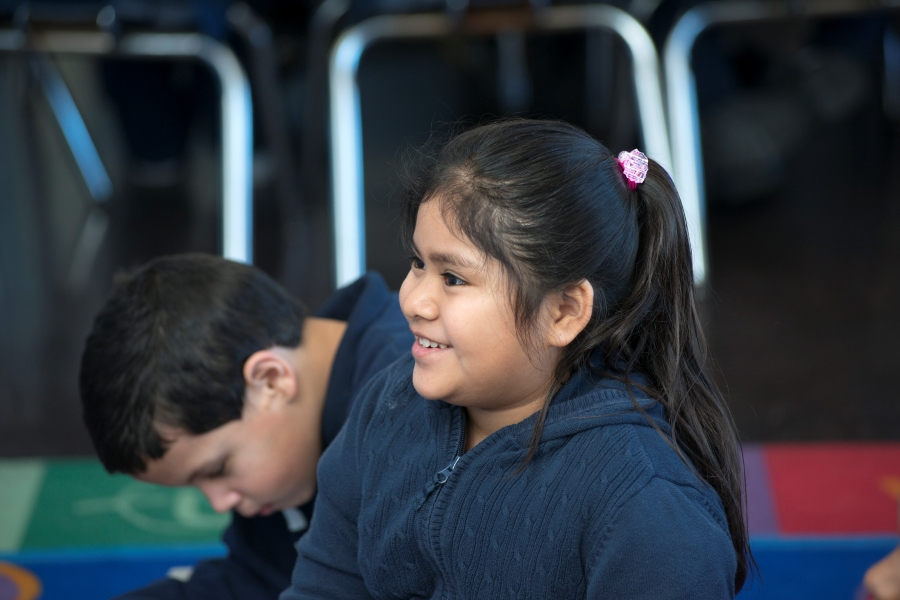 Courtesy of Distinctive Schools
Investing in the Mental Health Resources Our School Needs
Mental health and wellness is something that DS has always prioritized, but this year, the work takes on new meaning. Our approach has evolved to consider the needs of all stakeholders. Our ultimate goal is that each of our schools will serve as a "community hub" for our families, a place of joy and connection that provides a wide range of services and support to ensure that our students and families have what they need to thrive today and well into the future.
For many years Michele worked as a consultant to Distinctive Schools, providing clinical supervision for school social workers and counselors and occasional consultation and training to teachers. This school year, we made the leap to invest in bringing the position in-house full-time. When Distinctive Schools declared mental health and wellness a priority, we initiated this action step to make this priority a reality. We incorporated what was once seen as "external" or "additional" support into the foundation of our system; this is no small feat but, rather, an ongoing process with iterations.
Having an in-house clinical social worker to focus on supporting the school system and adults within the system as a means of, ultimately, supporting the students, has countless benefits—the most obvious of which is access. Students, families, and staff now have ready access to a clinician who brings a lens rooted in mental health expertise to a variety of situations—from the micro-level consultation regarding students' safety or behavior plans, to mezzo-level collaborations regarding supporting students' anxiety around re-entry into school, to responding to significant classroom losses such as news of a teacher's cancer diagnosis, to macro-level considerations regarding trauma-informed policy. The real expertise of this position, however, lies in its integration into the school system, enabling the school community to be experts in identifying their own needs and solutions. Thus, this role has the potential to work to dismantle the paternalistic characteristic of White Supremacy Culture when positioned as a tool for the community to make the changes they are seeking, rather than setting their own agenda. For any of this positive impact and change to take place though, there must be trust.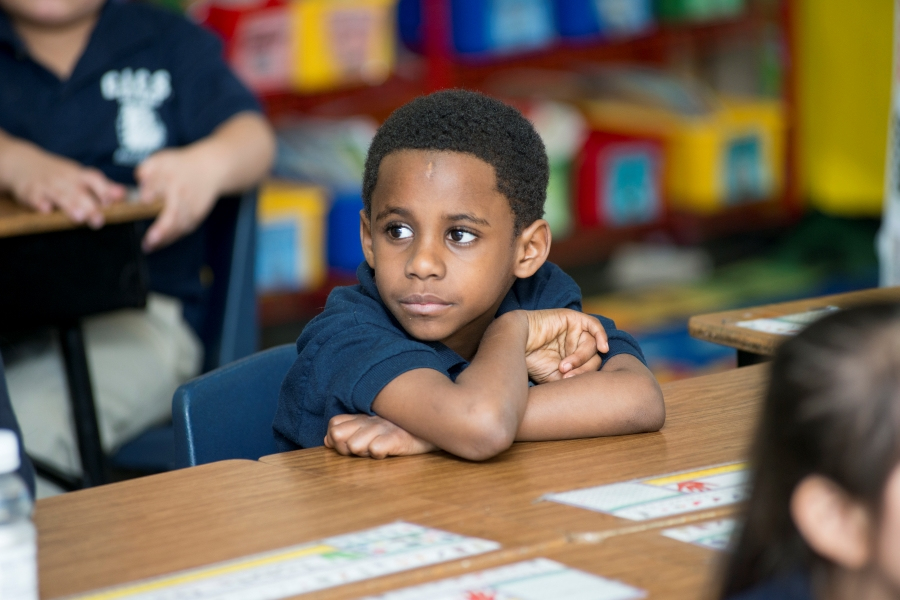 Courtesy of Distinctive Schools
Building Trust by Personalizing School Mental Health and Wellness Programming
Building trust as a mental health professional with communities is challenging, particularly when those communities are predominantly BIPOC with a real history of mistreatment by healthcare institutions. It is crucial that time, curiosity, and patience are infused into the process of integrating mental health programming in a school environment. There is no singular blueprint and just as the students at Distinctive Schools engage in personalized learning, so too does each school experience personalized mental health programming. In clinical work there is a phrase, "Start where the client is." It seems simple enough and, yet, is incredibly complex because it means not allowing our hopes and goals to overwhelm the client. It also means joining in a place that, quite frankly, we often do not want to be—and for that matter, neither does the client! So why start there? In starting where the client is, you foster a better understanding of who they are, you join alongside them, you build trust, you more intimately hear their goals, and you move forward together.
This is the approach we are taking with a mental health initiative at Distinctive Schools: start where we are, cultivate trust through authentic relationships, develop goals that are driven by the community's needs, and move forward together.
Ways You Can Invest in Mental Health Today
Make it a priority. Being healthy doesn't just happen. It takes time, effort, and intention. There are always flashier agenda items, more pressing tasks, and reasons to push mental health aside; however, we know that healthier people do better—at work, at school, at life. And while we're all hoping for that quick fix, we also know that there's no magic solution. The way to create a healthy school is to focus everything—your policies, your pedagogy, your people—around healthy practices.
Do it before you need it. Too often we say we "don't have time" for mental health or we push it off until after we tackle this other big priority. Truth is, our mental health impacts everything we do—including that other major to-do item. Being at our best will only make our efforts in other areas better. On the other hand, launching healthy practices can be most challenging when we are at our toughest points and need those supports the most. Think of it this way: waiting until after you get in a car accident is not the time to put on your seatbelt and buy insurance.
Put words to it. The unknown can be scary and, ultimately, the way we regain control in those fearful situations is to better understand what's going on. After all, knowledge is power. The first step in mastering any emotionally-charged experience is to name it. Doing so not only helps us to feel more competent, it also validates our experience leaving us feel seen and better understood.
Set yourself up for success. Realistic expectations are critical in establishing new behaviors, especially if the goal is to make them routine. While big changes sound great (and are if they can last), small shifts that remain in place for the long term are more likely to have the impact you ultimately want—and without the stress and heartache of aiming too high and missing the mark. Create a scenario in which you can meet your goal, which in turn will encourage you to set another and keep going.
As leaders, as educators, and as people, we have all faced significant challenges, trauma, and stress over the last 18 months. As we move forward each of us can take steps to invest in our own mental health and wellbeing. We invite you to consider how both adult and student programming can impact and support. We continue to invest in mental health, and invite you to do the same.
---
Graphic at top by Molly Quinn, Distinctive Schools.