Why Schools Need to Change
Mentoring Students through Community Partnerships
December 20, 2022
Topics
Social-Emotional Learning
Student Success
Tools for Next Gen Learning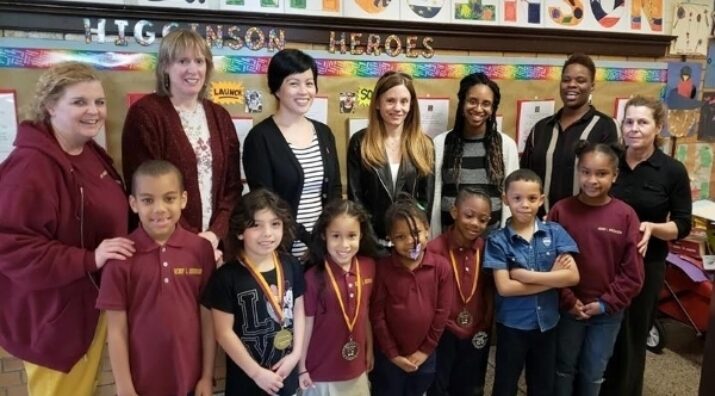 Why Schools Need to Change
Why Schools Need to Change
Today's learners face an uncertain present and a rapidly changing future that demand far different skills and knowledge than were needed in the 20th century. We also know so much more about enabling deep, powerful learning than we ever did before. Our collective future depends on how well young people prepare for the challenges and opportunities of 21st-century life.
Learn More
Community partners can provide students with guidance and insight, community connection, leadership skills, and more through mentorship programs.
I recall being troubled when I was younger. I abruptly moved to Massachusetts from Michigan. My mother was battling cancer and she needed access to better healthcare. The next of kin was in Boston. I found myself amongst family members I barely knew. They also didn't really know me. I felt very misunderstood and I felt like a guest. Still, I was expected to start high school and rise to the occasion.
Two months after starting school, my mother died. That was the moment my life changed forever. I grieved in silence because it was hard for me to trust anyone with my vulnerabilities. I did not know how to process the frustration, anger, sadness, and anxiety I was feeling. I even questioned my existence. My stomach started to bother me when I was in high-stress situations, which seemed to be an everyday occurrence. I found myself in conflicts at school. I felt alone and did all I could to isolate myself. I hid my emotions by burying my head in school work. The school work didn't challenge me and I then became bored. Eventually, I decided it was a good idea to run away from home. Afterall, it wasn't really my home.
When I returned, I was embraced by my best friend who invited me to go to church with her. Church? I didn't want to go to church. Even through my resistance, I recognized that my friend wanted to keep an eye on me. To ease her concern, I accepted her invitation. This was my first introduction to faith-based programming and to my first mentor. Attending youth programs, choir, helping with fundraisers, and grief counseling helped me move through all of the challenges I was fighting on my own. I learned to focus and set goals. I developed a sense of purpose. I also connected with resources available at my high school that helped me with college planning, career development, and externships. I was fortunate to turn the corner toward a positive path.
Boston Public Schools (BPS) seeks partners who can provide our students with guidance and insight, the additional opportunity to learn, connect with their community, and enhance their leadership skills. This will help to remove the clutter from young people's lives that may distort their views of their future landscape. We are thankful for partners such as Ruth Wong of the Emmanuel Gospel Center and the Boston Educational Collaborative, who works with churches, schools, and faith-based nonprofits, with a mission to empower the underserved student community with the education they need for transformation in their lives and in their communities.
With the increasing trend in violence, bullying, and chronic absenteeism in schools, there is a keen focus on effective and lasting solutions. Mentoring in education and through community and faith-based partnerships is a promising solution because it pairs young people with organizations that act as safe and positive resources. The common themes within our partnerships at BPS are to strengthen character, to build confidence and relationships, and to help develop resilience in our students. We want to raise aspirations by offering alternate paths rather than focusing only on developing specific academic skills. For instance, The Possible Zone is one of the BPS partners with an objective to prepare young people to thrive in any path they choose with their engaging, hands-on, and tuition-free entrepreneurship programs for high-school students from under-resourced communities.
Additionally, we assess our partners' curriculum to ensure it aligns with that of BPS. This is especially so when we are connecting with mentorship-based partners. These partners help our students prepare for and navigate through life's challenges by offering positive development, encouraging personal growth, and building healthy relationships. They serve to make a positive difference by instilling self-accountability practices, creating purpose, and setting intention.
It is also important to appeal to student's individual cultures and interests to deepen engagement, which is what the Boston Athletic Academy strives to do. This partner offers education and training for underserved student athletes by providing an environment that recognizes the student's culture, language, and customs which enables students to thrive in (and out) of the classroom.
It has been shown that both formal and informal mentoring is effective academically, social-emotionally and mentally in marginalized communities, especially when it comes to students of color. Lack of direct interaction with positive role models contributes to the risky behaviors, violence, and inability to peacefully resolve conflict. We have partners that provide social-emotional support through targeted curriculum and project-based activities such as Boys 2 Mentoring, which offers a 14-week program that educates and empowers young men by providing them tools to help change the trajectory toward education, future careers, or within their day-to-day life.
We want all of our mentorship-based partnerships to help amplify opportunity while strengthening community connections. Our commitment is to ensure that our community and faith-based partnerships continue on the path toward greater equity and representation of the students we serve. Even amidst challenging times, it is important that students are given the opportunities to not only be empowered and encouraged but to be excited. That excitement will lead us to the important outcome of increasing student engagement and success. If you are looking to start or strengthen a mentorship program with community and faith-based organizations, I encourage you to seek partners with a curriculum that:
has a holistic approach to supporting students
helps to create positive change and build a better future
serves to develop an emotional bond and lasting relationships with students
provides social-emotional support, guidance, and/or opportunities to help students succeed in life
holds students accountable by helping them to identify, set, and meet their goals
provides students with leadership skills, life skills, and a foundation of support
---
Photo at top courtesy of Boston Public Schools.