Professional Learning
New Opportunity for Massachusetts Secondary Educators to Learn, Network, and Be Inspired
June 5, 2017
Topics
Change Management
Leadership
Staffing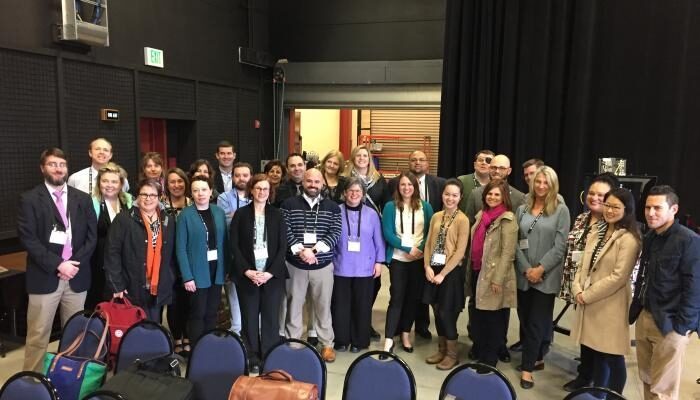 Professional Learning
Professional Learning
Educators are the lead learners in schools. If they are to enable powerful, authentic, deep learning among their students, they need to live that kind of learning and professional culture themselves. When everyone is part of that experiential through-line, that's when next generation learning thrives.
Learn More
Learning-focused school visits aim to generate interest and capacity in the Commonwealth to create excellent high school models.
This post originally appeared on the Barr Foundation site on June 1, 2017.
Barr is excited to announce a partnership with Next Generation Learning Challenges (NGLC) to support Mass Learning Excursions, a new project offering teams of Massachusetts educators focused on secondary school excellence the opportunity to observe personalized, innovative, next-generation learning in models that have broken the traditional high school mold.
Through learning-focused school visits during the 2017–2018 school year, Massachusetts educators will be exposed to schools that demonstrate integrated approaches to next-generation learning in San Diego, the Bay Area, Brooklyn, and Philadelphia. Through its prior experience organizing learning excursions, NGLC has found that participating educators report that the school visits and interactions with innovative thought-leaders prompted examinations of practice and consideration of possibilities. Watch the video below to hear from participants who visited schools in San Diego.
We are eager to support Massachusetts secondary educators through this NGLC partnership as they grapple with how to ensure that all students have access to a meaningful high school education that prepares and empowers them to enter a range of post-secondary options. We know that the demands of the 21st-century society and economy are rapidly evolving and that too few of our secondary institutions are keeping up.
While Massachusetts has a lot to be proud of, not all students are connecting to success in or beyond high school. For example, according to data from the Massachusetts Department of Elementary Education, approximately 35% of Massachusetts high school graduates need to take remedial coursework when they enroll in a public postsecondary institution, and this number increases to 48% when focusing on low-income graduates. Given the high school graduation rate increases the Commonwealth has accomplished in recent years, local educators now have an opportunity to build off this success to ensure that all students are fully prepared for life after high school.
Through our recent survey of practitioners across New England we learned that there is high interest in connecting and learning with and from others across the region. In particular, stakeholders expressed enthusiasm for visits to other high schools and networking with peers.
We are committed to opportunities for stakeholders in our region to explore new ideas together.
As part of our Education strategy to support new secondary school models that develop the full range of student competencies necessary for successful transitions to college and career, we are committed to opportunities for stakeholders in our region to explore new ideas together. Facilitated site visits provide educators with tangible examples of what's possible in public education.
And a lot is possible. There is no one model that exemplifies next-generation learning; rather, there are myriad approaches to delivering personalized, student-centered learning opportunities. The Mass Learning Excursions will showcase a diverse set of school designs that are meeting the needs of their students and preparing them for post-secondary success.
The Mass Learning Excursions will showcase a diverse set of school designs that are meeting the needs of their students and preparing them for post-secondary success.
Our own experience tells us that these visits will help develop a network of like-minded practitioners and inspire local action: in January, Barr hosted a group of about 30 educators and partners at the Linked Learning Convention in California. Participants shared through a follow-up survey that the school visit portion of the conference was a key component of the trip and an essential activity to inspire and inform local next steps. As stated by one school leader, "The school visit was definitely the highlight. It was great to see Linked Learning in action and to hear from students about their experiences." Attendees also shared that the opportunity to visit as a team from their school and to connect with participants from other communities greatly enhanced the value of the trip.
We encourage Massachusetts educators interested in secondary school excellence to check out the details of the Mass Learning Excursions and consider applying for sponsored participation in one or more of the trips. Applications are due by July 1 and will be evaluated based on the quality of the proposed team and the responses to the question prompts.
We look forward to learning and sharing alongside Massachusetts educators and NGLC staff on these exciting visits.
Related Posts
---
Photo at top: Participants in the Barr-sponsored trip to the Linked Learning Convention in January 2016, visiting the Bay Area Digital Arts academy at San Lorenzo High School. Used with permission.