Enabling Change
No Better Choice for the Scholars We Serve
January 29, 2014
Topics
Student Success
College & Career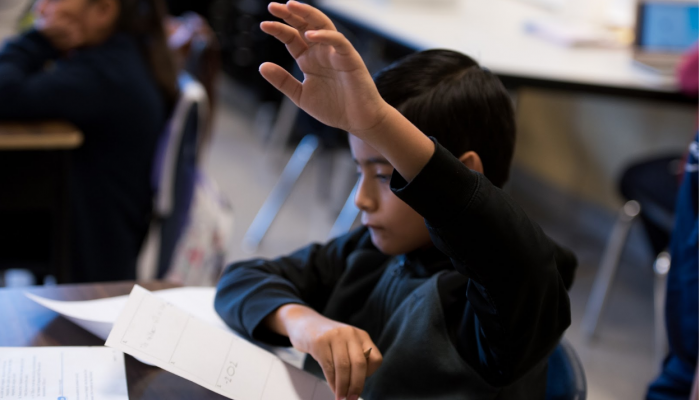 Enabling Change
Enabling Change
Next generation learning is all about everyone in the system—from students through teachers to policymakers—taking charge of their own learning, development, and work. That doesn't happen by forcing change through mandates and compliance. It happens by creating the environment and the equity of opportunity for everyone in the system to do their best possible work.
Learn More
To create a whole new type of school by building a Next Generation High School is an amazing opportunity to shift the paradigm of education. 
According to a 2012 report, more than half of incoming community college students in America enroll in remedial courses. More concerning is the fact that only 9.5% of these students who enroll in remedial classes earn a certificate or a degree within three years. In Rhode Island, from where I am writing, 75% of students who attend the Community College of Rhode Island require remedial classes.
Even globally, concerns about American students' performance in comparison to other countries are nothing new. Gaps in achievement between low and high income students or white and minority students are a major concern—and rightfully so. But even wealthy students are not performing well, according to The WorldPost.
It is clear that we should be—and could be—better at preparing our young people for success in not only college, but the real world.
As a member of the human species living in the 21st century, I can say that there is no risk of overstating the importance of technology in our world today. Take a look at this iPad commercial—you may have already seen it on TV. Technology is becoming ever tied to who we are and how we express ourselves—it's not just about advancement anymore, although that is important, too. Technology is a part of our culture. It defines our society, our creativity. It connects us to others.
As a former high school teacher, I can say that there is no greater opportunity (and no greater moment of need) than now to use technology to personalize learning for all students. I had the opportunity to teach at a school in Providence, RI before joining the team at Blackstone Valley Prep (BVP) Mayoral Academy. At the risk of contradicting the notion that technology is everywhere, it is not true that all of our students are coming to school with innate technological savvy. There are juniors and seniors in school right now who cannot create a Word document, PowerPoint presentation, or Google Doc. We need to be doing more for these students.
As the External Affairs Associate at BVP, I have the opportunity to work alongside amazing individuals who recognize the importance of not only teaching the necessary hard skills like the ones mentioned above, but also the amazing opportunity that exists to create a whole new type of school—to shift the paradigm by building a Next Generation High School. These are the schools that are preparing our students to get to and through college, not just high school. These are the schools that are preparing our students to succeed in a global economy.
Some elements of BVP's High School model include:
The requirement that every scholar take at least one AP course and that 100% of scholars are accepted to a four-year university.
Expanded learning opportunities, some blended, and all tailored to scholars' interest, that can be taken for both enrichment and credit.
Virtual learning courses, including world languages and computer coding.
Laptops provided to every scholar for frequent use of Google Apps for Education—especially Google Docs—to shorten the teacher feedback cycle on scholars' work.
A hybrid blended model that allows for simultaneous small-group instruction, collaborative group practice, and digital learning.
You and I—members of this Next Gen community—are building Next Generation Schools for a simple reason. It's because we don't believe "good enough" is enough for our students. Like our scholars, we are learning and growing everyday as members of this community (shameless plug: feel free to join our #bvpsnowday twitter discussions, if you are in fact in an area that has snow/cold days, which seems to be an increasing number of areas).  What we know will never change is our belief in building schools that people choose.
This week, BVP is celebrating National School Choice Week, along with many other schools and districts across the country. The BVP High School will be a Next Generation School because we believe that there is no better choice for the scholars we serve.