Why Schools Need to Change
A Portrait of the Graduate Story from New Hampshire
June 16, 2021
Topics
Competency-based Education
Student Success
Tools for Next Gen Learning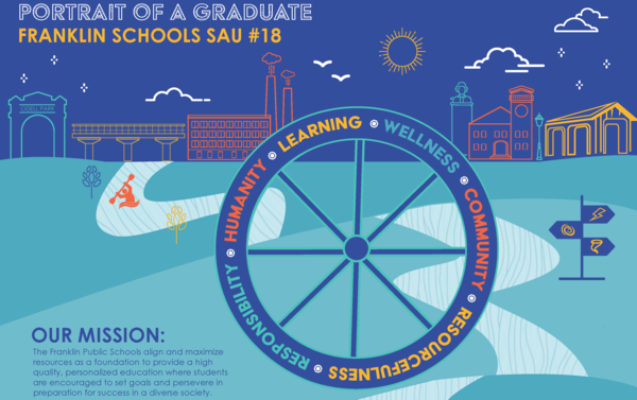 Why Schools Need to Change
Why Schools Need to Change
Today's learners face an uncertain present and a rapidly changing future that demand far different skills and knowledge than were needed in the 20th century. We also know so much more about enabling deep, powerful learning than we ever did before. Our collective future depends on how well young people prepare for the challenges and opportunities of 21st-century life.
Learn More
New Hampshire's Franklin Schools brought the community together to capture their hopes for this small city's youth into Franklin's Portrait of a Graduate.
Franklin is New Hampshire's smallest city with almost 9,000 residents. Before colonization, the Abenaki were its sole stewards. It's where the Pemigewasset and Winnipesaukee Rivers meet to form the Merrimack River, one of most important rivers on the East Coast both for Indigenous peoples and our economy. It has an iconic New England downtown infrastructure, is home to beautiful Webster Lake, and boasts the best Thai restaurant in the state. It's also one of the poorest cities in New Hampshire. For years the city has struggled with generational poverty, lead paint poisoning, and the drug crisis. Schools have struggled too. New Hampshire has a good reputation in terms of school outcomes, but funding disparity has hit places like Franklin hard and teacher layoffs have meant a lot less for Franklin students who need a lot more. Franklin is an example of inequity in practice. When I learned about an opportunity from the Barr Foundation to engage communities in a Portrait of a Graduate process, I shared it immediately with Franklin Schools' curriculum coordinator who I've worked with before and have been so grateful that they've allowed me to be part of their process.
A lot of folks think Portrait of a Graduate is a technical solution to school redesign, and while that might be part of it, it's really an opportunity for a conversation about the hopes a community has for its graduates and the promise the community and school make to turn those hopes into realities. When we started this work in December 2019, the pandemic hadn't been part of the plan. We had a solid start. We met with community groups to introduce the project, presented at the school board and city council, got initial student input, and about a week before we planned to convene our very enthusiastic student working group, everything shut down. The conversations we hoped to have started about hopes for graduates shifted to figuring out what Franklin students need right now to get through emergency stay-at-home learning.
As someone outside the school community who was helping to guide the work, it was a balance to giving space to overwhelmed leaders and pushing forward. It took a bit to find our footing. We did some work with teachers, created an art challenge for students, looked at some early data, and worked on recruiting a working team. Those community dinners we hoped to have, forget it. That shifted our thinking and we had to rely more on canvassing. While hitting the pavement was always part of our work plan, doing it in a pandemic provided challenges.
Canvassing in an election year, particularly this past election year was also a little daunting. New Hampshire is a hue of purple, politically. In the last election, we voted for a Democratic delegation in Washington and Republicans have majorities in our House, Senate, and Executive Branch, which also means new judicial appointments are appointed by Republicans. Our Education Commissioner, Republican. We can see this purple hue at the local levels as well, and Franklin is no different. I was very interested in how folks would respond to our questions about kids and schools given all the local and national political rhetoric.
We had two guiding questions:
What should students know and be able to do before leaving high school?
What are your hopes for Franklin graduates?
Our working team decided we would ask folks all over town, at the transfer station, farmer's market, Mayor's Drug Take Back Event, at the Elks Club drive through, on the sidewalk downtown. We asked on surveys and through interviews. We asked parents, alumni, students, and taxpayers with no direct school contact. Once folks were sure the clipboard wasn't from any particular campaign or party, they were happy to answer. We didn't ask political identity, but through hats, t-shirts, and bumper stickers, it was clear we got responses from all parts of the political spectrum, and answers were quite similar.
Basics of course. Reading, writing and math.
Financial literacy made the list quite a bit.
There was also a lot of attention paid to students being prepared to live their best life, to mental health, to belonging, and having self-worth. When we polled teachers, the number one skill they hoped students had was "I can fail and get back up again." Students want to be prepared for their next phase whether it's college or not. Resiliency, resourcefulness, and advocacy were recurring words. Community service and giving back made the list too. Not once did someone say high standardized test scores or straight A's or rattle off particular books every kid had to read.
After all that canvassing and surveying, we had quite a big set of data. The working team—which was made up of district and school leadership, teachers, school board members, city councilors, and students—took a look and started to find themes in the hopes that were collected. Belonging and community were two themes that the team picked up on right away and were driving forces in the current portrait language. We looked at how others approached their portrait and were inspired by NGLC My Ways and Nā Hopena A'o ("HĀ") among others.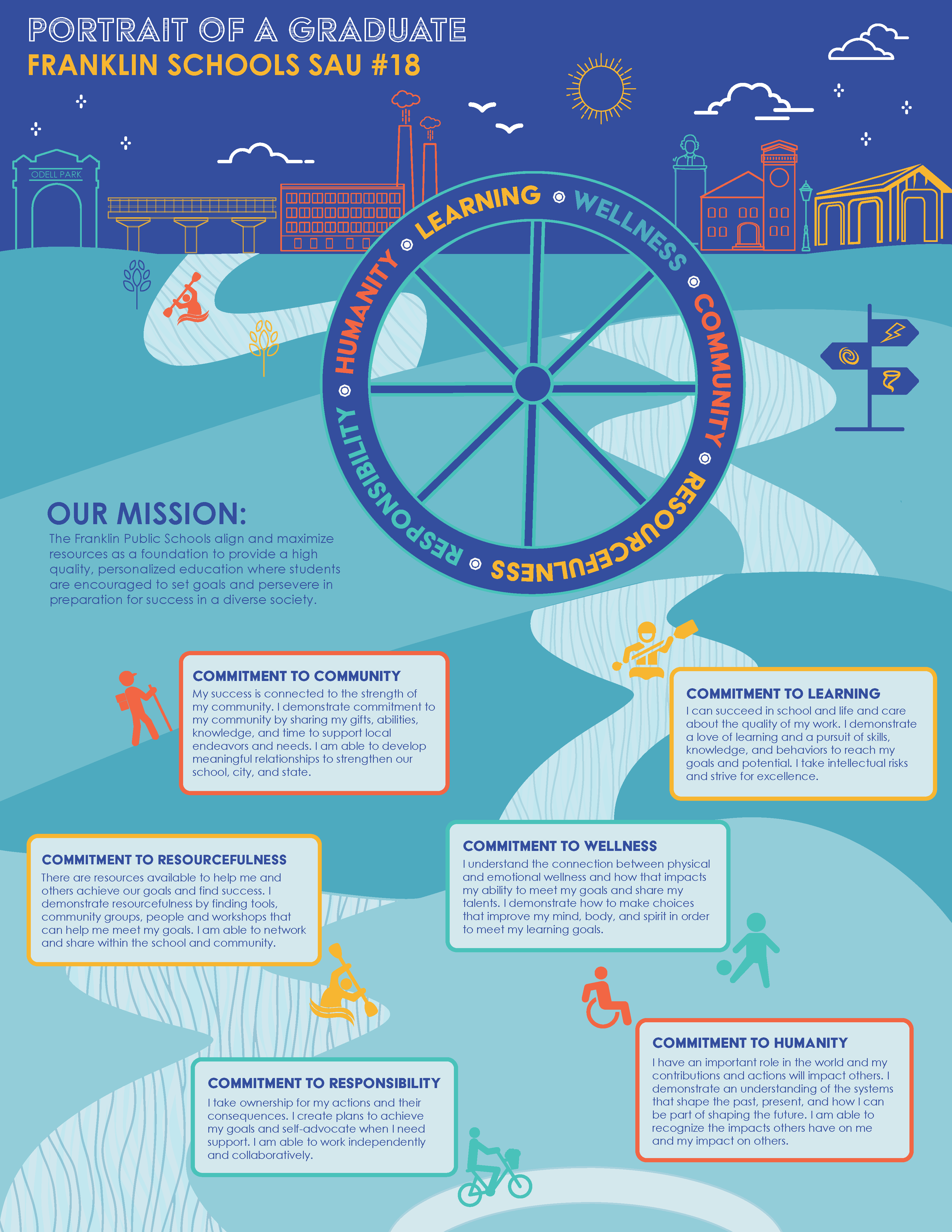 Franklin Schools SAU #18 Portrait of a Graduate (Courtesy of Franklin Schools SAU #18)
Franklin's Portrait right now is an homage to the history and future of the community including how learners will contribute to their world. We hope this is a significant marker for the Franklin journey and the students they serve. At the same time, New Hampshire is in a very real struggle against school privatization efforts as well as a continued battle in school funding. It is gridlocked along party and economic lines and has been for some time. The result, every year, is that the same communities suffer deeper and deeper cuts that hurt our poorest students. We need a new conversation not just school by school but as a state. I'm confident Portrait of the Graduate is that conversation.
Imagine just sharing without political labels what our hopes are for New Hampshire communities and the learners in them, then imagine building off that. We'd invite students, parents, teachers, and all community members to the conversation. We'd reach out to those reluctant to share because they haven't been invited to share before. We'd ask, What do we want graduates to know and be able to do? What evidence will we accept that they got there? What resources, financial and other, will we provide to ensure each child, EACH, regardless of zip code or identity, has the resources and access to get what they need to meet individual goals and contribute back to community? I believe wholeheartedly that in a conversation, not in a political spotlight, but in a conversation of just imagining, most of our citizens would come to natural agreements about their hopes for kids.
I offer this story of my experience as a piece of hope and perhaps an idea to spark a new conversation about public schools, not only in New Hampshire but in other communities in our country as well.