Enabling Change
Prepare for What Comes Next: 3 Essential Factors of a School's Successful COVID Response
August 23, 2021
Topics
Competency-based Education
Change Management
Leadership
School Culture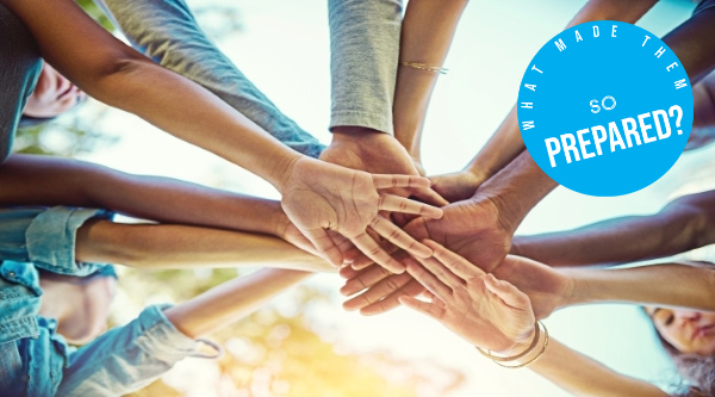 Enabling Change
Enabling Change
Next generation learning is all about everyone in the system—from students through teachers to policymakers—taking charge of their own learning, development, and work. That doesn't happen by forcing change through mandates and compliance. It happens by creating the environment and the equity of opportunity for everyone in the system to do their best possible work.
Learn More
What Made Them So Prepared?
A Project about K-12 Resilience

Distributive leadership, a collaborative culture, and student voice can keep students engaged and learning, even in the most challenging of times.
On Friday March 13, 2020, as it became clear that the pandemic was about to wreak havoc on the school year, Luke Bauer, who was then principal at The Urban Assembly Maker Academy (Maker), called his leadership team together to prepare for the unknown. The small public high school—which serves 490 students who reflect the diversity of New York City—would ultimately roll out a plan that required scrupulous prioritization: A tight instructional focus on a few key standards for the remainder of the year, and the centering of student advisory and voice. These decisions enabled teachers to narrow the scope of their own planning and prioritize the content they would be covering. They were able to slow down and go deep rather than wide. Students had a place to sustain community and a consistent voice in school decision-making. Because the school has a foundation of mastery-based learning, students were already familiar with the competencies they were aiming to master and used to driving the pace of their own learning.
The result? The graduation rate actually went up from the previous year (from 90% to 94%), with the school receiving enthusiastically positive comments in surveys and focus groups from students and families. High praise in a year filled with trauma, loss, and disappointment.
Springpoint has been a partner to Maker since its founding in 2014, supporting its efforts to design a school environment that prioritizes both resilience and curiosity, and a culture that empowers students to develop into engaged, adaptive citizens. Maker was one of the schools Springpoint turned to when developing our Guide to High School Planning During COVID. For that resource, Bauer emphasized how important it was to keep things simple and narrow the school's focus as a way to continue to support learning during a crisis. Digging deeper with him, we came to see how the school's culture and practices positioned Maker to serve its entire community effectively during the pandemic year. The lessons learned from their success could help any school reimagine their priorities and bolster their approach to culture-building and shared decision-making.
Bauer points to the school's deep commitment to collaborative decision-making as key to their ability to successfully adapt to the challenges of the pandemic and be laser-focused on what mattered most to keep students engaged and learning. Three key elements ground the school's approach:
1. Leadership is distributive.
Bauer knew that in a system as large and complex as NYC's, he could not wait for a centralized plan to emerge about how to proceed; his team would have to figure it out on their own. The school's commitment to distributive leadership was their lifeline. "I did not have to solve this myself," Bauer gratefully acknowledged. "I am part of the decision-making, but so many people are involved," he continued. After Mayor de Blasio made the decision to close schools, Maker's leadership team made the decision to take a one week academic hiatus so that staff could focus on planning. Because of the school's small-team approach to continuous improvement—there is no full-staff PD, as all staff development happens through team learning—staff had an established process for how to plan and adapt for evolving challenges in teaching and learning, including what standards to prioritize for each course. Staff also had ownership in making decisions and the authority and the autonomy to set goals and articulate their roles in implementing solutions.
2. Tools, structures, and processes that are conducive to effective and efficient collaboration already existed.
It was absolutely essential that a culture of collaboration among teachers already existed at Maker. "We were well-equipped to be leaders and organizers," Bauer noted. Teachers, working in teams, already had roles and facilitative processes formally articulated and a clear set-up for when and why meetings happened and the decision-making that was expected. For example, teams know that one of their goals is always to have a plan for what instruction and assessment will look like, ensuring a strong focus on learning. Additionally, tools for remote communication and collaboration already existed, and the school culture made it natural for teachers to walk each other through how they had set up their online classrooms, share best practices, and build consistency for students. This made it easy for both students and parents to access and use the remote classroom and kept lines of communication between school and home open.
3. Student voice was deeply leveraged.
Most schools during COVID quickly realized how important it would be to prioritize student's emotional wellness and focus on building community and maintaining relationships. Maker was able to lean into this priority by leveraging existing communication pathways. They already relied on student voice; regular surveys and focus groups of young people, as well as parents, have long been part of the school culture. Student feedback serves as a check on what they are implementing. For example, student input was behind the decision to hold a weekly whole-school virtual meeting (the "Covid Chronicles"), creating an open space for young people to be in community with each other. Students and teachers together formed a working group to build the content for the weekly meeting, which continued once students were back in the building. Student input also determined that the meeting was not an ideal setting for freshmen to acclimate, leading to the development of an alternative space for these students to convene on their own.
Not only did the collaborative culture at Maker enable the school to effectively respond to change and prioritize in the midst of crisis, it also made them leaders. When NYC's Department of Education did not offer high schools a roadmap for how to reopen safely in the pandemic, Maker did. Bringing together the voices of teachers, staff, students, families, alumni, and colleagues across the education community, and grounded in their experience, Maker developed a detailed proposal, framed from a health justice perspective that centered the needs of communities who had been most severely impacted by the pandemic, and shared it broadly. Lesson learned: Collaboration is a tool for learning, safety, and justice.
Resources:
Distributed Leadership Toolkit - New Leaders
The Distributed Leadership Study - Northwestern University
How Students Thrive: Positive Youth Development in Practice - Springpoint
Creating Collaborative School Cultures - ASCD
---
This article was developed through the What Made Them So Prepared? project. What can we learn from public schools and districts whose learning models and organizational cultures made them genuinely prepared for the challenges of COVID? The answer should shape public education for decades to come. Nine organizations, assembled into a partnership by Next Generation Learning Challenges (NGLC), are collaborating this year to explore that answer, through a project funded by the Leon Lowenstein Foundation: What Made Them So Prepared? Follow #PreparedProject on Twitter.
Photo at top by PeopleImages.