New Designs for School
Real-World Learning at the Workshop School
December 4, 2017
Topics
Competency-based Education
Personalized Learning
Student Success
Design Thinking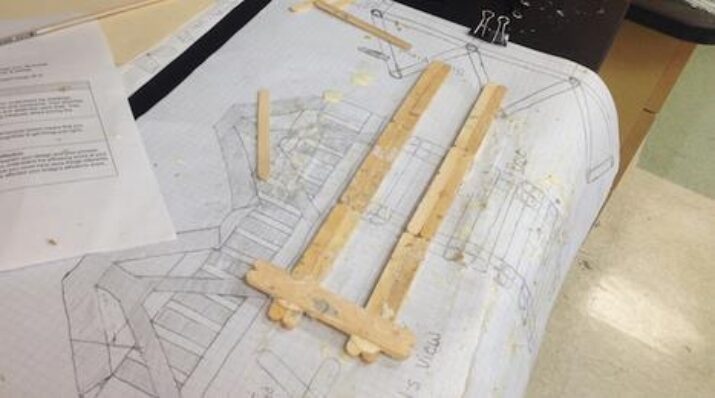 New Designs for School
New Designs for School
We've all had the experience of truly purposeful, authentic learning and know how valuable it is. Educators are taking the best of what we know about learning, student support, effective instruction, and interpersonal skill-building to completely reimagine schools so that students experience that kind of purposeful learning all day, every day.
Learn More
Practitioner's Guide to Next Gen Learning
Why real-world learning is so important even though redrawing the boundaries of "school" and the "real world" is a daunting task.
Our work springs from a deep respect for students. The old thinking was that students had to do a lot of boring drill before they could do anything of value. We set out to refute that.
—Matt Riggan, co-founder, The Workshop School
In the neighborhood where I grew up, learning to ride a bike was an exhilarating rite of passage. Graduating from tricycle to "two-wheeler" proved that we no longer belonged to the little kid group. We couldn't wait to take our places among the big kids who whizzed by us with plastic ribbons streaming from their handlebars. We envied their skill and self-assurance. Awestruck, we wondered, Why don't they tip over?
In those days it was common practice for the adults in our lives to attach small wheels to a two-wheeled bike as an interim step between tricycle and two-wheeler. The thinking was that these "training wheels" would simulate riding a real bike but would minimize the risk of falling over and scraping our knees.
But there was a problem: it was almost impossible to tip over with the training wheels on. So much so that our sidewalks swarmed with 7- and 8-year-olds plodding along tilted over to one side, resting on one little wheel or the other. Not one of us was actually learning the essential skills of riding a bike: keeping our speed up, maintaining our balance. Sure, we didn't fall, but we also did not feel the excitement of speed or the thrill of mastery. What's worse, when our parents finally removed the training wheels, we discovered we had no idea how to ride.
Authentic learning removes the training wheels to provide students with experiences that are powerful and worthy of their effort. Authenticity is not a new idea for most educators. For decades many of us have been moving away from the non-authentic "drill and skill" approach in favor of activities that at least simulate the work of expert adults in the field: science labs, projects, teaching grammar in the context of writing, and extracurricular activities like drama productions and mock trials.
However, many schools in the Next Generation Learning Challenges community are taking additional steps and pushing learning beyond simulated authenticity. Drawing upon communities outside of the school—a Wider Learning Ecosystem—they design real-world experiences that make learning memorable, relevant, and accessible to all students.
For this edition of Friday Focus: Practitioner's Guide to Next Gen Learning, we spoke to Matt Riggan, co-founder of the Workshop School in Philadelphia. Recognizing that redrawing the boundaries of "school" and the "real world" is a daunting task, we asked him:
Why take on this work? Why do students need real-world experiences?
What does this learning look like and what roles do external partners play?
Based on your experiences, what advice would you give to schools and districts just getting started with real-world learning?
Not Just "Playing School"
The Workshop School, one of ten Citywide Admission schools in the School District of Philadelphia, is a project-based school that serves an urban population. Most students are African American, and 100% receive free or reduced-price lunch (FRL). The mission of the Workshop School is "to unleash the creative and intellectual potential of young people to solve the world's toughest problems."
To achieve that mission, Matt asserts, students need to "tackle the big challenging stuff instead of 'playing school,'" which is what a lot of teaching does. In traditional schools, "educators spend enormous time and energy just trying to convince kids that what educators are offering is worth buying, when I don't think it's true." Also in keeping with the mission, projects at the Workshop School address real-world problems that affect the school or broader community. Whether it involves presenting to Philadelphia's mayor on ways to make their city greener or writing reviews of picture books' cultural relevance for a local elementary school, "We want kids to think about how their work is creating a solution to a problem."
Students as Problem-Solvers
Matt recalls one such project from a couple of years ago that has had a lasting impact on the school community. One of the school's core values is respect for the self and others, but a group of 10th graders noticed that conflicts often start small and then quickly escalate. Based on this authentic problem, teacher Helen Rowe designed and led a project to support students in finding a way to manage conflicts among themselves, without adults, before they became significant.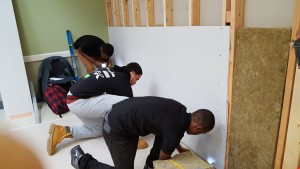 The students' solution was to create a peer mediation program and build a room inside one of the larger classrooms so that conversations could take place in confidentiality. Half of the students attended peer mediation training twice a week while the other half designed and built the room.
Public officials attended the launch and listened as students explained their reasons for the project and their goals for the program going forward. To Matt the most exciting aspect of that day, however, was noticing Helen sitting in the back, simply observing. Though he acknowledges the teacher's considerable groundwork and support along the way, he was thrilled that she "had that moment. It is very cool when adults stop running it—when the work is real and students are proud, when they are the experts and the ones in charge."
Leveraging Community Expertise and Clientele
In addition to traditional internships, which involve 40 to 50 students (about 20-25% of the school's population) each year, the majority of projects at the Workshop School include some kind of outside expert. For example, 9th graders write and perform a play each year at a local playhouse. Students are responsible for every aspect of stagecraft, including building the sets in the school's workshop space. "There's only so much we educators can teach them and a lot they can learn from the theater world. That's where authentic expertise comes in," explains Matt.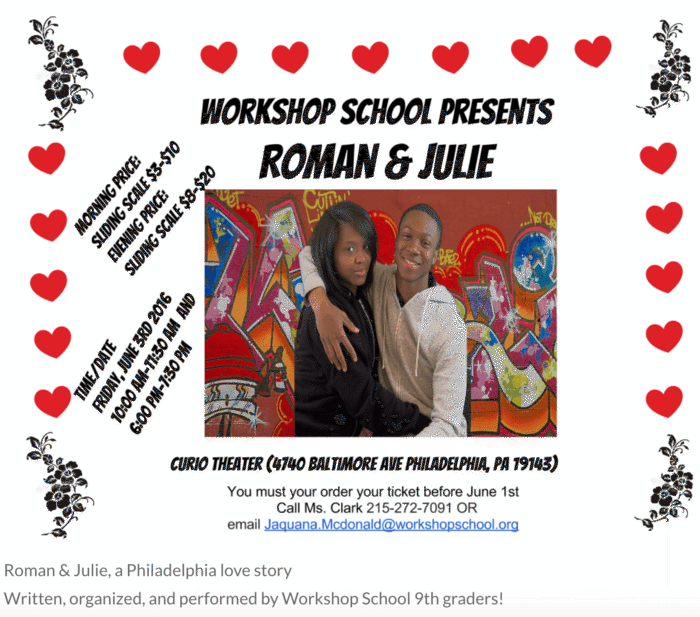 Most recently, grades 11 and 12 invited the public to experience the escape rooms they designed at a project exhibition-plus-fundraiser event. Students received expert feedback for this project from professional escape room designers.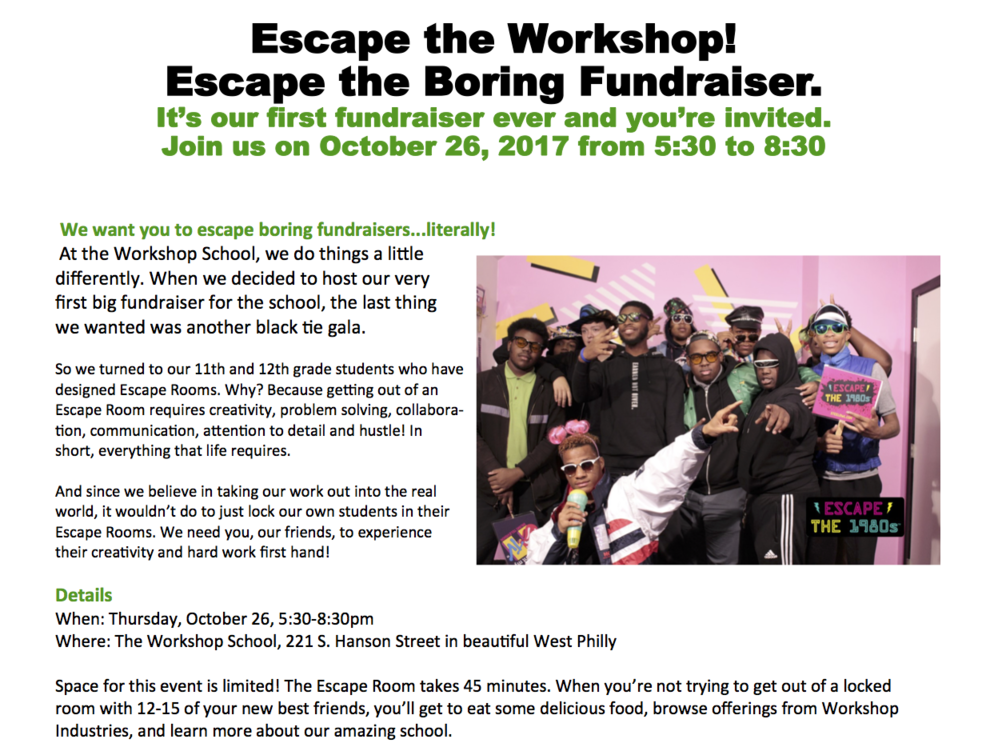 To ensure that students' projects are both meaningful and engaging, many Workshop School projects have an external client, like a local business or nonprofit. After noting that some traditional internships assign primarily low-level clerical work to interns, educators at the Workshop School looked to a new source for real-world possibilities: authentic design/build projects (in which the designer also constructs the product) for local businesses and organizations. Students have made furniture for a campus coffee shop, a boat dock for a neighborhood garden and arboretum, and public service announcements for local nonprofits. Matt notes that these tasks "push kids to grow their skill sets and have real accountability. We are excited about this kind of partnership and plan to do more of it."
Grounded in Community and Culture
When asked what he is proud of, what is working well at the Workshop School, he laughs. "As a co-founder, I spend all of my time thinking about what is not going well." But after a moment of reflection, he adds, "The biggest thing I see is that schools like ours will not truly succeed until it's the students who are doing the work. Students who are taking responsibility, not just for their own work but for what kind of place this will be."
Although he insists that they are a long way from having these things happen everywhere all the time, Matt does see powerful and compelling growth: "Students care about their work. They have an internal compass, both moral and academic. There's not a lot of distance between thinking and feeling, the cognitive and the social-emotional. Students are establishing caring relationships and doing the right thing even when no one is watching."
Start Small and Build Relationships
For those educators just getting started with real-world learning, Matt advises focusing on executing well on a small scale. "Sometimes partners' eyes are bigger than their stomachs. They are very enthusiastic and want to do something grandiose." Matt suggests asking outside experts to serve first as consultants or reviewers of projects, a meaningful and important role, but not a huge commitment.
Starting with more modest contributions also allows adult experts to get to know the school...and vice versa. Although some members of the larger community have a great deal of experience working with urban schools, Matt cautions that for others it may come as a shock. Well-intentioned though they may be, some have unrealistic ideas about their role and have to recognize that "they're not some magical elixir that is going to fix everything" in the lives of the students and their communities.
The task of finding external partners should not fall only to the adults in the building, either, he reminds us. Students can be an important resource for this work as well. At the Workshop School, 11th graders develop a kind of asset map of "What's out there?" in the community. It is they who seek out experts, professionals, and organizations doing the work in students' areas of interest and passion.
The Bigger Picture
One of Matt's goals for his school—what he calls the "next big wave"— is to work on rewriting graduation requirements. Organizing the work around NGLC's MyWays Student Success Framework, rethinking graduation requirements is "one of the highest-leverage reforms we can do. It opens the door to a whole new perspective on what is worth teaching and learning."
"Right now, the hardest thing about trying to start a school like ours is dealing with systems that have a very narrow idea of what a school can be. This limited vision can undermine a school before it gets started. If you are going to commit to a path like ours, you have to be given room to grow and not look just like other schools."