New Designs for School
RETHINK: Planning and Designing for K-12 Next Generation Learning
June 10, 2013
Topics
Competency-based Education
Personalized Learning
Change Management
Leadership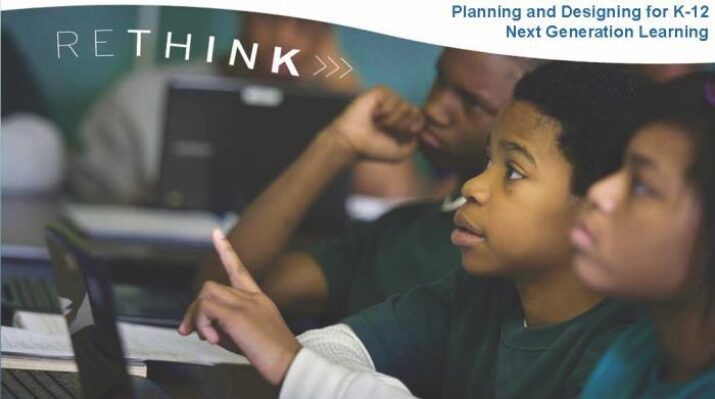 New Designs for School
New Designs for School
We've all had the experience of truly purposeful, authentic learning and know how valuable it is. Educators are taking the best of what we know about learning, student support, effective instruction, and interpersonal skill-building to completely reimagine schools so that students experience that kind of purposeful learning all day, every day.
Learn More
This flexible and dynamic toolkit developed by iNACOL and NGLC can help you manage change and connect with experts to design next gen learning.
Are you a forward-thinking educator interested in starting an innovative K-12 next generation learning program, initiative, or school…or moving your current program to the next level? If you are, you have probably been looking for that one-stop resource to help you start the planning and designing process. Well, look no further! RETHINK: Planning and Designing for K-12 Next Generation Learning can help you and your team:
Understand what next generation learning is and why change may be needed in your school or district;
Gain a working knowledge of the planning and change management processes so you can design your own approach to next generation learning; and
Understand how to ensure quality and continuous improvement for your design.
This flexible and dynamic toolkit developed by iNACOL and NGLC connects you to existing communities of practitioners who are also engaged in this work and to experts who are trying to better understand and share promising practices in blended, competency-based, and personalized learning. You and your team can tackle each planning and design issue through sets of guiding questions along with key publications, websites, and tools. Learn more in an iNACOL Special Edition webinar this Thursday, June 13, 3pm ET. Participation is free. Register at http://www.inacol.org/events/webinars/special-edition/
The education landscape is drastically changing, and we educators need to do all that we can to keep up. To be prepared for life and work today, students need their learning to be personalized, flexible, interactive, engaging, relevant, self-paced, constantly-informed, collaborative, responsive, supportive, challenging but achievable, and available. This toolkit will guide your thinking about how to create the kind of learning that can best serve each and every one of your students, based on their needs and their strengths.
Tools and resources have just started to emerge within the field of next generation learning. Because they are new, they haven't had the time to prove their effectiveness, they are often not created by practitioners, and they tend to offer pie-in-the-sky views of what a dream program should be. But if you're already sold on the promise that next generation learning offers, this toolkit will help you better understand what questions to ask and how to begin thinking through your own next generation learning design. The toolkit doesn't tell you what to do. Instead, it identifies the practical issues that you and your team will need to address as you conceptualize, design, and develop next generation learning in your school or district/CMO. It also directs you to the best of the resources and tools that are currently available so that you can learn more. Ultimately, we hope this toolkit streamlines your planning and helps you engage other stakeholders, so that you can design learning that will effectively and efficiently improve outcomes for students.
Build Your Network
A key resource in the toolkit that we would like to highlight is "Build your Network," which you can find on page 5. It is a compilation of websites, blogs, and twitter handles that will help you connect with the experts, practitioners, and learners that are also doing this work. We think your network is the most important resource that will help you in your dive into next generation learning design, planning and implementation.  For a similar reason, a few quotes from NGLC grantees are seeded throughout the toolkit, in order to share valuable advice based on their own experiences.  And you can explore different design options by way of examples of next generation learning currently in use in schools today.
Lead the Transition
The toolkit prompts you to think about how you can manage the transition, to break away from what currently is and start moving towards what could be. Putting students first, the toolkit concentrates on every decision being made in regard to meeting each student's learning needs. It forces you to think critically on difficult topics, such as the policy barriers that limit change and growth in education as well as the opportunities for innovation.
Design the Learning
But what will your program, initiative, or school look like? After guiding you through setting your own goals for student success, the toolkit breaks the design process into four areas: Academic, Staffing, Financial, and Technology and Infrastructure. Each of these areas will help you think about the development or purchase of content, delivery of content, provision of student support, definitions of staff roles, establishment of professional development, design of funding models, allocation of resources, and the delivery of technical support. Using the toolkit will help you think creatively yet remain practical.
Engage Others
Setting up a space for learning—for your planning team and stakeholders—is the last piece of advice in the toolkit. In addition to encouraging the establishment of a professional learning community (PLC), this section also helps you organize an event where your team and stakeholders can get together and start the process of planning and designing a next generation learning program.
So, what are you waiting for? Jump in and give your students the powerful learning opportunities they've been waiting for.
Register for the webinar (Thursday, June 13, 3pm ET. Free.)