Technology Tools
Seeing is Believing: Virtual Reality in Education
November 11, 2016
Topics
Project-based Learning
Curriculum & Instruction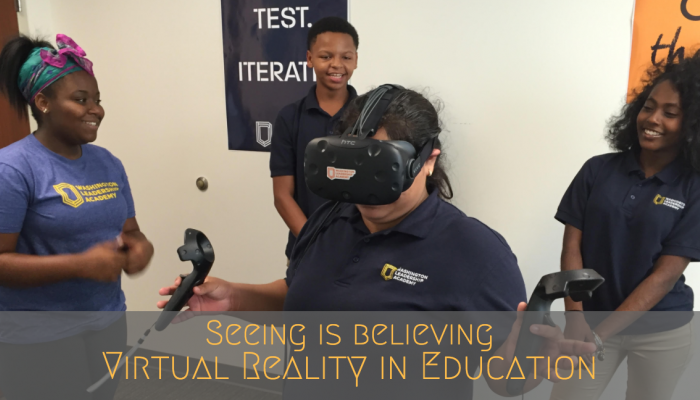 Technology Tools
Technology Tools
Educators often take advantage of educational technologies as they make the shifts in instruction, teacher roles, and learning experiences that next gen learning requires. Technology should not lead the design of learning, but when educators use it to personalize and enrich learning, it has the potential to accelerate mastery of critical content and skills by all students.
Learn More
Virtual reality is a futuristic concept that no longer belongs to the future. How it's now being translated into immersive educational experiences is an especially exciting prospect.
Virtual reality is a futuristic concept that no longer belongs to the future. With several new products hitting the market in recent years, and along with them, a variety of new use cases, virtual reality is an experience that has become more tech novelty than sci-fi fantasy. (Although I think we can agree that product names Oculus Rift and Project Morpheus sound curiously more along the lines of the latter.)
Due to equipment costs and limited access to relevant programs, virtual reality in the commercial sense remains in its infancy. From a monetary perspective, the value of 'VR' as it is commonly called is astronomical: a single $2 billion acquisition in 2014 is likely just the sign of things to come.
Despite this, however, the technology's enormous potential is being tapped in a field many believe worthy of just this kind of disruption: education.
A recent EDUCAUSE Review article said that "virtual reality teeters on the edge of becoming mainstream, with software development outstripping the hardware and memory storage needed," adding that it might be "the next logical extension of cyberspace."
That last line should resonate. Up until this point, we've been the ones tapping into a network all around us, rather than being inside the network itself.
Think about it: with the advent of smartphones, many people find themselves online or 'connected' for most of their waking hours. Few of us, though, would describe ourselves as 'immersed' in our technology experiences.
Yet in education, the idea of immersion is especially intriguing.
One American high school has made this kind of immersion a priority for its students. At Washington Leadership Academy (WLA), an open enrollment charter school in the nation's capital, students in grades 9-12 are engaging with virtual reality in ways that seem to be decades out—even for many U.S. college students.
A recipient of a Breakthrough Models: DC grant from Next Generation Learning Challenges and Citybridge Foundation, the school was designed with a strong emphasis on technology throughout its curriculum. Its co-founders Stacy Kane and Seth Andrew now serve as its Executive Director and Chairman of the Board, respectively. Washington Leadership Academy opened its doors to students in fall 2016. It has since been selected as one of 10 for the $10M XQ Super School award; a significant investment in and endorsement of its approach to learning.
It's worth noting that computer science is part of WLA's core curriculum. In these mandatory courses, students learn software development, graphic design, and hardware engineering both in class and through the school's state-of-the art Maker Space.
To learn more about how virtual reality comes into play at WLA, I spoke with Jordan Budisantoso, who serves as the computer science teacher and technology coordinator. Previously, Budisantoso taught computer science at a public school in Miami, where he said he became particularly interested in educational equity and access for students of color, and for women—two groups that traditionally have been underrepresented in tech fields.
"As a teacher, I live for the lightbulb moments," he says. "It's absolutely amazing to watch students who suddenly latch onto an idea, a process, and run with it."
Budisantoso believes that computer science creates a level playing field. While this might initially sound counterintuitive, it actually makes a lot of sense: students who may not have a strong command of English or who struggle in other language-centric areas, for example, can excel in coding as the rationale is easily deciphered. "Maybe there might be errors in a student's code syntax," he notes, but the logic is clear, and elegant. It's there."
Virtual reality, along with machine learning and big data—three areas routinely discussed at higher ed conferences like the EDUCAUSE annual—are on the forefront of technology. They're rarely considered within the context of secondary education.
At WLA, the VR lab buzzes with activity. Students gather to use HTC Vive and Oculus Rift virtual reality systems. They create 3D art in midair using a Tiltbrush, and explore historic sites and war-torn countries in simulations. They examine planetary orbits and atomic particles in a way that makes ordinary computers seem analog. Guest speakers such as Apple product engineers, among others, share their experiences working on technical teams, making complex decisions, and collaborating with those outside their disciplines.
"I get to expose our kids to things that students in affluent schools don't even have," Budisantoso says. "Unlike a lot of schools outside of wealthier areas, we don't have a deficit mindset. That means I don't have to look at my lesson plans and figure out how to do without, or find a substitute for equipment. Our kids aren't just getting a competitive learning experience; they're getting an incomparable one."
One might wonder what could be next. The goal for this academic year: getting students to program and create content in virtual reality.