Professional Learning
When Innovative Summer PD Goes Virtual: A Summer of Virtual Learning for BPS Teacher Externs
September 10, 2020
Topics
Project-based Learning
Staffing
College & Career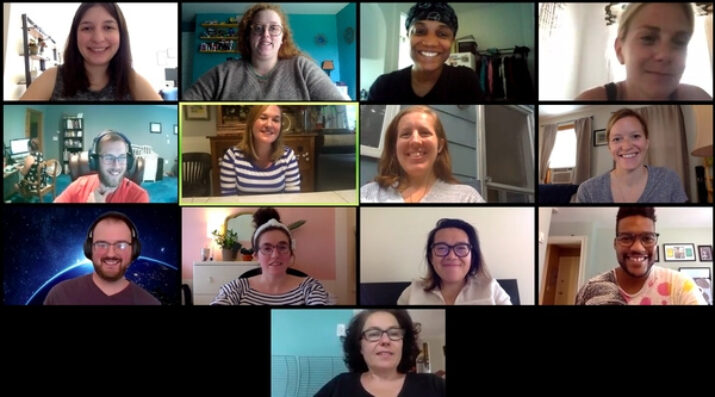 Professional Learning
Professional Learning
Educators are the lead learners in schools. If they are to enable powerful, authentic, deep learning among their students, they need to live that kind of learning and professional culture themselves. When everyone is part of that experiential through-line, that's when next generation learning thrives.
Learn More
The Boston Public Schools Externship Program for teachers went virtual this summer. The result: increased participation and deeper connections.
The Boston Public Schools (BPS) Externship is a workforce development program that connects teachers to the vibrant local STEM industry to open up career pathways for the city's students. Externs spend time in the offices and workspaces of some of Boston's greatest and most innovative STEM companies.
This year, Boston Public Schools (BPS) made the call that it was safest for our teachers and students to only hold summer learning programs virtually. This spring,we wrote about how we were dealing with the loss of a traditional summer, the lost opportunity of externs getting to spend time in our corporate partners' workspaces and how we were preparing for a virtual summer. We were lucky to work with incredible community-based and corporate partners who were prepared to walk with us through an unusual summer.
We're now on the other side of two successful virtual Externship programs. The first ran for two weeks and focused on green and sustainable design in the Architecture, Engineering, and Construction (AEC) industries. The AEC externs created project-based lesson plans to aid in the connection of their externship experience to their classroom. The second was a three-day opportunity for externs to get a high-level look into the Cybersecurity industry from Rapid7. We always try to offer a shorter Externship program for participants who may not have as much flexibility in their schedule or those who are looking for a more introductory experience.
"Even though the program was virtual, the presentations were all very visual and easy to understand since we could see the tools, photos, and diagrams on screen." –Olivia Paquette, Work Based Learning Coordinator, Charlestown High School
The AEC Virtual Externship: A Deep Dive into Design Thinking
The Design Thinking and AEC Externship is one we have hosted before. It is the foundation of the Externship program facilitated by UnitedWay and Boston Public Schools. The program was inspired by the work our corporate partners are doing in the green and sustainable design space. Climate change is a common conundrum that our students and teachers have to think through: What exactly is climate change? How can we change our behaviors to make things better? What kind of jobs are available to me after high school that I can take to combat climate change?
We worked to design an Externship that would provide both a general understanding of what it means to work in the AEC industry and one that focused on how each area of the industry approaches and works within green and sustainable design. This summer, we worked with the same four corporate partners as last summer: Autodesk, Elkus Manfredi Architects, Gilbane Construction, and Nitsch Engineering. In the end, all of them took to virtual programming well. They were graceful towards the fact that it was going to be an adjustment for teachers to make, moving from teaching virtually to learning virtually. Each partner was offered a day of programming to do with what they wanted. Each corporate partner knew that they needed to keep their agenda diverse to keep the externs' attention. Agendas covered presentations from a variety of people that work for each company and activities that externs could move into virtual breakout rooms to work on.
In addition to industry exposure, the externs received coaching around the idea of Design Thinking from the folks at Autodesk. Throughout the first week, the Autodesk partners introduced the Design Thinking process and how it could be used to teach green and sustainable design. In the second week of the Externship, the externs developed a project-based lesson plan/unit that walked students through the Design Thinking process and focused on green and sustainable design.
Autodesk also offered a full day of workshops inspired by the industry knowledge the other corporate partners shared and topics that could guide the lesson plan the externs would later be asked to create.
This year, ten externs completed the Externship. That's more than double the number of externs who participated last year. We think that a combination of the virtual setting making the Externship more accessible and word of mouth led to the increase in numbers. Externs represented all grade bands, content areas, and kinds of schools.
The Cybersecurity Virtual Externship: A Lighter Dip Introducing the Industry
Our Cybersecurity Externship was a new offering this year. We'd been hoping to collaborate with Rapid7 since the beginning of this iteration of Externships and things finally fell into place for this summer. Rapid7 is a cybersecurity company working to keep clients' information safe and innovate around what the future of cybersecurity will look like.
They have a group of entry-level employees called "Rotatoes" who co-designed and facilitated the Externship. They rotate through all areas of Rapid7 and were the perfect people to give the externs a glimpse into cybersecurity as an industry.
Seven pioneering externs opted to participate. Each represented a different school, grade band, and content area. They remained engaged and came away feeling they were more equipped to tell their students about cybersecurity, what cybersecurity companies do, and what jobs they offer.
It has proven to be beneficial to offer a shorter Externship. It's easier for BPS teachers to work it into their schedules and it serves as an introduction for some to Externships as a whole.
Pluses and Deltas of Virtual PD
Generally speaking, our summer of virtual PD went well. Offering a virtual program meant that it was a plausible opportunity for more people. They did not have to consider a commute or childcare. Everything was offered to them from the comfort of their homes. This summer's professional development also came at a time when teachers were looking for support in keeping their students connected.
We were also able to learn a lot from this year's program. In our second year, we were able to observe more of the nuance associated with the program. A few spotlights emerged as areas for improvement. First, many of our teacher externs have at least a beginner's awareness of the industry that will be hosting their Externship. It's important that we communicate this with our corporate partners so they can plan their activities and what content specifically they deliver.
For the program developers, it's important that we clearly and regularly communicate what will be expected of externs in terms of final projects or artifacts. It's not enough to mention the project on the first day. Externs are taking in so much information over the course of ten days, it's important to tie the industry content back to the final project whenever possible.
Key Takeaway
While the goal is to host in-person programs next year, there is something to being able to offer virtual options. Like we mentioned earlier, it makes the program more accessible to more people who have a number of external factors to consider. We were also able to record each day's sessions so we can share recordings indefinitely. It will also help to be able to reflect on them as we plan for next year.
Conclusion
We only wanted to move forward with Externships this summer if we felt that a virtual experience would maintain the integrity of the program. Considering that Boston Public Schools will start the school year remotely, all of this summer's externs now have a network of fellow educators who can support them in implementing what they've learned remotely. Our corporate partners have also offered to support implementation as we move into the school year. Even with an unusual start to the school year, students will still have the opportunity to participate in engaging, 21st-century content that prepares them for postsecondary success.
---
Photo at top courtesy of Karissa Goff.