New Designs for School
Teaching Kindergarteners Critical Thinking Skills: Lessons from Two Rivers Deeper Learning Cohort
February 18, 2020
Topics
Competency-based Education
Student Success
Curriculum & Instruction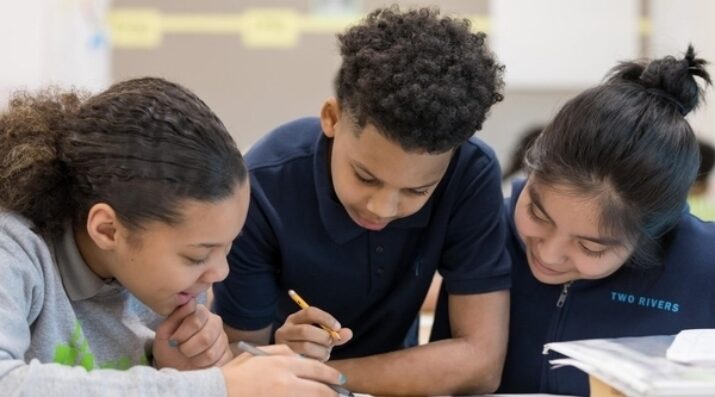 New Designs for School
New Designs for School
We've all had the experience of truly purposeful, authentic learning and know how valuable it is. Educators are taking the best of what we know about learning, student support, effective instruction, and interpersonal skill-building to completely reimagine schools so that students experience that kind of purposeful learning all day, every day.
Learn More
The stories of two kindergarten teachers illustrate the power of providing an opportunity for 5 and 6 year-olds to think critically.
I've argued elsewhere that yes, we can define, teach, and assess critical thinking skills, but I know what you are probably thinking. These skills are all good for middle and high school students and maybe upper elementary kids, but kindergarteners? However, I was in a kindergarten class recently where five and six year-olds were making evidenced-based claims and critiquing the arguments of each other. Kindergarteners were thinking critically!
Two Rivers Public Charter School in Washington, D.C., is wrapping up our second Deeper Learning Cohort. Twenty-four educators from schools across the city participated to learn how to deepen their students' thinking through the use of thinking routines with aligned rubrics and performance assessments.
This group of dedicated teachers from prekindergarten through 8th grade gathered at convenings over the course of this past school year to explore what it means to help students think more deeply about what they are learning. Specifically, we learned about three thinking routines that provide a structure for helping students think critically and problem-solve. We dived into understanding how the language of rubrics can be used to define these constructs but have limitations when applied across multiple contexts. We developed understanding of performance task design and how that translates into the experiences we provide for students everyday. Finally, we learned how analyzing student thinking as exhibited in student work can be leveraged to deepen our students' critical thinking and problem-solving skills.
The power of this work has been highlighted for all of us as we saw kindergarten students demonstrate an ability to formulate reasoned arguments with specific support. The stories of two kindergarten teachers illustrate the power of providing both an opportunity for five and six year-olds to think critically and the structure to support that thinking.
Teaching Kindergarteners to Be Effective Reasoners
Chelsea Rivas, Kindergarten Teacher at Two Rivers Public Charter School
When Two Rivers invited educators to participate in a Deeper Learning Cohort last summer I jumped on the opportunity. I began working at Two Rivers in the fall of 2018 and had a lot to learn my first year about the "Two Rivers Way," so I didn't feel like I was able to dive into thinking routines in a way I wanted. This cohort allowed me to do just that!
We began our journey by learning about and experiencing the thinking routines and then choosing one to focus on all year with our class. As a kindergarten teacher, I decided I wanted my students to grow into people who reason effectively, so I chose to focus on the "Claim-Support-Question" routine.
I introduced the effective reasoning thinking routine of Claim-Support-Question with a fun think-aloud. I showed a portion of a picture on our board and had students make "claims," or guesses, as to what the whole picture might be. I then had them support their claim with evidence from the picture and their own personal experience. Last, I showed my students how we can challenge or question our claim by saying what someone else might think.
My students loved this challenge so much that we made it part of our morning routine two to three times a week. Once students became comfortable using this routine in the context of the mystery picture of the day, I extended the use of this routine to reading literature. I modeled making claims and using evidence from the text to support my claim, as well as stating how someone could disagree with my claim. I had students begin making claims, using valid support, and challenging their claim in guided reading.
My students have moved from just stating their opinion, or claim, to always having valid support for their opinions. The word "because" is ingrained in their five and six-year old vocabulary. It's become easier for many to empathize with other people's opinions because they have gotten into the routine of challenging their own thinking. However, this is probably the toughest part of the effective reasoning thinking routine and many of my students are still working to get better at the question aspect of the Claim-Support-Question routine.
My students are critical thinkers, problem solvers, and able to consistently think outside the box. Parents have told me how impressed they are that their children are able to think this deeply about a topic. My biggest take-away from this experience has been that my kindergarteners can do a lot more than what people expect!
Thinking Routines in Kindergarten
Liz Rosenberg, Kindergarten Teacher at Creative Minds International Public Charter School
As I was looking for professional development opportunities over the summer in 2019, I happened to come across an online post for the Deeper Learning Cohort through Two Rivers. I had heard of thinking routines in the past but never really had the structure to implement them in my classroom. After spending only a few days together in July with this cohort of passionate, invested, skilled group of D.C. teachers, I felt inspired and empowered to push my students' thinking before they even arrived in my classroom in August.
It is so easy as a teacher to get bogged down by the pressures of Common Core—we want our students to read, write, and solve math problems so they can be successful and score well on PARCC. While those content areas are of course very important, teaching for me has always been deeper than that. I want my students to grow up to be contributing members of society, who can think critically about the world and express their ideas and beliefs with conviction and confidence. To be successful in this world, they need to be able to communicate their thinking to others, making it visible to their audience, whether that audience is their classmates in a college course or their spouse later in their adult life. I want my students to understand the world from a global perspective, which includes truly comprehending that others may see the world differently than them and how that fact makes the world better, richer, and more diverse. So often we see adults who are not able to separate their thinking from their own lived experiences. I want more for my students and fight for that every day.
I have extremely high expectations of myself and those in my life—and that includes my students. I was surprised to learn as I progressed through this cohort of deeper learning that my students are capable of even more than I thought, that I can raise my expectations of them even higher! My students can make statements, support their claim with evidence, and think of a counterclaim. They can look at a set of choices, list criteria for a decision, and see if their choices meet the criteria. Many years ago, when I asked my students, "How do you know?" they would respond with answers like, "I thought it in my brain" or "my mom told me." No longer is that acceptable in my classroom because I provided my students with the scaffolding so they can now make their thinking visible without as much support. They can problem solve by thinking about what they already know, what they want to know, and what ideas they should think about to drive their learning. And my five year-olds can communicate in meaningful ways through writing and pictures. They know their voices matter and what they have to say matters.
This is just the beginning. The values and lessons my students are learning are setting the foundation for them to be lifelong learners who question, think critically, back up their thinking with evidence, and be thoughtful and effective problem solvers. This is the world I want to live in and, together with my students, we are creating it.
---
Photo at top courtesy of Two Rivers Public Charter School.