Professional Learning
Thrive's Next Gen Learning Symposium
August 26, 2015
Topics
Project-based Learning
Curriculum & Instruction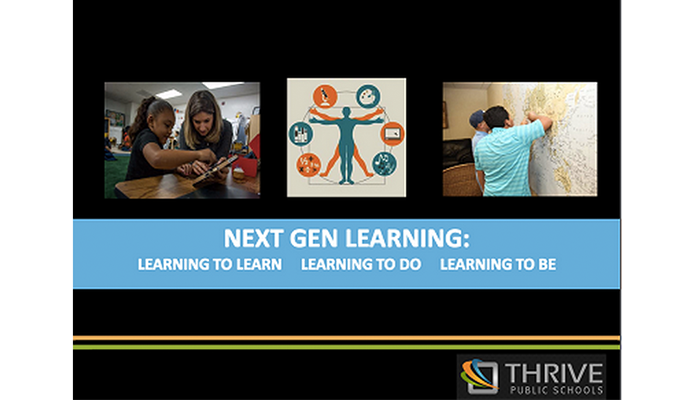 Professional Learning
Professional Learning
Educators are the lead learners in schools. If they are to enable powerful, authentic, deep learning among their students, they need to live that kind of learning and professional culture themselves. When everyone is part of that experiential through-line, that's when next generation learning thrives.
Learn More
Practitioner's Guide to Next Gen Learning

120 educators from the greater San Diego area explored how next gen teaching practices make learning deeper and more meaningful in this kickoff to Thrive's Innovative Educator certificate program.
Today I take you to sunny San Diego where grantee Thrive Public Schools recently hosted the Next Gen Learning Symposium for 120 school educators from the greater San Diego area. Those in attendance represent the best and brightest of next gen school educators and came from near and far to explore next gen learning and how personalized instruction, through next gen teaching practices, makes learning deeper and more meaningful. This symposium was the kick-off event for the Innovative Educator certificate program Thrive is offering in partnership with National University.
Background on Thrive
Thrive is a K-8 charter school serving a diverse population of students that mirrors the population of California: 57% of Thrive's students are Black or Hispanic and 60% qualify for free or reduced lunch. The blended learning model at Thrive integrates technology throughout a curriculum built upon project-based learning, targeted instruction, and tinkering. Students progress at their own pace, receiving targeted support and instruction as needed to ensure they master content before moving on. A personalized learning plan for each student tracks goals, modalities, and growth.
Students have multiple opportunities to develop and demonstrate depth and complexity as they apply learning in different contexts. Through project-based learning, students learn subject-matter content in cross-disciplinary teacher-created projects where they use technology to research, design, invent, film, edit, record, experiment, build, create, and present. Teachers personalize learning and foster students' active ownership over their learning through interactive digital learning programs that provide instant data for teachers and real-time feedback for students and parents.
Origins of the Next Gen Learning Symposium
Thrive's model requires a continuously evolving skill set, a growth mindset, and a transparent sharing of best practices.The Next Gen Learning Symposium and Innovative Educator certificate program were developed to support continuous professional learning toward that end.
Nicole Assisi, CEO, and Shelli Kurth, school director, passionately explained why the work of re-inventing school is critical: data shows that only one in four California kindergartners graduates from college. Today's students have different futures and it begs the question: why do we immerse our students in yesterday's classrooms using yesterday's approaches? Nicole and Shelli along with their teaching staff set out to re-imagine school over the last year to create a learning environment that better prepares students to be community-minded, college-prepared, and career-inspired. During the symposium they shared lessons learned from their implementation of blended and project-based learning, and facilitated active engagement from the participants in a learning together approach.
"You don't need a football team of quarterbacks so why do we think that should be any different in our classrooms? We, at Thrive, see, value, and build on the strengths of each individual student. It's the backbone of our school community."
-Nicole Assisi
Blended Learning
The morning kicked off with an exploration of blended learning with the presentation of mini-case studies by Thrive founding teachers Cori Brooks and Lauren Valot. Here are some highlights:
What Is Blended?
Participants explored definitions of blended learning using resources pulled together and shared via beenpod (a safe way for students and teachers to search content together; no longer available), and then shared approaches and thoughts. Here's what some of the participants shared:
"It's important to think about what we call our teachers—our instructional staff are called coaches because teacher has a certain connotation"
"It's important for teachers to experience blended learning as a learner and work with colleagues to apply what has been learned to the classroom"
"It's really important for educators to be a part of organic learning communities that value risk and allow flexibility for trying new approaches"
"The use of technology can make us more efficient as educators"
Blended Learning at Thrive
Cori and Lauren shared snapshots and artifacts of Thrive's approach to blended learning:
Thrive methods of blended learning are built with an emphasis in nine focus areas: student ownership, teacher as facilitator, groupings, data, tools, personalized learning plans, relationships, procedures, and time & space
Thrive's Blended Learning Continuum is a living document that enables teachers to reflect on their blended learning instruction
Data is used to help students understand their needs and emphasis is placed on connecting student goals to the data that is measured. Data is shared with parents and they are given an explanation of what the data means. Teachers at Thrive use data from multiple sources to drive their instruction and groupings.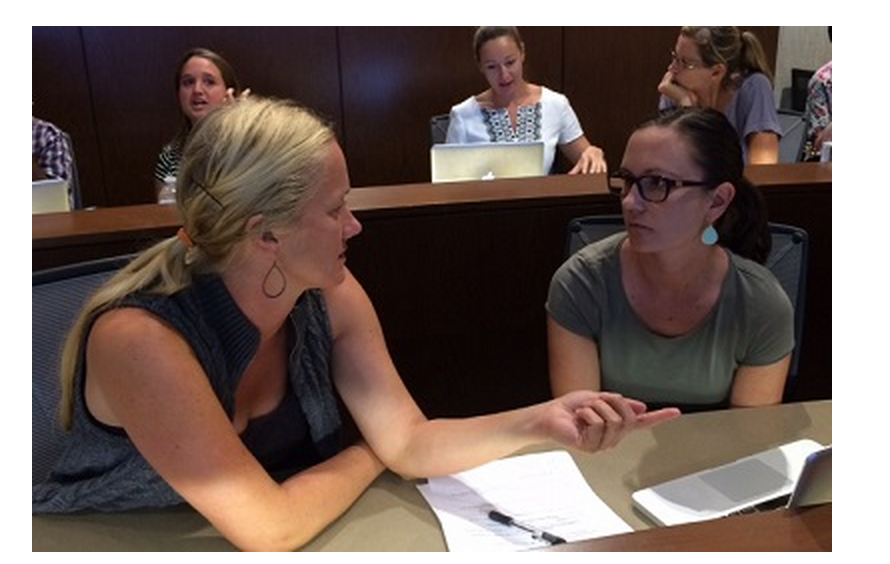 Participants share data tools currently in use to inform teaching and learning.

Resources from Thrive
Primary PLP - Teachers facilitate goal generation and tracking collaboratively with students.
Middle grades PLP - Students generate their own plans and teachers connect at least once a week with many mini check-ins over time. The PLPs drive student-led conferences and use of Google docs enables parents to have access to their child's plan. Student-led conferences are built around students' PLPs and students present their accomplishments to their parents twice a year.
Blended Learning Planning Template - Thrive teachers use this template to build relevant and rigorous blended learning experiences for their students.
Editor's note: These resources have been moved from their original location and are not currently available. Please see NGLC's PLP toolkit or contact Thrive Public Schools for more information.

Keynote by Liz Arney
"Figure out what your purpose for blended learning is and then use that as the guiding principle for decision-making."
-Liz Arney
The afternoon kicked off with an inspiring keynote in which Liz Arney, NewSchools Venture Fund partner, shared wisdom gleaned from leading the implementation of blended learning at Aspire Public Schools.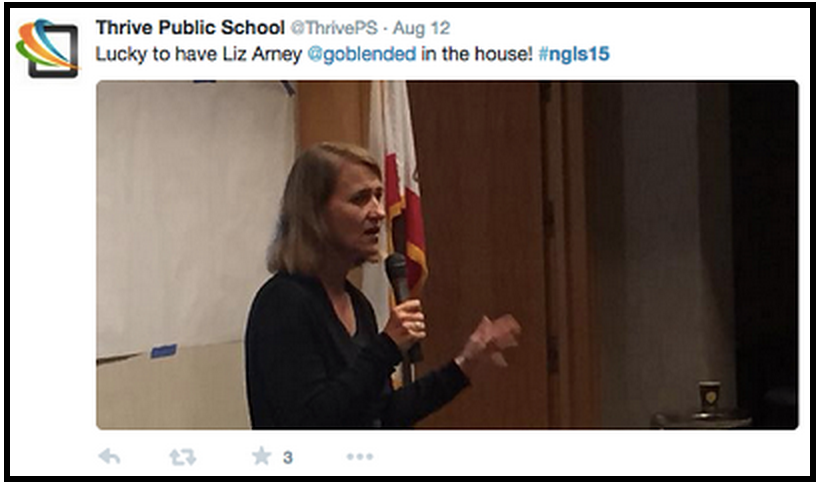 Watch these videos to get a glimpse into the topics Liz addressed:
Above are a sample of answers Liz offered during the Q&A at the symposium. For more expert advice from Liz, check out her book: Go Blended! A Handbook for Blending Technology in Schools.
Project-based Learning
"A good well thought out project covers more standards than you intend it to.... Start with standards or passions, either works!"
-Joe Acker
The symposium concluded with an exploration of project-based learning. Educator experts, Jaclyn Vasko, Kindergarten teacher, and Joe Acker, sixth grade science and math teacher, presented mini case studies. Here are some highlights: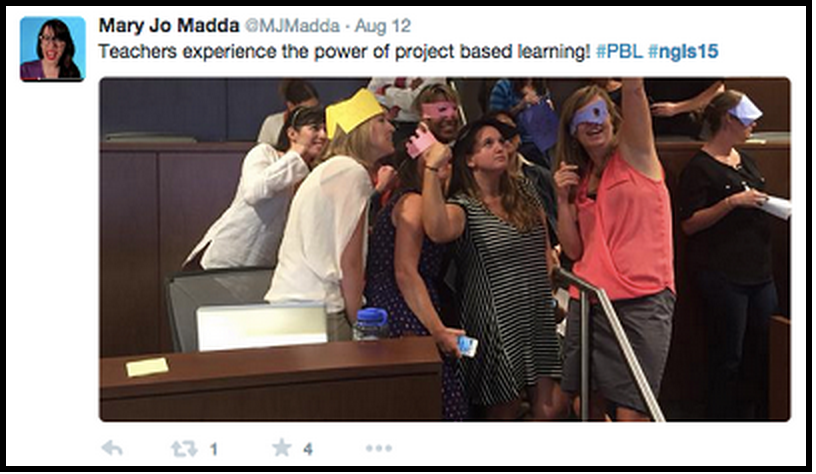 Project Immersion
What's the best way to learn about project-based learning? By engaging in a project, of course! Participants were given three rubber bands, two paper clips, a sheet of construction paper, and crayons. The task was to create a superhero including three superpowers, a superhero name, voice, and weakness. Participants used the materials to construct a superhero costume. Individuals needed to form an alliance by linking up with other superheroes in the room, and each superhero identified their nemesis. While this activity was super fun and engaging right after lunch, it turns out that this project could become a springboard for Newtonian physics (think speed, strength, flight…), thermodynamics (think thermal energy, temperature manipulation…), quantum mechanics (think atomic manipulation and shape shifting…), and so much more. Beyond this rich content, the superhero project could be a launch pad for embracing individual strengths, social/emotional development, and storytelling. Who knew?
Project Artifacts
Joe and Jaclyn shared a variety of artifacts from their students' projects. They are amazing examples of deep learning. Dive into their full presentation for the complete view, here are a couple of snapshots: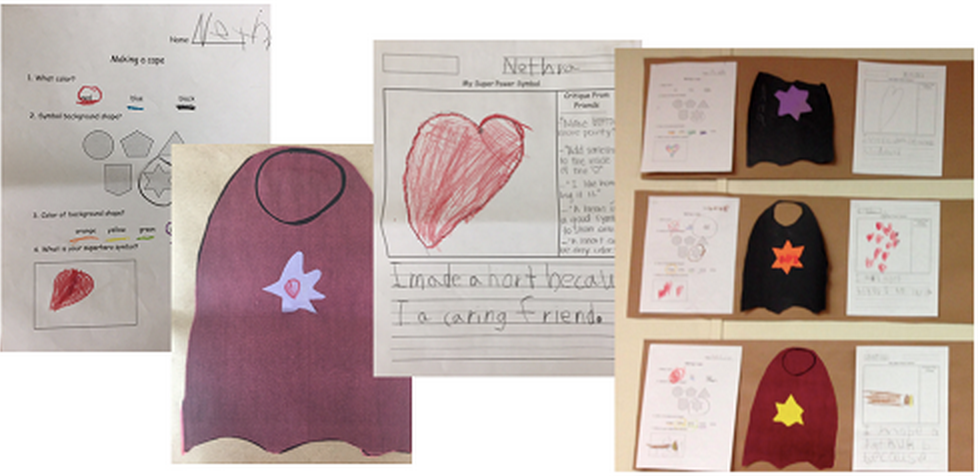 Kindergarten student's superhero cape and symbol.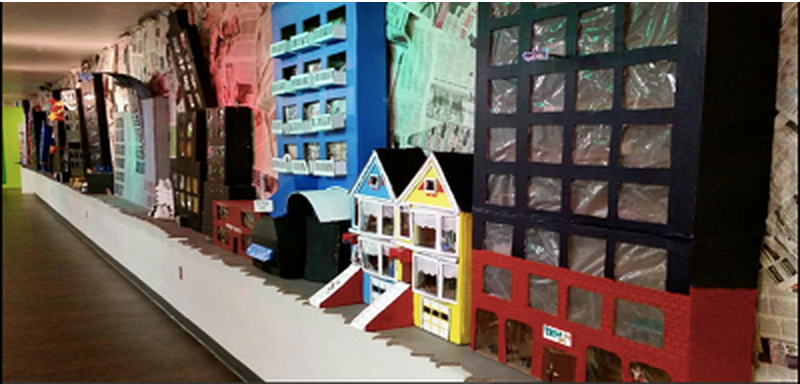 As a component of their SuperHero Me project, students researched downtown San Diego in order to build a scale model of their own superhero-inspired city for exhibition.
Resources from Thrive
Project Idea Rubric - A rubric that teachers use to test the validity of a project idea.
Project Development Rubric - A rubric that teachers use to plan the major project components.
Thrive Project Overview - A planning document that assists teachers in mapping the essential skills, knowledge, and strategies students will obtain from a project.
Making learning visible by sharing lessons learned, reflecting together, puzzling out questions, and engaging in and examining next gen teaching practices...that happened during the Symposium. It's the "Thrive way" and I, along with the other educators in the room, left feeling energized, empowered, and smarter.