Reimagining Assessment
Timely and Effective Feedback for Student Writing
April 20, 2021
Topics
Curriculum & Instruction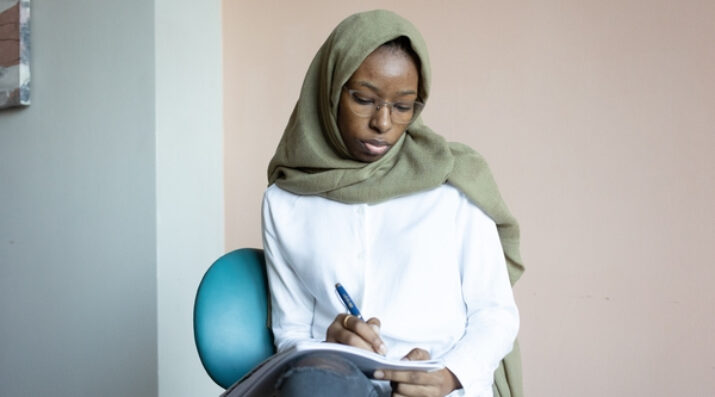 Reimagining Assessment
Reimagining Assessment
Educators are rethinking the purposes, forms, and nature of assessment. Beyond testing mastery of traditional content knowledge—an essential task, but not nearly sufficient—educators are designing assessment for learning as an integral part of the learning process.
Learn More
This instructional strategy for giving feedback to students aims to develop confident individuals who speak and write with conviction.
Regardless of what content or grade is being taught, all educators want to empower their students. One of the best ways to do this is by helping students find and share their voice with clarity and confidence. As a middle school English teacher, I have struggled with how best to give students feedback and opportunities for corrections in order to develop confident individuals who speak and write with conviction. Below is the method I use to do this.
Instructional Steps to Give Feedback
Step 1: Identify the most common mistakes that your students are making in their writing.
After a few initial, short writing assignments, you will be able to see what mistakes your students are making. Focus on no more than 15 common mistakes. This year for my eighth graders, we are focusing on:
Including a Clear Topic Sentence
Providing Evidence from the Text to Support the Topic
Sufficiently Explaining Evidence
Including a Clear Concluding Sentence
Correcting Grammatical/Sentence Fluency Mistakes
Organization is a key component to clear writing, and it is why I stress the importance of a topic and concluding sentence. Students also tend to struggle with providing relevant evidence and explaining that evidence. It is important to teach students to connect the evidence and explanation back to the topic sentence. Lots of students struggle with grammar concepts. I focus on comma usage. If students learn the basic comma rules, it greatly improves their writing.
Step 2: Create Comment Codes.
The mistakes that you identified above become your comment codes. Make sure your students have access to the Comment Code document. Have students keep a hard copy in their notebook or an electronic copy online.
1 = Need a Complete Topic Sentence
2 = Need Specific Text Evidence
3 = Add Explanation
4 = Need a Complete Concluding Sentence
5 = Grammar/Sentence Fluency
Step 3: Grade using the Comment Codes.
When grading, highlight the sentence, phrase, or word where the mistake occurs and simply put the number of the code. For example, if the student's topic sentence is missing an essential component (my students know the topic sentence includes the title, author, and topic), highlight the sentence and write or type "1" for the comment.
Step 4: Essay corrections.
Once papers are graded and returned, give students the opportunity to make corrections. I use a specific essay correction document.
The student will write down the code, the paragraph that it is in, the actual sentence/mistake from the original assignment, and the actual correction that they would write. It is important to make sure the students understand to include the original mistake and the actual correction. If not, students will write, "I was missing the author in my topic sentence" and "I will write a good topic sentence." The point is to have the students write out the correction. I award students ½ point for each correction they make.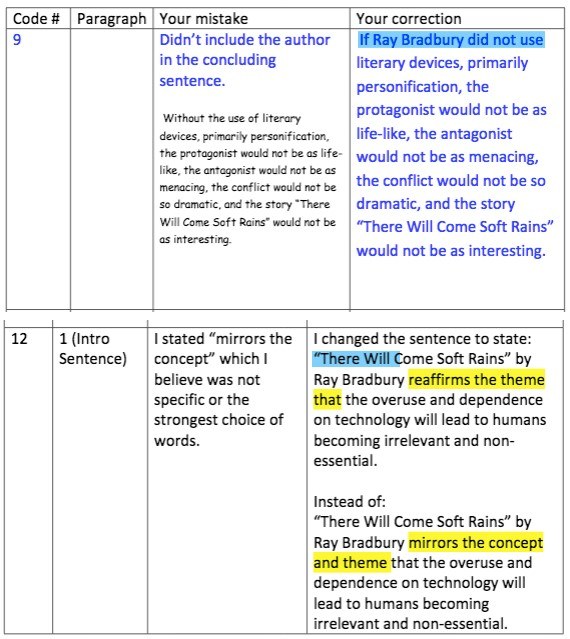 Exemplary Examples
Why This Feedback Process Works
It is quick. I try to get graded work back to my students within a week. This way the assignment is still relevant.
It gives the students ownership over their success. The student has to pinpoint the mistake and figure out how to correct it. This is a great time to have students work with a peer and have constructive conversations focused around the comment codes.
It clearly shows what individual students have and have not mastered. I have my students keep track of the comment codes that they are receiving. This is an easy way for them to see what mistakes they are making and what they need to do to improve their writing. It also allows me to see what concepts I need to focus on in my teaching.
Tips for Making Your Feedback An Effective Tool for Learning
Have students write often. Not every assignment needs to be an essay. Students can learn just as much from writing short responses.
Have students respond to a variety of texts. Photographs, paintings, music videos, short films, poetry, and quotes are all examples of texts that students can respond to.
Add a positive note to each assignment. Remind the students that writing is messy and difficult, but that their voice is important and their writing should reflect that!