New Designs for School
Transforming High School by Engaging Student Voice: Co-Creating Learning
April 22, 2019
Topics
Learner Agency
School Culture
Curriculum & Instruction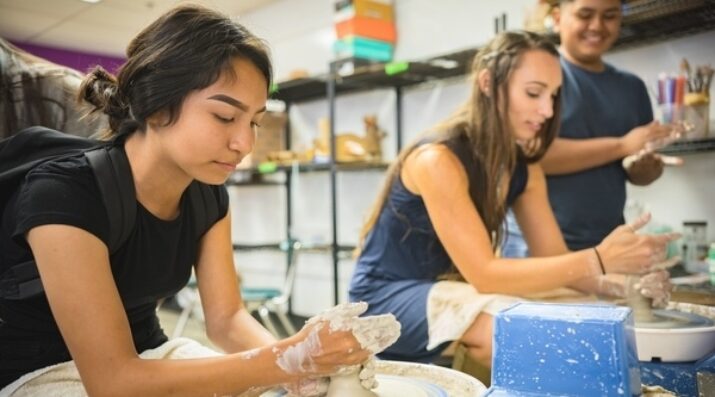 New Designs for School
New Designs for School
We've all had the experience of truly purposeful, authentic learning and know how valuable it is. Educators are taking the best of what we know about learning, student support, effective instruction, and interpersonal skill-building to completely reimagine schools so that students experience that kind of purposeful learning all day, every day.
Learn More
Vista High School educators listened to students explain how they see their voices impacting their learning within a co-created project.
This post and accompanying video feature Stuart Easton, teacher at Vista High School, and Vista High School students Ashley Alvarado, 10th grade; Vanessa Castillo, 10th grade; Lizzet Clemente, 11th grade; Cassandra Esparza, 11th grade; Michelle Garcia, 10th grade; Logan Gossard, 11th grade; Leslie Hernandez, 10th grade; Dayani Lujan, 10th grade; Aurelio Mercado, 11th grade; Nashelly Nava Cruz, 10th grade; Cristina Ramirez, 11th grade; Daniela Rojas, 10th grade; Alondra Solis Alatorre, 11th grade; Kat Sciacca, 11th grade; and Iris Ventura, 11th grade.
The International Center for Educational Research and Practice (iCERP) promotes intersectionality of thought on a global scale. Nothing is more central to this focus than the transformation of the very fabric of education. We are all experiencing a shift in thinking and action around the learning pathways that students are taking—a shift that includes moving to a student-centered approach to education, where the students step away from their traditional role as recipients of core subject content and move into the driver's seat of their quest to become flexible, nimble thinkers and learners in an increasingly complex society.
In this series about Vista High School, we place a laser focus on engaging student voice in various elements of transformation in education. The goal: to hear, firsthand, how these changes are affecting the students' lives as learners and future members of the global workforce.
This blog post focuses on the relationship between teachers and their students as they co-create learning experiences together. Check out this Student Perception of Co-Creation video to meet the students and their teacher, Stuart Easton, and learn more about their thinking as they assume autonomy over their learning pathway:
In our last blog post, "Transforming High School by Co-Creating Learning Experiences with Students," students made it abundantly clear that in order to be most successful when learning, first and foremost their teachers must cultivate a positive relationship with each student. They need to know that they are in a safe space and believe that the teachers are truly working with them. When they do, they believe their voices can impact the development of their learning experiences.
However, this does not mean that students are ready to tackle any challenge that comes their way. They still need planned structures and meaningful time with other students and their teachers to make sense of their experiences. In this post, we listen to our students explain how they see their voices impacting their learning and what difference it makes for them.
Teacher Planning Process Considerations
Student Perspective
Teacher Perspective
How were you able to influence your learning experience?

In what ways did this change the way you approached the learning experience?
How did you prepare students for the co-creation of the learning experience?

What protocols, strategies, Habits of Mind did you use to engage students in this thinking and work?

Placing Students in Charge of Their Learning
Teacher Stuart Easton highlights that in his 11th grade English/Language Arts course's co-created project, the students were placed in charge.
"I wasn't just saying that, I meant it. We're not telling the students what to do."
But rather than turning over the complete workload to the students, co-teachers Jim Thoen and Bena Kallick allowed the students to come together and begin a discussion only after they had worked with the students to understand what that cognitive shift looked like. Additionally, they helped the students to understand:
The standards and expectations for which learners must demonstrate their understanding
The essential content that students needed to have as a foundational springboard
The elements of the learning experience in which the students' voices could play a role
Many students in both Easton's course and Thoen and Kallick's course pointed out that this experience felt foreign to them as usually they perceive that they are supposed to do what the teachers tell them to do.
Kat Sciacca explains,
"Usually when teachers give projects to students, they tell you exactly how to do it, what they want. You can only make a presentation. They restrict you from doing what you are really good at."
Lizzet Clement echoed Kat,
"When teachers give us a list of things we have to have, you don't really get your own input in it."
After asking how the co-created learning experience was different, Iris Ventura reflected,
"It was not only different in the way that we chose the kind of project we wanted but also we chose the questions we were asked."
Cristina Ramirez followed,
"In groups, we were able to build questions. When we were finished, as a class, we went through all the questions and said which ones were good, which ones needed a little more work."
Iris Ventura continued this thought,
"I feel like when you know what the question is really about, you actually understand what you're learning about."
These statements seem to point out that sometimes as teachers we become so focused on attempting to clarify everything we expect students to put into a project, paper, or assignment that it becomes overly sterile to them—something that they need to do rather than a chance for them to explore and learn. Stuart Easton recognized this as his students continued through their work,
"Students are now more invested in getting to that goal because they know WHAT it is but also because they know WHY it is. That's something I realized, as they were doing the work, they don't always know. 'I created this cool project! Aren't you guys impressed?' But the students would ask WHY they were doing it."
Yeah, Co-Creation With Students Sounds Good, But ...
When teachers are encouraged to incorporate student voice in class to co-create learning experiences, we often hear the lament, "Yeah, but the students don't know enough about (fill in the content area here) to know what to do or what they are expected to explore." And this is true. While the students' background knowledge is usually limited, we can set up experiences for students to develop questions based on the exploration of foundational content, data and/or information, visuals, a set of readings, analysis of activity, etc., that a teacher provides through the use of protocols. Protocols structure a thinking routine that can provide students an understanding of how to deepen their thinking. As students continue to build competency in these thinking routines, they can also learn to transfer it to situations out of the classroom.
An example could be a "See-Think-Wonder" protocol in which teachers direct students to begin their process by examining a visual, a reading, sets of information, etc., followed by writing down observable facts. Too often, people do not take the time to find all the information the source or set of sources have to offer. The result is often a jump to incomplete or ill-informed conclusions. The beginning of this routine helps students the most when they are given time to examine the resource first, on their own, followed by time to hear what other students think. As teachers facilitate this discussion, they need to help students see the difference between observable facts and where inferences may lead.
Second, students should write down the inferences and understandings that the facts seem to support. This list could include inferences about what the facts tell them, as well as understandings of what information is missing, that may help them make sense of the information they are examining.
Third, students craft questions that may lead them to the inquiries worthy of further exploration. As students share their ideas, new questions may arise. Students may see trends in questions and curate them together to develop a bigger picture of what they are trying to learn. Teachers can help facilitate this discussion to ensure that the questions reach the depth and complexity needed to explore the ideas at the appropriate level for the class.
The final product of this thinking routine is the co-creation of worthy inquiries that give the students a feeling of ownership. They understand the meaning behind the questions, the WHY, because they had a hand in co-creating the work.
But Does Co-Creation Really Make a Difference?
Iris Ventura shared her strong ideas,
"I feel coming together has made learning more interesting, and it is actually quite exciting. We tend to forget that learning is supposed to be exciting."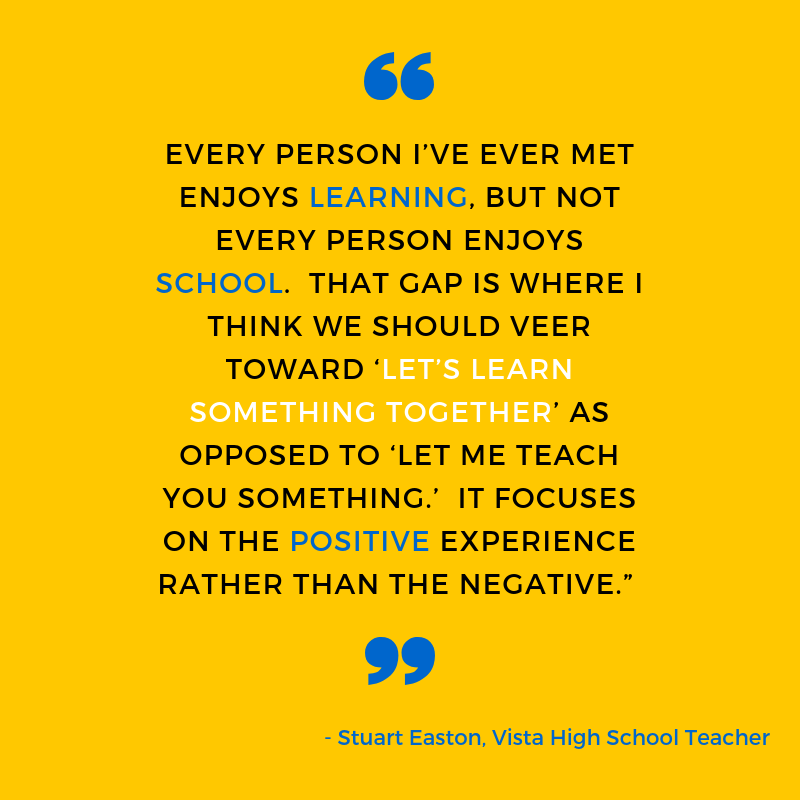 Logan Gossard agreed,
"Being able to collaborate with other students led to the sharing of ideas that I never thought of. And it was like, 'Oh! That's a cool idea!' We're all trying to learn. And sometimes we get in the mindset that teachers are trying to make us fail, they are all against us. But with projects like this, it's like they are most interested in our success."
Aurelio Mercado expressed his gratitude,
"I'm happy they understand the way we want to be learning,"

and Cristina Ramirez explained further,
"Instead of having to have a teacher explain it to you, you learn it yourself. You take your own road."
Stuart Easton sums-up the co-creation experience best,
"Every person I've ever met enjoys learning, but not every person enjoys school. That gap is where I think we should veer toward 'let's learn something together' as opposed to 'let me teach you something.' It focuses on the positive experience rather than the negative."
How are you promoting learning together with your students through a co-creative process? Share your experiences at #NGLCchat so that we may all learn additional ideas of how to engage students in deepening their thinking routines and co-creating worthy explorations.