New Designs for School
Tuning in: The Arts' Crucial Role in Remote Learning
June 11, 2020
Topics
Project-based Learning
Student Success
Tools for Next Gen Learning
Curriculum & Instruction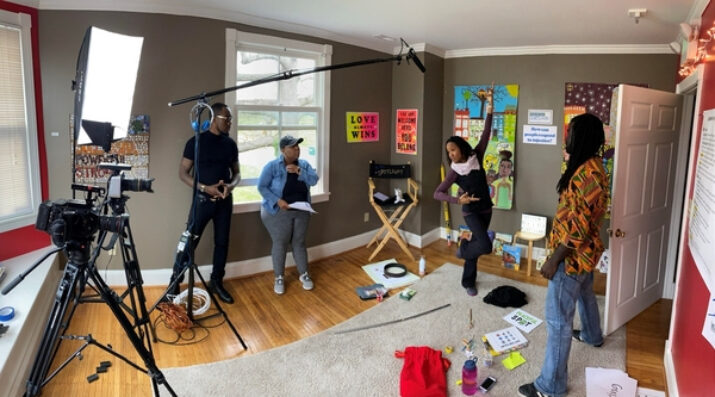 New Designs for School
New Designs for School
We've all had the experience of truly purposeful, authentic learning and know how valuable it is. Educators are taking the best of what we know about learning, student support, effective instruction, and interpersonal skill-building to completely reimagine schools so that students experience that kind of purposeful learning all day, every day.
Learn More
Arts integration and creativity expand the limitations of remote learning and provide the experiences students need to fully develop. And they work with or without internet and device access.
The last three months have turned upside down the way that students learn and educators teach. Those with immediate access to technology found their way into the virtual classroom, but thousands of families had to wait to enter this classroom, or were never granted access because of the digital divide. This digital divide—the disparity in access to technology between students experiencing poverty and others—was already an issue in public education and, in the time of COVID-19, it has been heightened.
Beyond the need to bridge the digital divide, K-12 public education's shift to remote learning has introduced another challenge we must address: engagement. No longer is a student in a room with fellow classmates and the positive social pressure of engaging in the lesson being presented. No longer is a teacher in the same physical space with a child to give them the encouraging nudge to open their book, a stern glance to get back to the task, or a celebratory moment to recognize the daily achievements that come from learning. Once you remove the barrier of not having a device, there is still the challenge of ensuring the student opts to tune-in. The arts are the key to that engagement.
We can make a kid do a chore, like taking out the recycling, but you can't make a child learn. They have to want to learn and they have to choose to do so. For us at Young Audiences, in this new space, we ask, what would make a child want to "tune in" both literally and figuratively?
The arts have always engaged students in ways that traditional academic approaches do not. They instill the thrill of discovery, encourage risk taking, emphasize imaginative creation, help kids feel seen, and connect us—whether we're in the same room or not. In this time of remote learning, that unique approach can unlock the levels of engagement needed for students to continue making progress.
In Baltimore City, before COVID-19 hit, nearly one in three students did not have the technology access necessary to learn remotely. While this issue—the result of decades of systemic racism and socioeconomic inequality—extends well beyond education, the Baltimore City Public School district has stepped up. They secured and delivered 18,000 laptops to students and negotiated with internet providers to give Wi-Fi access to families without it. But they, along with school districts nationwide, need support. The content now delivered into homes, where there is plenty of competition for students' attention, needs to draw them into learning, spark curiosity, and build genuine interest.
In Baltimore, we're using arts integration and creativity to enhance remote lessons. Students with or without internet access are participating in interactive, artist-led lessons that address literacy and math curriculum and are enjoying hands-on, at-home arts kits that supplement learning. These arts-based approaches are expanding the limitations of remote learning and providing the experiences students need to fully develop.
An episode of Young Audiences of Maryland's Arts & Learning Kids show guiding kindergarten and pre-k aged students in reading aloud and creating dance moves for the beginning, middle and end of a story about the life cycle of a butterfly. (Courtesy of Young Audiences of Maryland)
Young Audiences of Maryland, the nonprofit organization I lead that delivers arts-integrated learning experiences to 180,000 Maryland students a year, has created two programs in partnership with the district in response to the digital divide and the downsides of virtual learning: Arts & Learning Kids—a weekly TV show, and Arts & Learning Snacks—take home arts kits.
Arts & Learning Kids is a series of 30-minute videos featuring teachers and teaching artists delivering grade-specific, arts-infused instruction in literacy and math. The curriculum-based programs are broadcast every week on the district's public access TV station "City Schools TV." Students watching episodes may write song lyrics to help solve word problems or learn dances connected to the character traits of important civil rights leaders like Ruby Bridges. The episodes emphasize social-emotional development, encouraging students to reflect on how they are feeling and providing the space to express themselves. To date, we have produced 32 episodes, with 72 more planned over the summer. Find episodes on Young Audiences' Arts & Learning Kids website.
Arts & Learning Snacks were designed by teaching artists to ensure students have opportunities to explore their learning and creativity with hands-on experiences. These kits of visual and performing arts activities for students to complete at home are being distributed to Baltimore families at meal sites (hence the name "Snacks"). We have delivered 18,000 Snacks to date. The Snacks guide students through projects such as creating kinetic sculptures or creating photos that tell stories about themselves and their world. Kits include all necessary materials and encourage family participation. Find examples on Young Audiences' Arts & Learning Snacks website.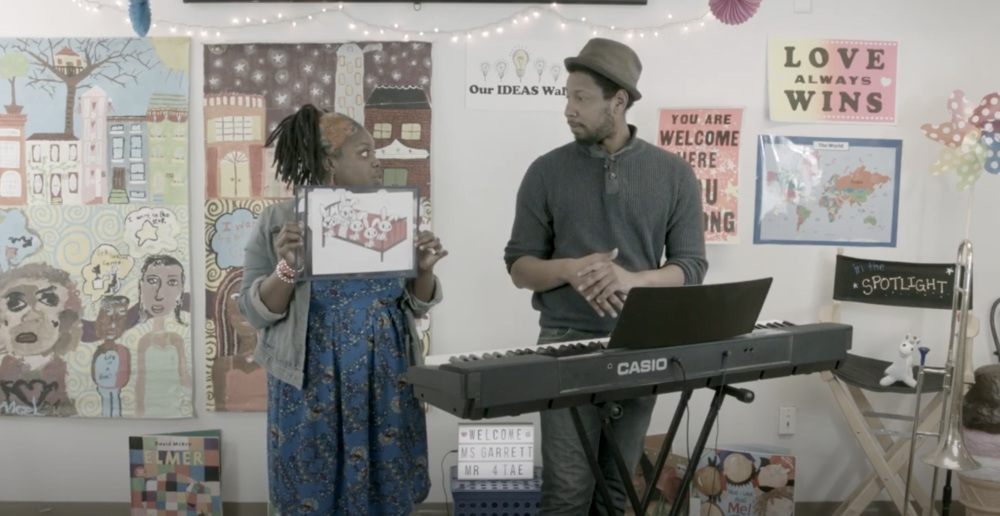 Baltimore City teacher Ms. Garrett and Teaching Artist and musician Mr. 4Tae guide young students in counting techniques on a recent episode of Arts & Learning Kids. (Courtesy of Young Audiences of Maryland)
Delivering these programs has taught us a lot—from the need to be even more engaging in a remote context to the new and important processes related to health and safety in the time of COVID-19. As many educators and parents are starting to think about summer and some cities are resorting to virtual summer learning programs, here are some suggestions on how to engage and inspire children in remote learning:
Connection matters: Building relationships and making sure kids feel connected to others should be one of the most important outcomes of remote learning—both in synchronous and asynchronous lessons. Many students relish the connectivity and relationships that being in school brings—it's important for remote learning to account for that. The arts can help students feel connected by sharing their creativity and engaging with others about their work remotely.
Challenges, choice, and play: Employing creative, competitive challenges will foster high levels of engagement while developing both cognitive and noncognitive skills. Infusing learning with opportunities to make creative choices and to simply play—particularly in the summer months—will help spark interest and curiosity, leading kids to tune in!
Balance screen time: After months of large doses of screen time and being inside—we know kids are desperate to be outdoors and experience a semblance of the joys that summer brings. With many families needing to find or return to work, and many school districts erring on the side of caution by operating virtual programs, what kind of modified, in-person opportunities can communities offer for kids to come together outside while staying safe? Yes, it may look and feel different with masks, gloves, and temperature checks, but our kids are craving these moments which, in turn, could serve as a spark for tuning in to the academic content necessary to prevent further learning loss.
---
Photo at top, courtesy of Young Audiences of Maryland: Young Audiences' Teaching Artist and Professional Dancer Valerie Branch records a recent episode of Arts & Learning Kids.