Technology Tools
VR and AR: Learners as Creators and World-Builders of our Immersive Future
February 7, 2018
Topics
Personalized Learning
Tools for Next Gen Learning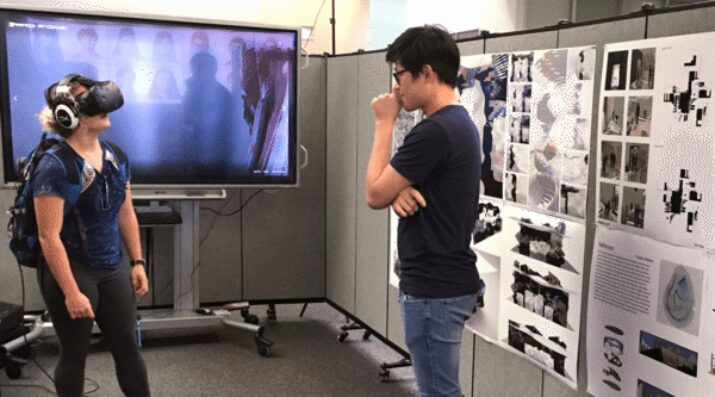 Technology Tools
Technology Tools
Educators often take advantage of educational technologies as they make the shifts in instruction, teacher roles, and learning experiences that next gen learning requires. Technology should not lead the design of learning, but when educators use it to personalize and enrich learning, it has the potential to accelerate mastery of critical content and skills by all students.
Learn More
Students today aspire to do more with technology. Immersive technologies inspire them to become creators and active explorers in the making of a new medium.
In working with faculty, staff and administrators in higher education, we're often asked: how do you get started with VR? What will be the impact of immersive computing on education? What are the real benefits for students beyond the novelty factor of a new technology?
Thinking through these important questions, it is helpful to reflect on the work of the New Media Consortium's Horizon Report. One of the major developments across the educational spectrum is the idea of students as creators; we see this as one of the most exciting areas in the use of virtual and augmented reality. Students today aspire to do more with technology than simply be passive consumers of a new media form. The compelling nature of immersive technologies inspires them to become creators and active explorers in the making of a new medium. For this article, we'd like to explore some of the early and exciting student projects in this area.
Students Connecting with their Community
At Emporia State University in Emporia, Kansas, Professor Joyce Zhou works with marketing students to help them develop VR experiences for their capstone projects. Students use WebVR and the InstaVR platform to develop mobile and web-based applications relating to regional businesses, a nonprofit and a local nursing home. By creating engaging 360° tours, they are not only learning these new tools for themselves, but helping local organizations see the possibility of VR for marketing and public relations.
Turning Imagination into Reality
Environmental majors at Texas A&M recently staged a pop-up exhibit at the Langford Architecture Center. Under the direction of Vahid Vahdat, visiting architecture lecturer, students were asked to create a completely imaginary space in a virtual environment. As Vahdat notes,
The extreme abstraction that VR offers provides an unexplored mode of design thinking, allowing students to redefine the viewers' perceptual relation to space.
And as one of the students, Elise Werner, described it,
I can now inhabit a space that was otherwise residing in my mind.
The projects were experienced by other faculty at Texas A&M and by members of the HKS and Fentress Architects firm.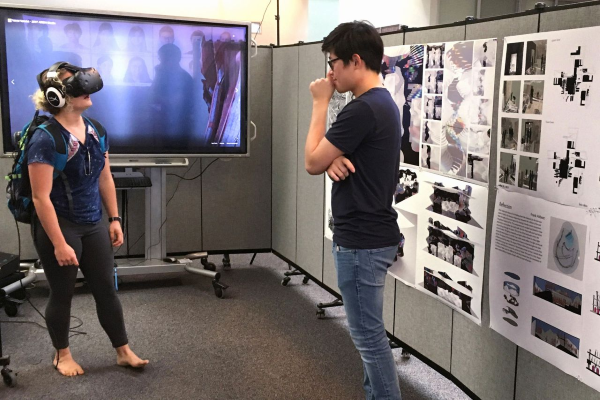 Students experience immersive virtual spaces at the College of Architecture at Texas A&M University.
Journey Through Our History
At Brown University's Granoff Center for the Creative Arts, virtual reality artist-in-residence Adam Blumenthal worked with 14 undergraduates to use virtual reality to examine the Revolutionary War-era Gaspee Affair. The little known 1772 incident where colonists burned a British ship is often seen as a precursor to the signing of the Declaration of Independence. Blumenthal's group independent study used historical research, actors who recreated historical scenes, 3D modelling and animation. They made extensive use of Google Tilt Brush, a room-scale 3D creativity tool, for storyboarding the project in virtual reality.
The students came from a wide range of disciplines, from computer science to visual art. They took on a variety of roles, from learning how to use the Google Jump VR camera (a rig with 16 GoPro cameras that shoots stereoscopically) and VR production techniques, to writing the script and directing the actors.
The completed project will be used to teach middle and high school students about the event and give them virtual access to the collection of artifacts at the Rhode Island Historical Society.
For Blumenthal, one of the goals was to help students think critically about the material. He notes:
"Taking the experience off the pages of a textbook and putting the students in these environments and conveying the knowledge…it's going to be really powerful."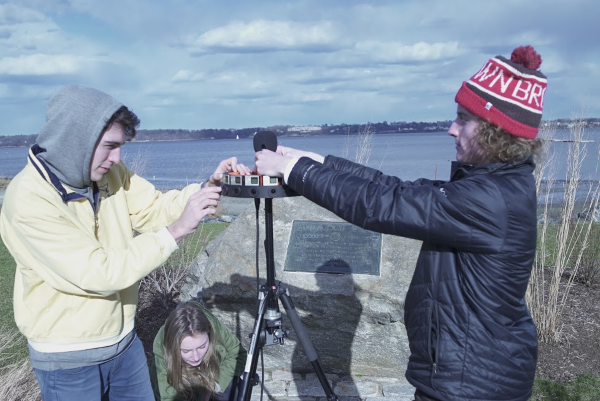 Students from Brown University prepare for a Google Jump Shoot at Gaspee Point.
Students as Change Agents
Closer to our location in New York City, we were recently invited to speak at the VR AR Dev Day at NYU's Tandon School of Engineering in Brooklyn. Organized by the InnoVention Society student club, the event included our morning talk on Creating the Future with Immersive Technology and an afternoon workshop on Prototyping and Visualizing Stories in VR/AR. What was so remarkable in this gathering of 200-plus students, alumni, artists and AR/VR developers was the level of enthusiasm and creativity.
Our workshop in the adjacent NYU Makerspace area turned out to be one of the most engaging sessions we have facilitated in a long time. Students had questions on AR/VR and MR tools and apps, but the real enthusiasm came during a design-thinking exercise on prototyping narratives and immersive storytelling. Students developed proposals for new games, VR to solve online retail shopping challenges, new entertainment experiences, and applications for K-12 learning. The energy and excitement was remarkable with students feeling empowered to transform how we will work, learn, live and play in the future.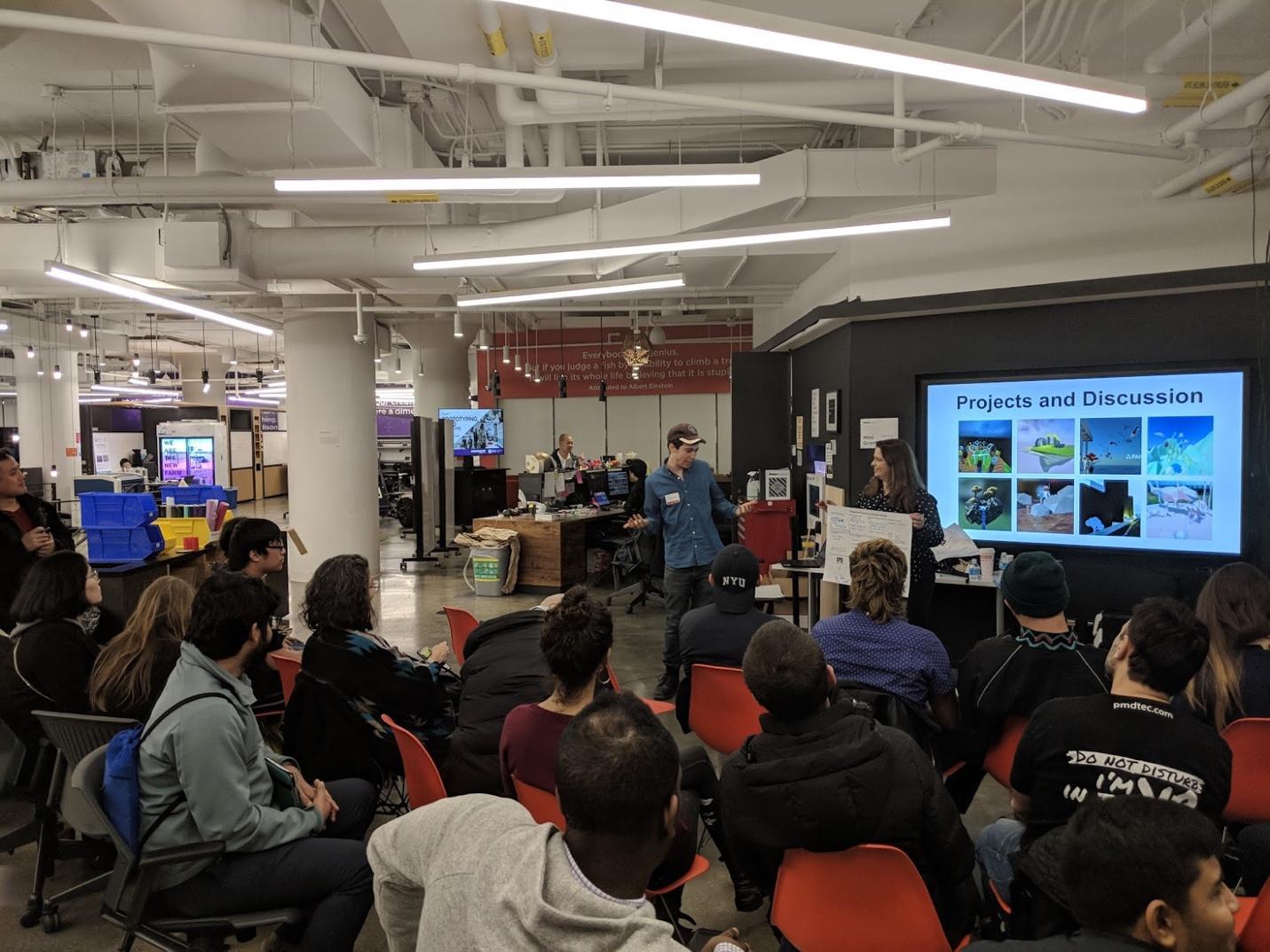 Students presents projects part of AR/VR Dev Day at NYU Tandon School of Engineering MakerSpace.
Sparking Students' Creativity
Here are some key takeaways from the projects that we have seen:
Let the students lead - In all of these projects, students are taking the initiative. The institutions are providing the technology, the space, organizational vision and in some cases, academic credits. At NYU Tandon, students organized the entire conference, doing publicity, registration, catering, and scheduling. They brought in a diverse group of speakers from academic, tech and startup backgrounds. The event included TED-style spotlights talks, workshops and demos.
Don't compromise on space - Brown University's Granoff Center for the Creative Arts is designed to encourage cross-discipline collaboration. The Tandon event used the main auditorium and the flagship NYU Makerspace. Space influences behavior and is crucial in driving collaboration and active participation. In addition, to produce VR and AR/MR experiences students need access to high-end tech and in some cases, motion capture studios and 360° cameras.
Opportunities for social impact - Many of these programs are open to the local community or have been designed to have an impact outside higher education. At Emporia State students are using VR and 360° video to help local businesses. The Gaspee Affair VR experience at Brown University will become a resource for teaching middle and high school students.
Showcase student work - So often in education, the work students do in a course is only seen by others in the same class. Like the architectural experience at Texas A&M, all of these experiences have a connection with their campus or larger community. VR and AR engender a level of excitement that gets students engaged with each other as well as encourage peer learning. It's worth it to seek out opportunities to bring this work to community events.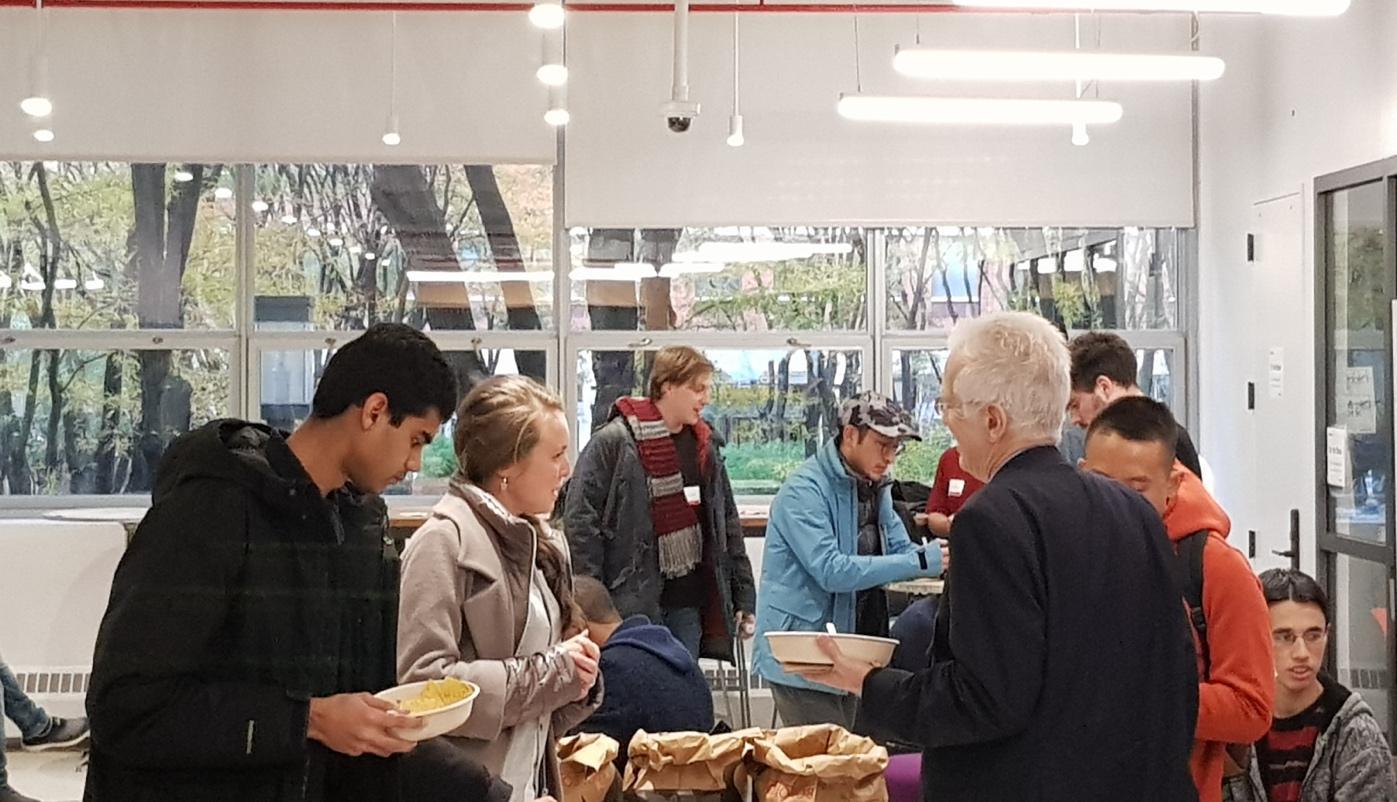 Conversations continue over hundreds of tacos at NYU Tandon School of Engineering VR/AR Dev Day.
Many educators see VR and AR in the context of complex simulations and ways to visualize information. However, as immersive technology becomes more prevalent, students will be able to prototype and create their own experiences. These new technologies are more than training and problem solving tools, however; students will invent new forms of interactive narratives with rich meaning that will transform our understanding and experience of the world. Inhabiting these mixed reality worlds will create opportunities for co-presence and co-creation. The future of VR is in collaborative platforms for work, learning and play.
When we meet students at these events, we are reminded of the words of Sugata Mitra: "It's not about making learning happen, it's about letting it happen." Create a space for students to explore immersive technology and they will design new worlds. When students shoot a 360° video or code a virtual experience and then put on a VR headset, they know they are stepping into the future. It's our role to empower them as we navigate the next wave of the Digital Revolution.