Description
These adult professional learning sequences aim to build essential awarenesses of individuals' identity, privilege, and situatedness and the structures of power within the classroom, school, and community. The 2–4 hour sessions address one or more specific equity-based skill sets, including constructivist listening, recognizing dominant discourse, using consultancy or tuning protocols to support equity-oriented instruction, and developing an equity lens and mindset. The learning design and sequence combines activities to engage educators in reflexive practice around issues of equity while also building a collaborative, authentic, and high-functioning community that actively works to disrupt oppressive norms and structures.
Purpose
The professional learning tools highlighted here are specifically intended to develop leaders with an equity lens and mindset. Using an equity lens, leaders actively work toward the creation of equitable practices, policies, and structures and are equipped to help related education networks and communities—small and large—to do the same. Equity leaders take action to achieve the following:
Disrupt historical systems of inequity.
Pause to acknowledge and heal the impact of daily implicit bias.
Create "counter-narratives"—arguments that challenge and reframe commonly held beliefs and perceived truths about people of color and marginalized populations (e.g., African Americans are good athletes).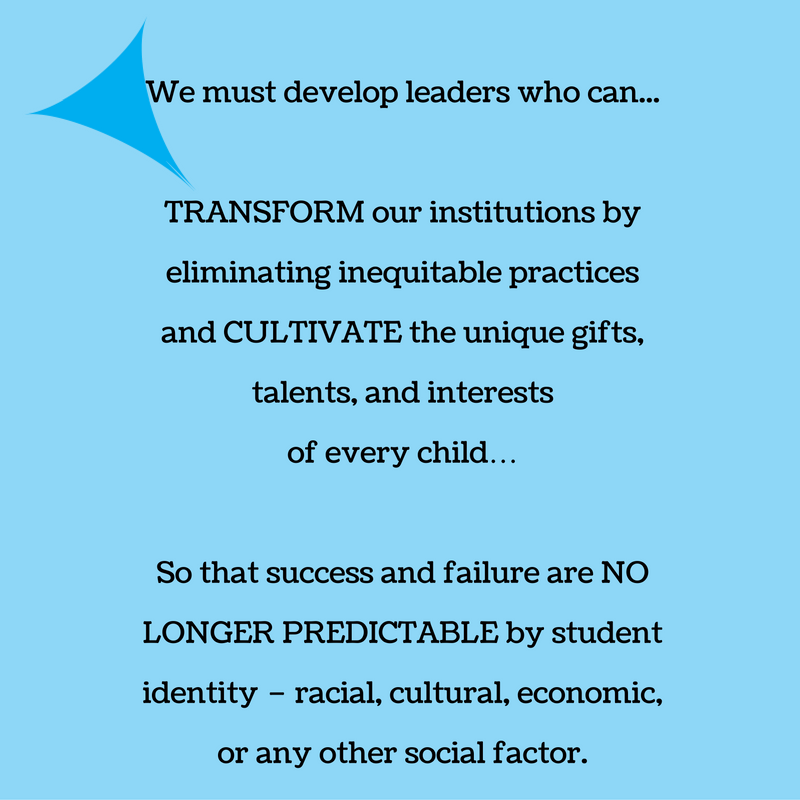 Regional partners work with many communities of learners—from educators in grantee schools to coaches and facilitators on their own staff. Each of these communities benefits from the development of an equity lens, common language for the work, and a shared identity as change agents (or disrupters of inequity). For example:
CityBridge Education recruits and supports a hub of rockstar local teaching talent through the Education Innovation Fellowship program. Each cohort is intentionally diverse and specifically groomed for action. Every graduating class adds to the city's overall capacity to realize its equitable learning goals. These equity-minded educators are equipped with specific skills and tools to lead uncomfortable conversations about race and equity, and to dismantle discriminatory school practices and replace them with school designs that serve students and families that have before now been ignored, pushed out, and devalued.
Colorado Education Initiative builds educator capacity within an extensive network of next gen grantee schools. Educators are invited to build foundational skill sets for interacting and supporting students in equitable and effective ways and creating processes and teams to specifically embrace the social and emotional needs of traditionally underserved students.
New Schools New Orleans (NSNO) started this work with an organizational self-assessment asking staff these questions: Are we ourselves operating equitably? Do we reflect the schools we serve? Are we building capacity about equity in the schools we fund and support? The NSNO team used surveys and deliberate discussion embedded in regular meetings to establish a shared vision for equity. NSNO regularly revisits its commitment to diversity, equity, and inclusion, sets internal goals related to that commitment, and continues to ask themselves how their work is ensuring equity for students and families.
Use
These professional learning sequences provide your school or leadership team with much-needed support to make equity an explicit focus of your next gen learning design and practice. We encourage you to begin the journey by building competencies to change how your school community talks about equity. Moving from "Discourse One" language to "Discourse Two" language enables new possibilities for equitable school design to emerge.
Discourse I & Discourse II
This table is from "Changing the Discourse in Schools" by Eugene Eubanks, Ralph Parish, and Dianne Smith in Race, Ethnicity, and Multiculturalism: Policy and Practice.
| DISCOURSE I deals with... | | DISCOURSE II deals with... |
| --- | --- | --- |
| Singular truths | | Multiple stories |
| The change process | | The desired circumstances |
| Improving what exists | | Changing something significant |
| Techniques, methods, and content | | Learning and school relationships |
| Symptoms | | Causes |
| The way things are | | What could be |
| Blaming others for not meeting our standards | | Questioning whether our standards are hindrances |
| Discipline and control | | Alientation and resistance |
| Competency | | Relevance |
| The familiar | | The uncomfortable |
| Answers and solutions | | Dilemmas and mysteries |
| Information transfer | | Knowledge creation |
| Ability and merit | | Privilege and oppression |
| Dropouts | | Pushouts |
| Reproduction | | Transformation |
| The work of adults | | The learning and experience of students |
| World-class standards | | Re-creating our society |
| Limited time and ability | | Getting started anyway |
Considerations
Equity-focused professional learning has the greatest impact when it's continuous and sustained, so integrate these tools into a new or existing community of practice, in-service series, leadership program, or coaching relationship. Use these tools in combination with the other tools in this toolkit for deeper effect.
Kick start your commitment to equity or deepen existing knowledge, as educators in Oakland did, by enrolling two or more members of your team in one of the immersive professional learning experiences offered by leading experts like the National Equity Project. Many of the resources offered in this toolkit were acquired through NGLC regional partners' experience with the National Equity Project.
Regularly reflect on your processes. Effective equity teams intentionally foster a sense of community by using a set of agreed upon working norms (see sample community agreements below, from Arrien, A. (2001) "The way of the Teacher: Principles of deep engagement" in Lantieri, L. Schools with spirit: Nurturing the inner lives of children and teachers. Beacon Press, Boston.). Effective equity teams create a safe space for discussion and sharing by using listening protocols so that members can be heard and known. They build a common vocabulary and language and engage both the brain and heart with rational and emotional experiences and outcomes. Effective equity teams feel a sense of urgency but approach the work and each other peacefully with an enduring steadiness.
Community Agreements (An Invitation)
Show up (or choose to be present)
Pay attention (to heart and meaning)
Tell the truth (without blame or judgement)
Be open to outcome (not attached to outcome)
Extended Resources
Implicit Bias with Mahzarin Banaji, a podcast from Curious Minds with Gayle Allen. Mahzarin Banaji is the author of Blindspot: Hidden Biases of Good People and creator of the Implicit Association Tests. During the interview, they discuss "the fact that good people can and do have bias," "how knowing our blind spots can help us innovate," and "why we need to get beyond learning about it to doing something about it."